The Toronto Blues Society has presented the Maple Blues Awards since 1997. The Maple Blues Awards are Canada's blues awards, "honouring the finest in Canadian blues," and are the only comprehensive national best in blues awards program. Much like the Blues Foundations BMAs in the US, the program's goal is to promote blues music across Canada, and to recognize outstanding achievement.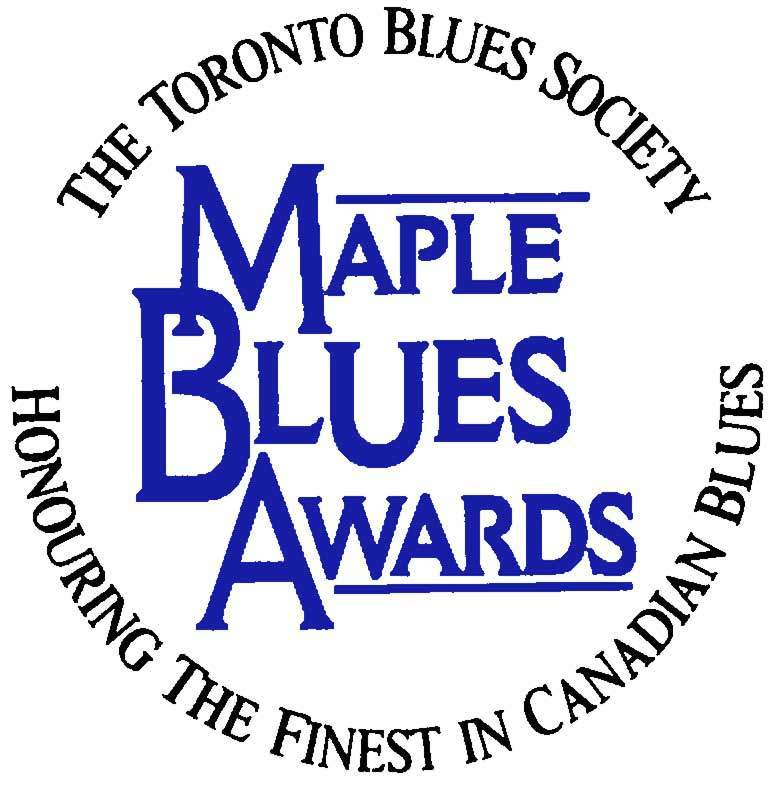 The nominees are selected by a distinguished panel of some 50+ blues experts, made up of radio hosts, journalists, and festival organizers regionally distributed across Canada. The instrument categories are voted on by the panel, while the remainder of the award categories are voted on by blues fans from all over Canada.
The awards were held last night at the Royal Conservatory of Music's Koerner Hall in Toronto with live performances between the award presentations.
Here are the nominees in each of this year's categories with the winners in blue.
New Artist or Group of the Year
Bywater Call
Durham County Poets
Matchedash Parish
Miss Emily
Robert Connely Farr
Female Vocalist of the Year
Angel Forrest
Dawn Tyler Watson
Miss Emily
Samantha Martin
Shakura S'Aida
Male Vocalist of the Year
Harpdog Brown
Harrison Kennedy
Matt Andersen
Steve Marriner
Steve Strongman
Acoustic Act of the Year
Big Dave McLean
Harry Manx
Manx Marriner Mainline
Matt Andersen
Michael Jerome Browne
Electric Act of the Year
Colin James
Jack de Keyzer
Paul DesLauriers Band
Samantha Martin & Delta Sugar
Sue Foley
Bassist
Alec Fraser
Alec McElcheran (Paul DesLauriers Band)
Gary Kendall
Keith Picot
Leigh-Anne Stanton (Wicked Grin)
Drummer
Chris Nordquist (Steve Kozak, Cannery Row)
Gary Craig (Colin Linden, Steve Dawson)
Lindsay Beaver
Sam Harrisson (Paul DesLauriers Band)
Tom Bona (Sue Foley)
Horn Player (tie)
Chris Whiteley
Kaven Jalbert (Ben Racine Band)
Loretta Hale (Andre Bisson Band)
Mat "Moose" Mousseau (Ben Racine Band)
Richard Thornton (Jack de Keyzer Band)
Piano/Keyboard Player
David Vest
Duane Blackburn
Jenie Thai
Jesse O'Brien
Kenny "Blues Boss" Wayne
Harmonica Player (tie)
Al Lerman
Harpdog Brown
Jim Zeller
Roly Platt
Steve Marriner (MonkeyJunk)
Guitarist
Anthony Gomes
Garrett Mason
Jack de Keyzer
Paul DesLauriers
Sue Foley
Songwriter of the Year
Big Dave McLean
Colin Linden
Dawn Tyler Watson
Robert Connely Farr
Sue Foley
Recording/Producer of the Year
Amour (Stony Plain)
ARTIST: Colin Linden & Luther Dickinson
PRODUCERS: Colin Linden
Mad Love (Self)
   ARTIST: Dawn Tyler Watson
   PRODUCER: François Thiffault & Dawn Tyler Watson
For Love & Money (Dog House)
ARTIST: Harpdog Brown
PRODUCER: Steve Dawson
Saturday Night (Make It Real)
ARTIST: Matchedash Parish
PRODUCER: Lance Anderson
Halfway Home By Morning (True North)
ARTIST: Matt Andersen
PRODUCERS: Steve Dawson
B.B. King International Artist of the Year
Buddy Guy
Christone "Kingfish" Ingram
Ghost Town Blues Band
Larkin Poe
Mavis Staples
Blues With a Feeling Award
(Lifetime Achievement Award)
Alec Fraser
Brent Parkin
Danny Brooks
Joe Murphy
Ken Whiteley
Michael Fonfara
Michael Jerome Browne
Tom Lavin
Entertainer of the Year
Dawn Tyler Watson
Downchild Blues Band
Miss Emily
Samantha Martin & Delta Sugar
Sue Foley
A new addition this year was the Sapphire Video Award won by Miss Emily for her entry, "Hold Back the River."
Congratulations to not only the winners, but all the nominees!