It's a brand new world, or at least a different one from when we began 2020 some 10 months ago. Civil unrest, political strife and a world pandemic have been at the forefront of the never-ending news cycle. One good thing that's come from it is the new album release from Alastair Greene. A guitar player's guitar player, Greene penned all 11 tracks on The New World Blues which drops on October 23rd, via Whiskey Bayou Records.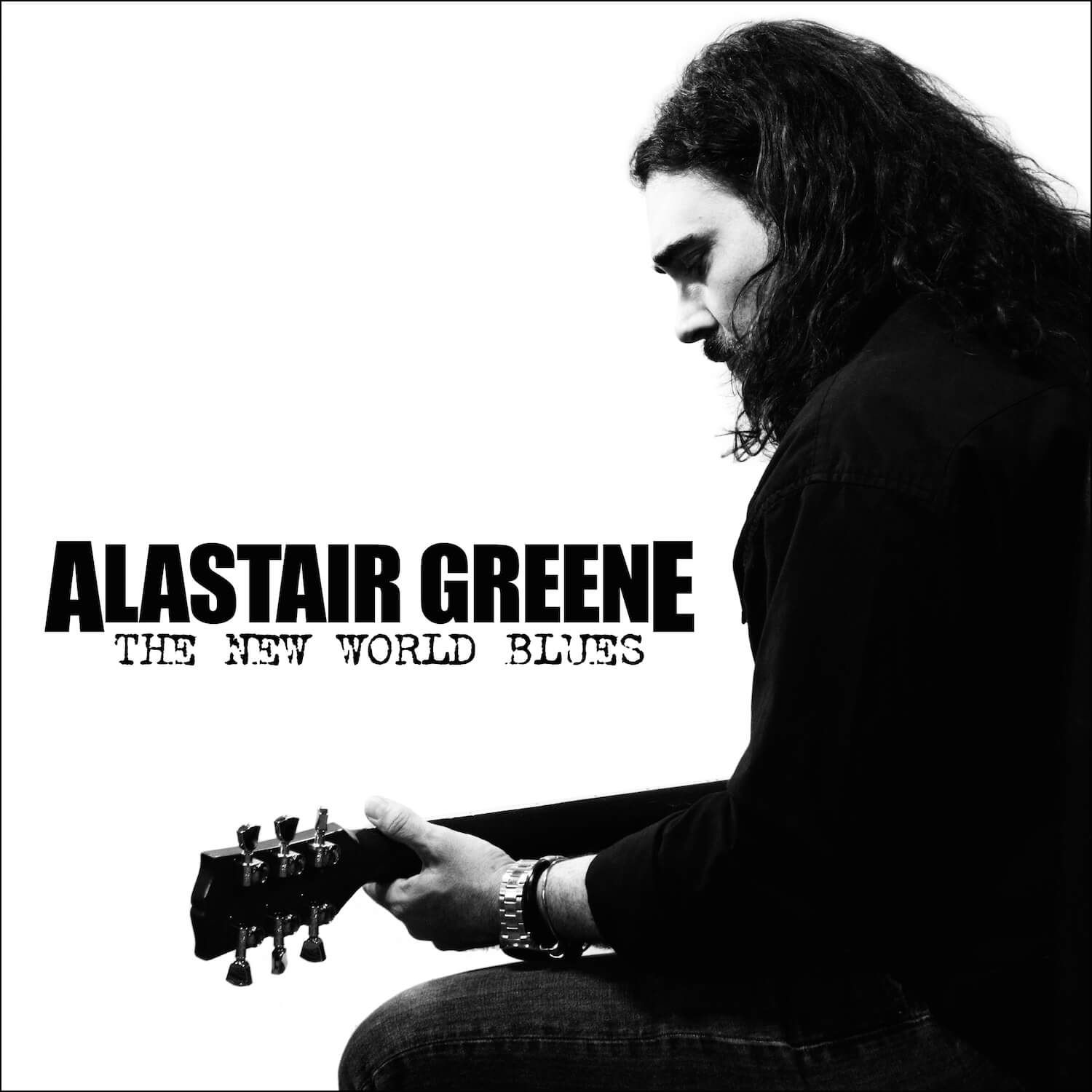 The album appropriately begins with the song, "Living Today." A swamp rocker of epic proportions, "Living Today" also brings us a profound message: Through all the strife and craziness, we can make things better by just letting our love shine through. In my mind, there's no better way to begin a record about these times than to bring some hope in easy to understand terms. The haunting part is that this music was written the year before the entire music industry had to close up shop. Whether Alastair Greene is clairvoyant, or has a Magic 8-Ball is up for question, but the fact remains that the majority of these songs that hit home in 2020 were written in 2019.
Greene traveled to Houma, Louisiana to record with Grammy nominated label owner Tab Benoit, who produced, played drums and sang harmonies on this record, and bass player Corey Duplechin. "This is definitely the most stripped down blues-based album I've ever made. The vast majority of this record is live in the studio with very few overdubs and many were first or second takes," says Greene.
We can feel the the wetland sway throughout the record, no doubt influenced by Benoit who is the reigning king of swamp blues. However, Greene does make it his own with his scorching guitar work. Like the 1930s recordings of Robert Johnson, one would swear there is more than one person playing.
"Lies and Fear" follows up, with a healthy amount of funk slathered over some Southern gospel. The production value is uber-clean, giving out that live, playing on the fly feeling. Benoit did an outstanding job of taking Alastair's original songs, and keeping them in the stripped down context he wanted.
"Bayou Mile" is an Americana meets rock ballad about the simple things in life. "If you wanna see me smile, then walk with me a bayou mile." Some of these tracks were co-written with Tab, and I can see this being one of them. Not to take anything away from Greene, who was born and raised in California, but just some of these lyrics seem to have Tab's Houma, Louisiana based outlook.
Throughout The New World Blues, we hear lots of other Greene influences. The blues-rock sound he has cultivated for over 20 years has been likened to Gov't Mule and ZZ Top, but he's also toured with the Alan Parsons Project, Starship, and soul-blues kingpin Sugaray Rayford. But at the heart of it all is the blues as Alastair knows it.
I endeavor to play the Blues.  It's some of my favorite music.  And I have a responsibility to inform where this music comes from. This is a Black, African-American art form that is basically responsible for everything we love today.  I want to be true to what I love. – Alastair Greene

The laid bare sound of this modern day power trio also has us comparing it to another group who took what they understood of the blues and made it their own; Cream. The slow-drag, Chicago sound of "No Longer Amused," is a prime example. Greene not only channels Clapton's guitar style, but Jack Bruce's vocal delivery.
"Back at the Poor House" has an SRV-esque sound, but also sounds like an instrumental that would be kicked out at 1950s rent party. Heavy on the pedals in the second half, this slick instrumental is an all out attention-getter. "Find Your Way Back Home" brings the funky, syncopated groove back. Besides being a solid clock drummer, Benoit's vocal harmonies are spot on and Duplechin's bass is solid without being overpowering.
On "Heroes," Green subdues his vocals a bit, but his guitar screams like an in-flight hawk during the solo. A sold rock ballad, it's one of my personal favorites on this record. "Wontcha Tell Me" returns us to the swamp, with Alastair pushing his vocal envelope to impressive heights. The blues-rock, slow drag "Alone and Confused," is heavy on the bottom end, giving us a sense of impending doom, as well it should. No matter what the world does, there's nothing we can do about it, and Greene reminds us of that simple fact with his guitar at the vanguard.
The album ends with the title track, a rockin' blues tune with some killer electric slide and heavy reverb on Alastair's vocal. My favorite cut on The New World Blues is track number four; "When You Don't Know What to Do." Again Greene brings us an uplifting message, this time in the midst of a boogie-woogie number that makes you want to dance while you're learning.
Life is just a gamble, don't let that be misunderstood/Life is just a gamble, don't let that be misunderstood/When you don't know what to do, try to do the things you know you should.
The New World Blues is the record we need in exactly the time we need it. A roller-coaster of emotion with a big 'ol splash of hope at the end. Blues rockers of the world, you'll need to step up your game. Alastair Greene has definitely reset the bar.
*Feature image (L-R) Alastair Greene, Tab Benoit, Corey Duplechin. Photo courtesy of BratGirlmedia