"Steady Rollin'" Bob Margolin began playing guitar in 1964. Less than 10 years later he was Muddy Waters' main man, recording on three of Mud's albums and appearing with him on The Last Waltz. Since then he's traveled the world, and released 11 solo albums including last year's BMA winning, acoustic release, This Guitar and Tonight.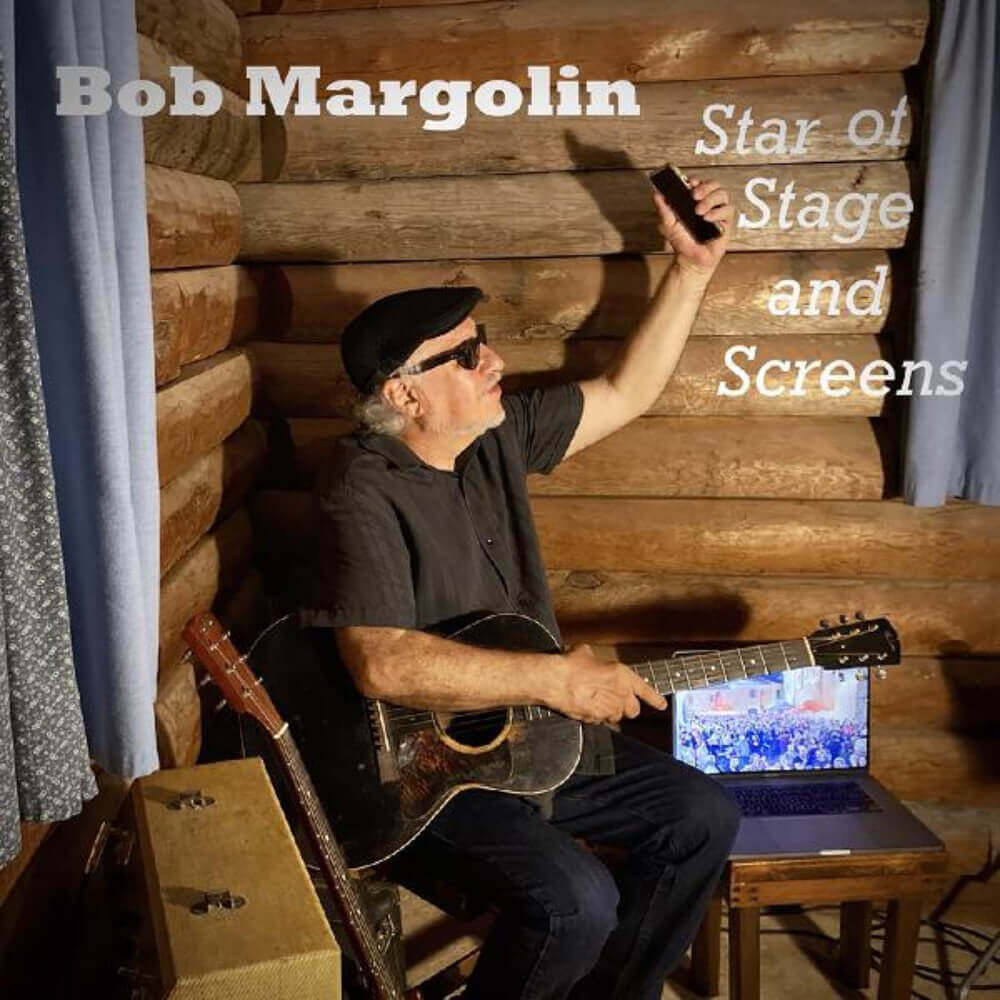 The 2020 pandemic hit Margolin where it hurt him the most. His ability to perform in front of live audiences was abruptly taken away and he went from being a star of the stage to a star of our phone screens. Hence his new EP, Star of Stage and Screens was born.
Hot on the heels of his award winning acoustic This Guitar and Tonight, the six new, all-original songs on Star of Stage and Screens take on the Coronavirus, isolation, and the halt of live music. He shares missing shows and friends, fear for the world, outrage, grief, new coping skills and new ways to present his music.
I'd love to turn off my phone/and grip the neck of my guitar/and play all night for you/in nightclubs, theaters, and bars/now I shoot myself with a video app, pretend it's you I'm seein'/Steady Rollin' no more, a fallen star of stage and screens
The opening lines of the title cut come straight out with Margolin's anger and frustration at not being able to do what he loves most after 50 years of doing it. Yes, he still plays acoustic guitar with abandon, with and without a slide, but it's the interaction with his friends and fans he misses the most. Never known as a paramount vocalist, Bob conveys heaps of emotion, and on the first track we can virtually hear his heart break. Pun intended.
On "Love and Thanks" Margolin professes his love to the people who taught him the blues, those who continue to inspire him and those who didn't make it through these times. Beginning with some talking blues, and sweet slide guitar, Bob looks with hope to the end of our current situation on "After Party."
We can't get together/we've learned to live this way/stages dark and empty/I stay at home but I still play/but the whole time I can see us again some way/and I look forward to sayin'/the after party starts today
With "For My Teachers," Margolin explores a more non-traditional approach, adding a Spanish guitar sound to his blues. This song isn't just about his musical instructors, rather all those who taught him life lessons. Then things pick up a bit with Margolin working the slide over a resonator guitar on "Let it Go 2020." The latter song instructing us to not fall victim to the depression of the times, but just take a breath and let it go.
Ending with the brilliantly titled "March 2020 in Stop Time," Margolin returns to his outrage at not only live music coming to a screeching halt, but to what our leaders are doing, or not doing about it. His stop-time playing drives the point home like a hammer. Bob is exasperated and terrified, mostly about the fact that nobody knows when it will end. After a few seconds of labored breathing near the song's finish, it too stops, leaving us to ponder for ourselves.
In just six tracks, Bob Margolin shares a myriad of emotions swathed in brilliant acoustic guitar. This is the blues – the real blues – and we can all feel it. Self-produced and self-recorded, Bob isn't backing anyone and no one is backing him. Sharing just his thoughts and guitar, Star of Stage and Screens which comes out Friday, October 23rd via Vizztone, is a must have EP.