The Petty estate is working alongside the founders of Tom Petty Birthday Bash, Jason and Sarah Hedges, to celebrate the life of Tom Petty. The first annual Tom Petty Birthday Bash debuted in Tom's hometown of Gainesville, FL back in 2017. Fans gathered for the free, six-hour show of all Petty tunes, performed in the native son's honor. The celebration has grown into a firmly established music festival and a staple of Gainesville, featuring local as well as national acts, with fans traveling across the country.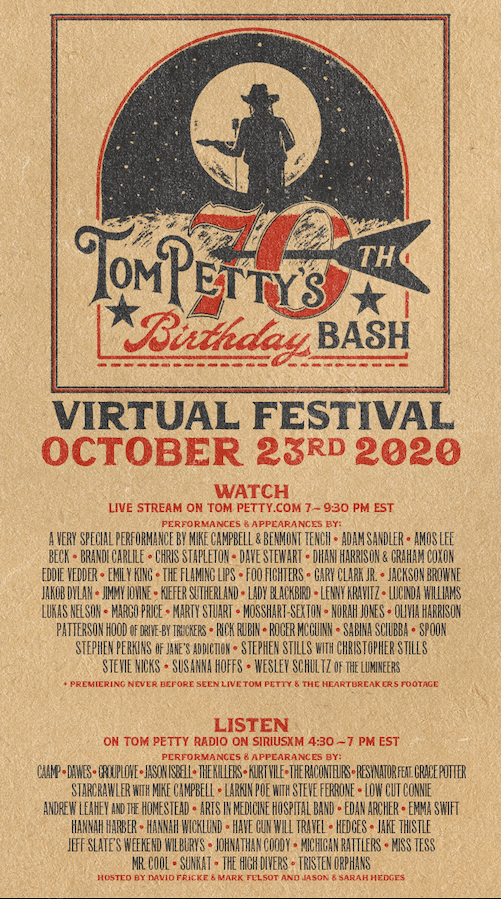 Due to the continuing pandemic, this year's Tom Petty Birthday Bash, honoring what would have been his 70th birthday, will be held virtually on Friday, October 23. Tune in to SiriusXM at 4:30pm. The livestream starts at 7pm with five hours of performances, testimonials, and tributes from the likes of Stevie Nicks, Foo Fighters, The Killers, Norah Jones, The Raconteurs, Jason Isbell, and more — as well as a special performance by Mike Campbell and Benmont Tench.
The festival comes a week after Petty's posthumous Wildflowers & All The Rest was released, the long-awaited expanded edition of 1994's Wildflowers. The birthday bash will support charities such as the UF Health Shands Arts in Medicine program, Save Our Stages, and MusiCares.
4:30-7 p.m. on Sirius XM Tom Petty Radio channel, hosted by David Fricke and Mark Felsot and Jason and Sarah Hedges:
Caamp
Grouplove
Jason Isbell
The Killers
Kurt Vile
The Raconteurs
Resynator featuring Grace Potter
Starcrawler with Mike Campbell
Larkin Poe with Steve Ferrone
Low Cut Connie
Andrew Leahey and The Homestead
Arts In Medicine Hospital Band
Edan Archer
Emma Swift
Hannah Harber
Hannah Wicklund
Hedges
Jake Thistle
Jeff Slate's Weekend Wilburys
Johnathan Coody
Michigan Rattlers
Miss Tess
Mr. Cool
Sunkat
The High Divers
Tristen Orphans
7-9:30 p.m. – Amazon Music's Twitch Channel, TomPetty.com and audio simulcast on Sirius XM's Tom Petty Radio:
Performances by:
Mike Campbell and Benmont Tench
Adam Sandler
Amos Lee
Beck
Brandi Carlile
Chris Stapleton
Dave Stewart
Dhani Harrison and Graham Coxon
Emily King
The Flaming Lips
Foo Fighters
Gary Clark Jr.
Jackson Browne
Lady Blackbird
Lucinda Williams
Margo Price
Mosshart-Sexton
Norah Jones
Patterson Hood of Drive-By Truckers
Roger McGuinn
Sabina Sciubba
Spoon
Stephen Stills with Christopher Stills
Susanna Hoffs and Wesley Schultz of The Lumineers
Special guests: 
Eddie Vedder
Jakob Dylan
Jimmy Iovine
Kiefer Sutherland
Lenny Kravitz
Marty Stuart
Olivia Harrison
Post Malone
Rick Rubin
Stephen Perkins of Jane's Addiction
Stevie Nicks
*Feature image courtesy of the artist's site