Upon returning from another successful European tour with his power trio, Los Angeles-based guitarist Dennis Jones dove headlong into songwriting for his seventh album. The stalwart singer, songwriter, and guitar slinger crafted another set of tunes showcasing his musical dexterity and poignant worldview. The title references the dynamic range of the trio, who can go from a whisper to a scream, Soft Hard & Loud.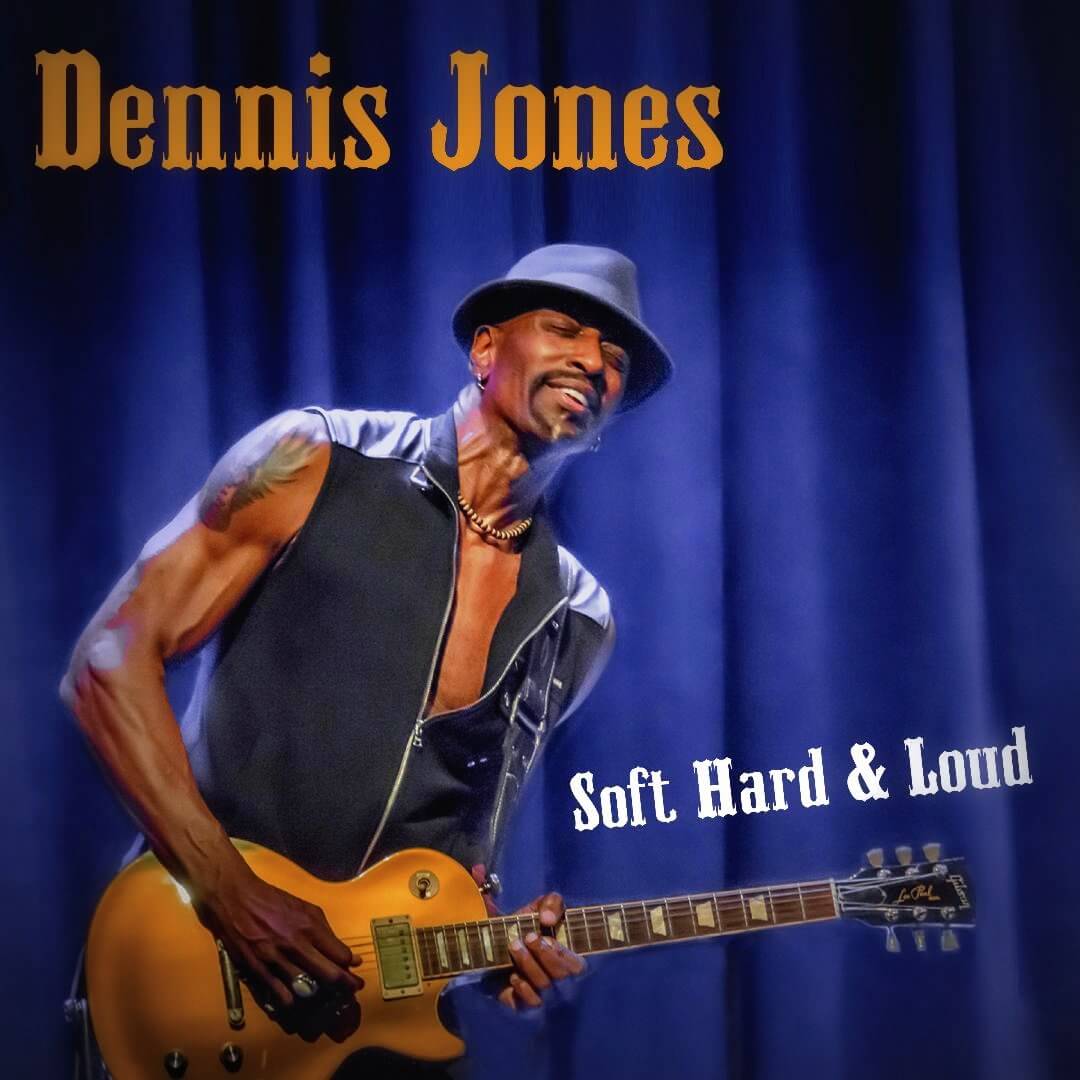 The sessions began in February 2020 but met with stoppages and challenges that most artists are facing in this year. Undaunted, Jones used the time to craft thought provoking lyrics and ear grabbing riffs. His muscular rhythm section of Raymond Johnson on drums and bass/keys player Cornelius Memes, who co-produced the album with Jones, blaze on every track showing off their formidable chops earned by countless hours on the road playing shows from small gin joints to coliseum seating venues.
Soft Hard & Loud opens with the alluring and slinky "Revolves Around You." Jones' aspirations as a drummer in his youth lends to Johnson's rhythms. The guitar work is pinpoint accurate, and changing of the vocals from distorted in the verses to powerhouse in the chorus is attention-grabbing to say the least. Following up is the autobiographical "I Love the Blues." Dennis' creative lyrics purport one doesn't have to come from a broken home, face addiction or have a faithless partner to play the blues. One just needs to love it and it makes things all better. On a side note, there is some deliciously dropped Hammond B3 on the second track courtesy of Bennett Paysinger (Beyoncé, Snoop Dog Demi Lovato).
Don't have a sad story or worries on my mind
When life gets crazy, I found a place to unwind
A roof over my head and the clothes on my back
I've got a good woman to help keep me on track
Never abandoned or abused – I love the blues
Jones' view on the current state of world affairs comes across hard and direct on "Like Sheep." He spits the words as if they leave a foul taste in his mouth, leaving no doubt how he feels, his over-driven guitar punctuating every verse.
Dennis Jones is no stranger to world affairs, nor the world stage. Born and raised in Baltimore County, Maryland, he began playing guitar at age 13 influenced by the likes of Hendrix, Page and Gibbons. During his late teens, he lived and played in Europe. Jones spent a couple years with Brian O'Neal and his funk-slathered rock band, The BusBoys before winning the International Blues Challenge in 2004 as part of Zac Harmon's band. Since then he has recorded, produced and toured the world opening for greats such as Johnny Winter, Buddy Guy, and Dick Dale as well as being part of the Experience Hendrix Tour. Much like Red Bull, that mileage has given him wings and he soars through his songs like hawk.
"Front Door Man" inventively turns the old Howlin' Wolf idea on its head. Jones wants to come and go through the front door, being the main man in his woman's life. On "I Hate Hate," he generates a reggae rhythm to go along with forcefully peaceful outlook. "I hate hate/oh yes I do/one nation under God/not under you/I hate hate/but I don't hate you."
"Nothin' On You" is a sunny, breezy love song with some extra sweetness provided by Michael Turner and Allison August on backing vocals. Jones' guitar is clean and feather-light and the song just makes you want to snap your fingers and sing along. On "Gonna Be Alright," he drops into 3rd gear with a rocker of the first order. If hearing advice from a friend was this easy, I'd do it more often. Jones interacts with his rhythm section the way lovers do, sometimes with a snarl and growl.
That growl is on full display on "When I Wake Up," a ferocious blues number showing off his skills in both the vocal and guitar categories. It's like Buddy Guy singing with Jimi on guitar. From a whisper to a scream, this is the song that personifies Soft Hard & Loud in one tune. It's also my personal favorite on this album.
Some belly-rubbin' blues comes in the form of "I'm Not." With a classic Chicago sound, it also has some juicy B3,  this time via Jason Freeman. At five-and-a-half minutes it's sure to work up a sweat on any dance floor within miles. Then comes the biggest surprise on the record; Jones releasing what sounds like generations of pent up anger on "Burn the Plantation Down." The song is a rocking indictment of Southern culture with no quarter given. Note to Quentin Tarantino: If you ever remake Django Unchained, THIS is your closer.
Soft Hard & Loud was released on October 8th via Blue Rock Records. If it isn't in your collection yet, don't hesitate to add it. In my humble opinion, this one has Blues Rock Album of the Year stamped all over it.
*Feature image credit: BG Phillips Photography