Gas Station Music has proudly announced the release of singer/songwriter/multi-instrumentalist Tom Mason's Under a Mistletoe Sky on November 6, 2020.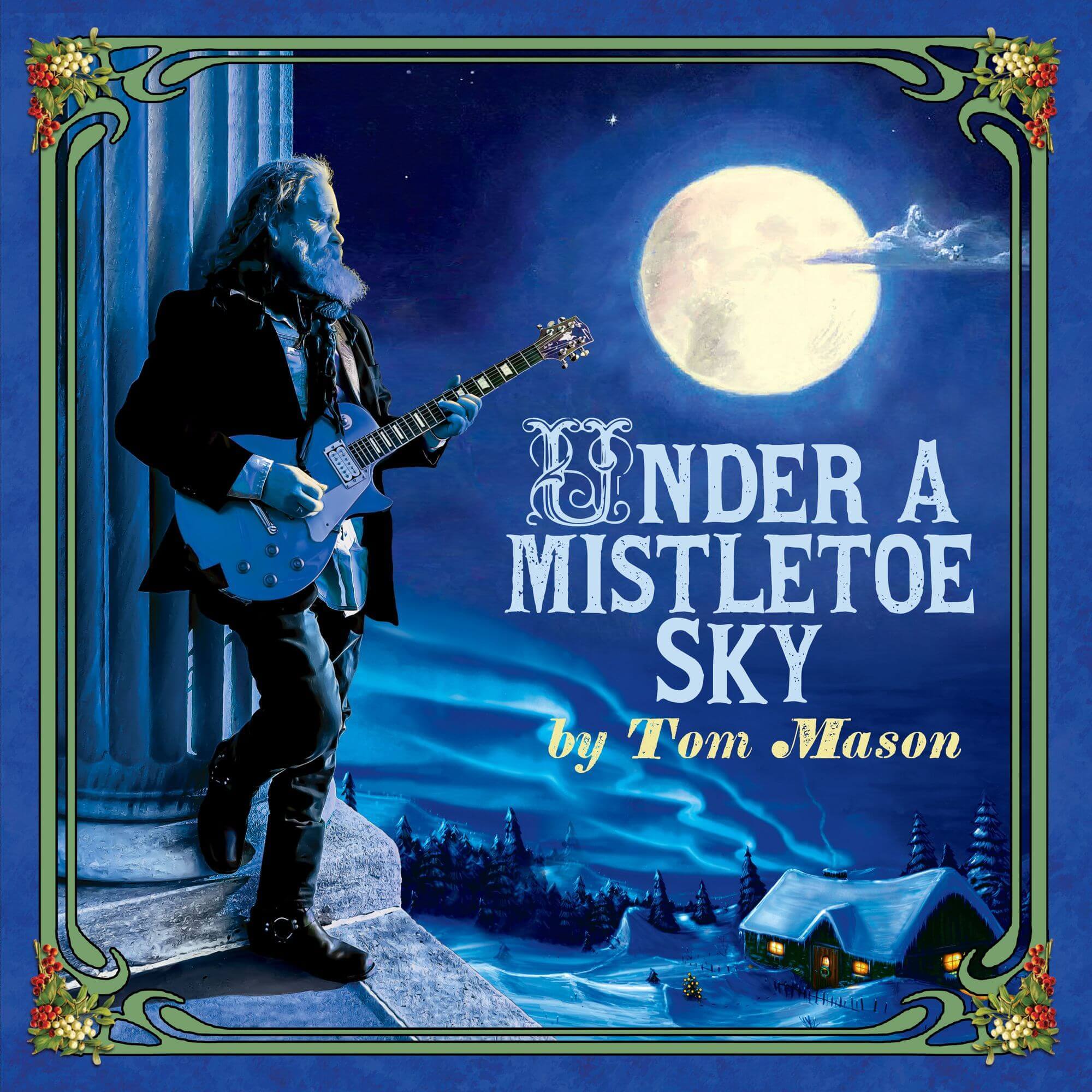 Mason's third holiday album and tenth release, Under a Mistletoe Sky was recorded in Mason's current hometown of Nashville and produced by Michael Webb. Featuring ten original yuletide roots rock tunes, Under A Mistletoe Sky is a perfect addition to the Christmas music canon, an escape from the well-worn classics while still filling the air with familiar joy. Mason's previous holiday albums include 2003's A Slide Guitar Christmas and A Pirate's Christmas  (2013).
Mason was touring the world with his band of pirates, The Blue Buccaneers, when 'Hurricane Corona' hit in March of 2020, leaving him marooned on a farm in Iowa (Mason currently splits his time between Nashville and Grinnell, IA). With a six-week tour of the United Kingdom scrapped, his role as Feste the Fool (and composer) for Nashville Shakespeare Festival's summer-in-the-park production of Twelfth Night postponed for a year, and the string of festivals The Blue Buccaneers return to year after year cancelled, Mason hung up his tricorn hat (for awhile) and set about to make some joyful holiday music.
Mason (Guitar, Dobro, Trombone, Bass, Harmonica, Percussion, Lead Vocals) had begun recording some of the tunes last December with the Blue Buccaneers rhythm section, Jeff Thorneycroft (Bass) and Pete Pulkrabek (Drums/Percussion/BVS), and on Keyboards Mason's old friend Michael Webb (who's played on recent recordings by John Prine, Chris Stapleton, and Brandy Clark). When the corn started getting high and America started to take precautions against the pandemic, Mason put on a mask and drove home to Nashville to finish the CD with Michael Webb producing.
"Crazy for Christmas," one of two songs of the album co-written with Tom Mason's long-time, long-distance writing partner, Tennessean-turned-Minnesotan Nate Dungan, (whose popular Minneapolis-based country rock band Trailer Trash sell out a series of "Trashy Little Christmas" shows every December), opens the CD. It could be Christmas in the French Quarter, complete with trombones and resonator guitar. If It's a Wonderful Life were set to rock and roll, George Bailey might have courted Mary to the Stones-y title track, featuring legendary Nashville vocalist Sheila Lawrence. The soulful rumba "Christmas Boogaloo" was written in response to the racial divisions that came to the fore in summer of 2020, and was inspired by the Boogaloo music of the late 60s, which married Afro-Cuban music to R & B, a reminder of the magic that happens when cultures come together, and, as in the song, when we "love everybody." "Little Elvis, King of the Elves" is a rockabilly tale of a very special elf on the North Pole, and the jazzy "Santa Says Keep it Cool," the second co-write with Nate Dungan, warns of climate change's effect on Santa's workshop. Under A Mistletoe Sky closes with the laid-back blues shuffle "Christmas in Love," with gentle electric slide guitar and Fawn Larson's sweet harmony throughout.
Minneapolis native, now Nashville (& Iowa)-based Tom Mason splits his time between solo shows and Tom Mason and the Blue Buccaneers, his band of pirates who perform their original sea shanties at folk, tall ships, and pirate festivals around the world. As a solo artist, he's released four CDs, in addition to the five with the Blue Buccaneers.
Mason has also been a sought after lead guitar player since moving to Nashville in 1993, touring most recently with Americana acts Eric Brace's Last Train Home, Phil Lee, Amelia White, and the Ozark Mountain Daredevils' Supe Granda. After a few years in Nashville, Mason felt the pull of the theater, enrolling in acting classes, appearing in films and plays including Richard III with the Nashville Shakespeare Festival, and touring with the Broadway show Ring of Fire: The Music of Johnny Cash. Whether in a tricorn or a cheap cowboy hat, Mason puts on a show that owes as much to Vaudeville as it does to the singer-songwriters he's surrounded by in Music City.
We're proud to offer the World Premiere of "Christmas in Love" from the upcoming Tom Mason release, Under a Mistletoe Sky.
*Feature image Paul Schatzkin