There are box sets and then there are BOX SETS. John Mayall's The First Generation set sits firmly in the latter category, being substantial both in the artifacts contained within and the superb music it encompasses.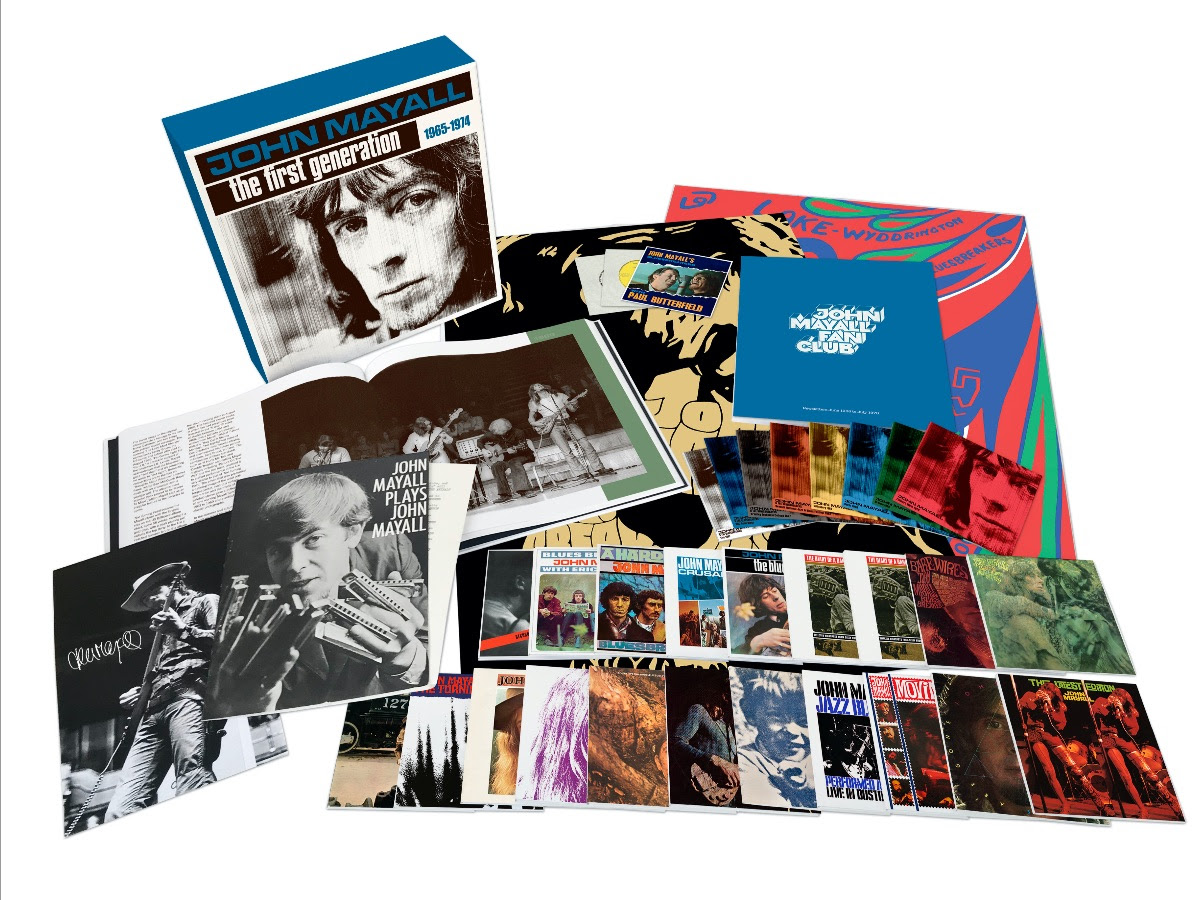 It is the first time a set of this size has been released documenting Mayall's early years and not only does it have all the albums from his much-lauded formative career but it also has unreleased tracks aplenty. Featuring Eric Clapton, Peter Green, Mick Taylor, Harvey Mandel, Blue Mitchell, Jon Mark, and many more superlative musicians, this mammoth package contains 35 CDs in all, plus a beautiful hardback book and much more.
Not for nothing did John Mayall earn the moniker "Godfather of the British Blues." For a short but compelling time in the '60s and '70s he recognized raw talent when he saw it, he took it in, he nurtured it and everyone thrived and benefited as the result. Many of the best musicians of the period passed through the hallowed ranks of John Mayall's Bluesbreakers, and all are on show here in a stunning set crammed with musical highlights. Put together with John's full co-operation, the full list of contents is as follows:
35 discs (Including 3 CD Singles & 8 unreleased discs) – newly remastered versions of the original Decca & Polydor albums
Music from 7 unreleased gigs (including Windsor 1967, Gothenburg 1968, Berlin 1969, San Francisco 1970)
28 unreleased BBC tracks featuring Eric Clapton, Peter Green, and Mick Taylor
Individually signed photograph
Hardback book including many rare photos & memorabilia & full gig listing for the period
Separate book including two years of fan club letters & correspondence
Two Replica Posters – Ten Years Are Gone and tour poster from 1968
Replica press pack for John Mayall Plays John Mayall
This boxed set is limited to 5,000 copies worldwide and will be released on January 29th, 2021 on the Madfish label through Snapper Music.
Pre-Order
Collectors Choice / Popmarket