Ready to get your motor running? Well, buckle your seatbelt and prepare for a wild ride with Canada's premier hillbilly rockers, Cousin Harley!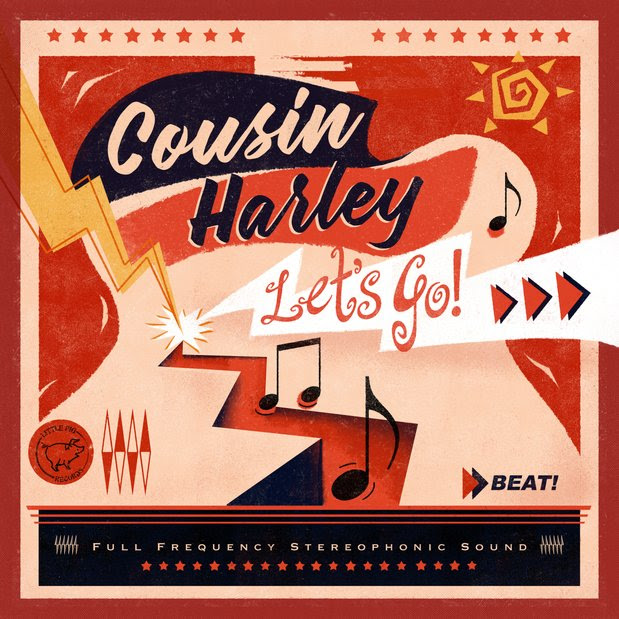 This, their seventh release, harkens back to their roots as a hard-hitting, virtuosic power trio that's not afraid to genre smash everything from Django Reinhardt to Motorhead with no apologies. Cousin Harley can explode like an active volcano, swing like the Basie Band, and holler like a lonesome hillbilly in the backwoods of Appalachia, all at the same time! As a result, they have achieved a cult-like following, toured extensively, and, have been featured in music publications worldwide.
Let's Go! was recorded at Afterlife Studios in Vancouver, Canada, in the early spring of 2020. When the pandemic hit Canada and all but shut down the music business, it didn't stop Paul Pigat, Jesse Cahill, and Keith Picot from finishing another world-class recording. What people need now is music. Fun music! And they are here to provide!
Vancouver's Cousin Harley is the rocking hillbilly persona of Gretsch endorsee Paul Pigat – multi-instrumentalist, composer, arranger, producer, and guitarist of epic proportions. Having shared the stage with such legendary artists as Brian Setzer, Jeff Beck, James Burton and, Jakob Dylan, to name a few, he has a hard-earned reputation for delivering the goods and never disappointing.
Called the "Motorhead of Rockabilly" by a delirious fan after a particularly raucous show in Holland, there's nothing tentative about Cousin Harley's pedal to the metal approach to this stripped-down form of rock and roll. As Pigat notes, "Cousin Harley's been my main project for 12 or 13 years now, and people think it's easy to play rockabilly, but nothing could be farther from the truth. Everyone has to be on board from the first note or it just doesn't work." And judging from the people who drove or flew hundreds of miles to attend shows on his last European jaunt, everything's working just fine.
Let's Go! will be released on Nov 26th, 2020. It will be available worldwide through Burnside Distribution, iTunes, CD Baby and all other download and streaming services, or directly from paulpigat.com. Cousin Harley is an unstoppable rock 'n' roll wrecking crew with a blistering, not-to-be-missed live show (whenever that's allowed again)!
*Feature image courtesy of artist's Facebook