Duane Allman a.k.a. Skydog was best known for playing Gibson Les Pauls throughout his career. While Les Pauls may have been his favored musical companions, he used over 30 different guitars between 1961 and 1971.
Allman's first guitar was a 1959 Gibson Les Paul Jr that he purchased in '61. He used it until '65 when he supposedly pawned it.

Delaney Bramlett later said that he purchased a red Les Paul Jr from a pawn shop, and when he showed it to Allman, he recognized it as his own by a scratch on the back. It was later sold by Bramlett and is now in the hands of Japanese collector and musician Kunio Kishida.
Around the time he stopped using his first Les Paul, Allman acquired his first Strat, a 1956 Fender Stratocaster. Allman only used the guitar for a year, and it's believed that he got it through Jimmy Jewell, the owner of a Florida based guitar shop.
Allman played a 1950s Gibson ES-335 Red Block Bigsby with his first band The Escorts, who opened for The Beach Boys in '65. He continued to use the guitar while playing with The Allman Joys until '66. The guitar sported a cherry red finish, block inlays, and a Bigsby tremolo.

Duane got his hands on a 1954 Fender Telecaster in '66 while playing with the Allman Joys, and for a year it became his main guitar while playing with Hour Glass.
The Tele has a maple Stratocaster neck installed, a custom white pickguard, and a fuzz/distortion box connected to two broom holders, which were screwed onto the body. According to Gregg Allman, the guitar was traded for a Gibson J-45 acoustic that Duane later gifted him.
In '67 Pete Carr, who was Hour Glass' bassist, let Allman use his 1950s Fender Telecaster. Allman had the guitar set up for slide and used it to hone his craft.
The Tele was used to play the first live rendition of "Statesboro Blues" in '68, making it an important part of music history. Allman somehow snapped the neck of the guitar during a live show, and then gave it to Carr's father to repair it, where it's remained ever since.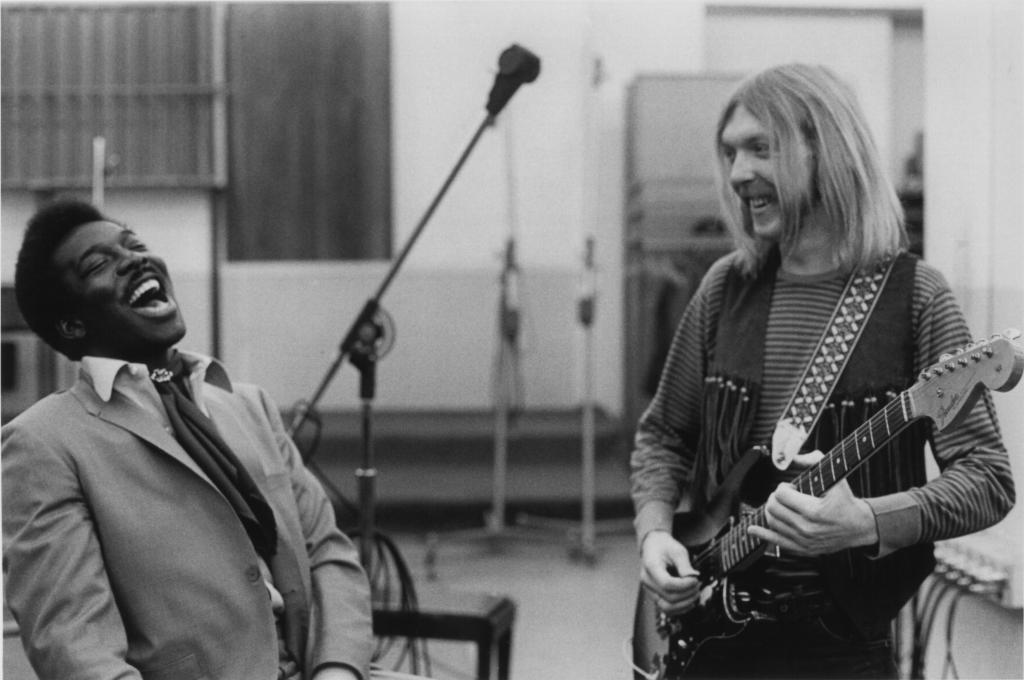 While working as a session guitarist in '68, most notably at Muscle Shoals Sound Studio collaborating with artists such as Aretha Franklin, Allman used a 1960s Fender Stratocaster. The guitar was a replacement for the Fender Telecaster he played with The Allman Joys and Hour Glass.
The Crème de le créme of Allman's guitars was his 1957 Gibson Les Paul Goldtop that he purchased in '69 from Lipham Music Shop in Gainsville, Florida. This was his main guitar during the first year of the Allman Brothers Band.

The guitar was used on The Allman Brothers debut album released in '69, as well as "Idlewild South" released in 1970. It was also used during the Layla sessions with Eric Clapton in August 1970, weeks before he traded the guitar for a 1959 Cherry Burst Les Paul.
In September 1970, the Allman Brothers played a gig in Daytona Beach, with support band the Stone Balloon. The guitarist of that band, Rick Stine, played a plain top 1959 cherry burst Les Paul, which Allman wanted.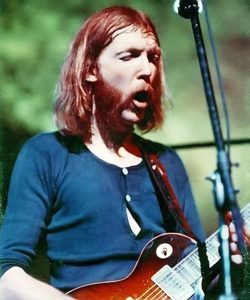 He made a deal with Rick and gave him his '57 Goldtop, $200 in cash, and a 50-watt Marshall head for the '59 cherry burst, keeping only the PAF pickups from the Goldtop. He played the cherry burst Les Paul during the Live "At Filmore East" record.
These days the Goldtop is often lent to Warren Haynes, Derek Trucks, and other players for live shows. When not in use, it stays at the Big House Museum in Macon, Georgia.
During the last months of his life, Allman was mostly seen playing a 1950s Gibson Les Paul Standard Tobacco Burst "Hot Lanta." He got the guitar in '71 from Kurt Linhof – a guitar dealer and collector who he met through Billy Gibbons of ZZ-Top.
Allman also owned and played a 1950s Les Paul Goldtop (not to be confused with his 1957 Goldtop Les Paul), a 1960s Coral Electric Sitar (used on his collaboration with King Curtis "Games People Play" ), a 1958/59 Gibson ES-335, a 1968 Gibson Les Paul Custom, a 1961 Fender Stratocaster, and a 1961 Gibson Les Paul/SG, as well as an assortment of acoustics.