With over a decade of studio experience, Aaron Bastinelli has traveled the world working with over 1500 international artists and worked on staff at several famous New York City studios. Aaron prides himself on pushing the emotional aspect of every song he works on and is currently based out of Fun Sound Studio in Brooklyn, NY. He has had the pleasure of working with many well-known artists, including U2, Maggie Rogers, Marky Ramone, Grandmaster Flash, Matt and Kim, The Roots, Foster The People, Kaki King, The Hold Steady, Vacationer, The Suffers, Lettuce, Tune-Yards, and Noah Cyrus.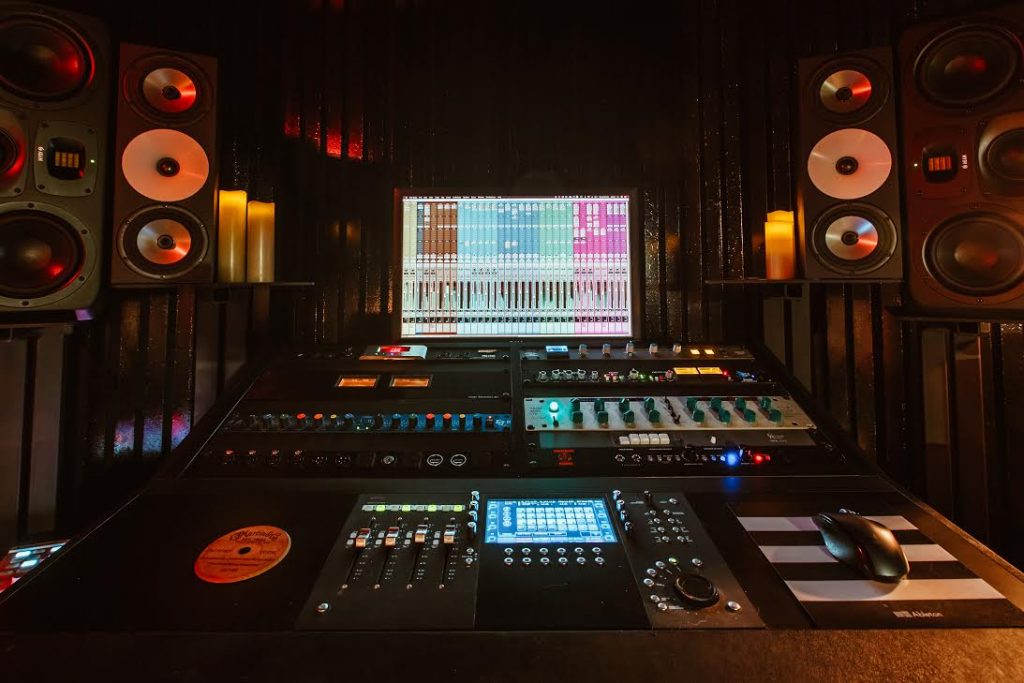 How and why did you get into music production and engineering?
 I started playing guitar in high school and I fell in love with it and really wanted to learn as much as I could. I was into hardcore and punk and those were the type of bands I played in. My guitar teacher went to Berklee and he opened me up to a bunch of different music. While in high school, I was taking video editing classes which I liked, but wasn't really into working on videos. I wondered what the music version of video editing was.

I interned at an unbelievably bad local studio which was built in the back of a Chinese food restaurant. It was as DIY as you can possibly get. I worked with local punk bands and I really fell in love with the process of recording. I got the bug. I love playing, but I never really wanted to be a performer. I have played a lot of shows, but it's something that I never really wanted to focus on. I enjoy putting the producer hat on and approaching music from that side.
Can you talk about Berklee?
 The Berklee College of Music MP&E Program is fantastic. I have a lot of mixed feelings on the music education process in general, as someone who went to school, was an intern, assistant, and then worked my way up to being head engineer eventually had interns working for me, so I've been able to see how the process works from both sides. I do feel that Berklee gave me a fantastic foundation. After Berklee, I was able to work with engineers with significant credits and success.

I took the foundation I learned in school and pivoted from a technical level of how equipment works to a more musical level of engineering and producing. The cost of music education has become so high it is very difficult for me to suggest people seek it out. If you are going to Berklee, you may as well be going to MIT or Harvard and once you leave MIT and Harvard you can become a rocket scientist or something and make a lot of money. When you come out of Berklee you are a musician where there are really no jobs. Despite having mixed feelings about the education process I did learn a lot at Berklee. I made a lot of connections and long-term friendships. Most of the jobs I've had over the years have been from fellow alumni.
As an engineer how do you balance the creative with the technical?
It can be difficult. When the last studio I worked at full time closed, I didn't want to be a staff engineer at a studio anymore. I love mixing and producing, which is where I turned my focus after going freelance, and those two things make up my main focus. The trend in music production is that artists want someone to collaborate with, whether that's as an engineer, mixer, or producer. It is one of the benefits of working with someone else that is not a band member. It adds an enjoyable experience for everyone. In the past engineers spent more of their time as button pushers, but that happens less and less, there are times when that happens where a band comes in with a producer and you collaborate on sounds with the producer.

You are running Pro Tools and making sure everything sounds good, but a lot of the time bands come in and they are looking for an extra set of ears to help with production. I have played both, engineer and producer roles. For me, the technical side of things always came naturally. I learned from a lot of amazing engineers early in my career and I learned a lot of great tricks. Those experiences mean I can step into any studio feel comfortable and get great sounds. I also try to make everyone feel involved in the process and get everyone working together. 
 Can you talk about some of your favorite sessions?
 Honestly, it is extremely hard to even pin down. The last studio I worked at was called Rubber Tracks. In the six years that I was there, I worked with 1500 bands. I worked globally and I was able to fly all around the world working at studios, so I have had so many amazing studio experiences. Everyday I was essentially working with a different band. Rubber Tracks was a platform for independent musicians where they could apply online and when accepted into the program would be given a free day of recording time at our studio, no strings attached. It was an amazing A level studio, with amazing professional level gear built in a 5200 square foot warehouse tucked away off the beaten path in Williamsburg, Brooklyn.

Since the artists were all independent, most of them had never been in a studio like that before, or had worked with a professional recording engineer, so every day these artists would come in and it was an amazingly positive experience and something I'm sure they'll never forget. The bands that came in were very excited, and for the most part were prepared and had their stuff together. So it is hard to pinpoint one specific session since they were all so creative. It's hard to describe when you are working on a session, you get zoned in. Whatever you are working on at that moment is the coolest thing. It comes down to the love of working on music. 
 You create so much depth and layer in your mixes: How do you do this?
Mixing is all a balance of combining the technical and creative. Outside of the technicalities of making sure everything is well balanced, the relationship between everything works well, and there is good contrast; A good mix has to have a feeling of depth and width. A lot of that comes with using the tools that you have at your disposal as best as you can. For me, it's not just about using EQ to make it sound good, or compressing something so that it sounds even. It is about choosing how those things work in the context of the mix. For example, on some of your mixes, the guitar comes in and it is very full range and has a lot of low and top end.

In the context of the mix, there may be something else that fills the space, so I might shelve off some of the top and bottom end making it sound more mid-range. If you were to solo the track it may sound weird but in the context of the mix everything fits like a puzzle piece. Once you start doing that, you can start pushing things around a little more and make things feel like they have their own space in the mix, its own physical location. Nothing is stepping on top of each other. You can hear the layers very clearly. Also, I'm a big fan of using distortion tastefully. I have some outboard gear but ninety nine percent of what I mix is in Pro Tools. Because of that I am constantly trying to make it sound like I am mixing on a big console going to a tape machine to get that organic vibe, but maintaining a modern aesthetic.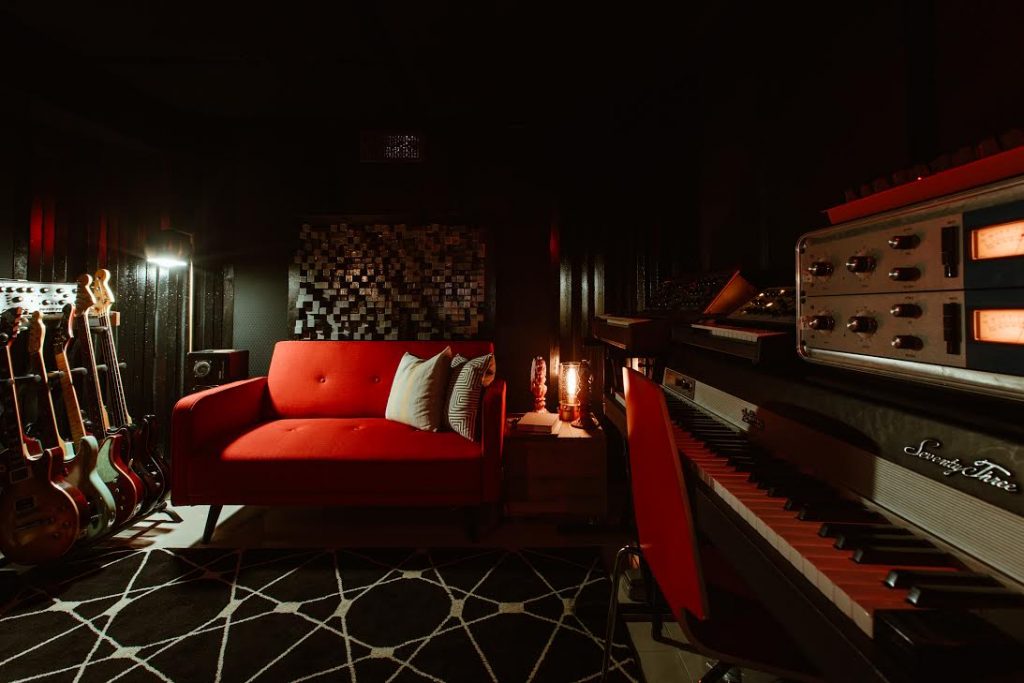 How do you protect your ears after listening to music day in day out?
 It is something that I think about all the time. When I started, I was working with engineers who had been very popular from the 80's through the early 2000's. The heyday of the music industry. Those guys almost always listened to music loud. The first engineer I worked for, he literally lit speakers on fire because he listened so loud. This is not an exaggeration. I witnessed flames shoot out of a speaker once in the middle of a session. You would walk in the room and your clothes would be rippling because it was so loud. It was like being at a concert. We don't live in that world anymore. I have a decibel meter on my phone. I have trained myself to listen at slightly lower volume levels than I used to. It is a conscious decision and something I have to continuously check. When you are mixing it is very easy for the volume knob to keep creeping up and up, especially when you want to feel the music. That is why I use a decibel meter so I can have a concrete reference as to how loud I am listening.
 What is the most important piece of advice you would give to people looking to get into engineering?
 I wouldn't recommend someone going to school for engineering if they have to take out student loans. I don't think it is reasonable to go hundreds of thousands of dollars into debt to come out into an industry with such limited job opportunities. There are other ways you can go about learning. If you're insistent on going to a recording program I'd suggest you get all your credits at another college and then go to music school for a semester or two and get your engineering degree.

Either way I still feel going through the internship and apprenticeship of learning from another engineer is extremely important because there is no way a school can prepare you for how intense a session can be. You have to be on your game and in the zone during sessions. The artist can never know that something is going wrong when it is. Learning to deal with that pressure takes experience and you are not going to know how to handle those situations unless you do it in real life. Find an engineer who works on music that you want to work on and try to learn from them. You want to try and find an engineer who has been successful with the kind of music you like. It is more beneficial if you pick someone that you want to learn from and intern at one of their studios and work your way up to try and assist them. 
 Do you have a favorite piece of gear?
 My speakers are my favorite because they are the most important. I have a really nice pair of Adam Audio S3H's. They are big midfield three ways. They are the best speakers I have ever used. That's my most important piece of gear. I have some cool vintage reverbs and delays. I have a PCM42 which is a cool delay. I have a premier spring reverb tank from the 60's, and a bunch of other cool outboard compressors and EQs that I have set up as hardware inserts in Pro Tools. But if someone took all my gear away and I could only take one thing back, it would be my speakers. 
 Which artists would you love to record and why?
I'm a huge Radiohead fan and I love Billie Eilish. I love Tame Impala, and there's a band from Texas called Khruangbin that I really like. There are so many bands I'd love to work with!
 Where do you see yourself in the next few years and what else do you want to accomplish?
With the pandemic, I lost almost all my work. I had all these projects lined up last year and most of the artists I work with supplement their music projects by working at bars and restaurants, so the bottom dropped out for all of us. It was like a domino effect, they lost their jobs and so I lost mine. I took my time thinking about how I was going to pivot and what I was going to do. One of the things that has been a blessing is working on podcasts. I do a lot of mixing for a podcast company called WaitWhat. They have a lot of great shows, and it is really a lot of fun working on something a little out of my comfort zone. As things have started to open up a lot of the projects I had lined up have come back, so I am mixing music every week at this point and there are a bunch of productions that I am working on.

But keeping the podcast work has given me a level of comfort so I can say no to projects that I don't want to work on. There were some projects I had to work on that I wasn't so excited about, but I had to do it because I had to make money. For me at this point it's going to be about finding balance. I want to work on stuff that creates a level of security, but also from a fulfillment side work on music that I really love working on. My goal is to focus on working with artists that make me love working on music. It is very easy to become disillusioned when working on music you don't like to pay the bills and provide for your family. It's easy to go from "I do this because I love it" to, "I don't want to listen to music anymore" because I'm so burnt out on all this stuff I am not excited about. Taking that step back has helped me regain my love of listening to music and my love for making music and playing the guitar. So really my goals are to spend time with my family, and work on music I love, without having to work twelve to fourteen hour days and feel burnt out.
Editor's note: Please join ABS in wishing Brant Buckley well as he fulfills his pursuit of teaching guitar full-time. This is his last interview for us, but you can read more of his work here.
*Feature image credit: Bryan C. Parker