The first thing the Pandemic taught me was that just going out to the local IGA for a pound of hamburger could put my life in danger. A year and a half later, I'm learning not to assume anything until it actually happens. We all desperately need to snatch back those things that made our life worth the crap we go through daily just to stay alive.
The Chenango Blues Festival is one of those things. 
Now, I'm a prima donna when it comes to blues festivals and concerts. Until this year the only such events I've paid for in 52 years as a music journalist were Rolling Stones concerts. If I preview an event, I get a comp ticket plus one. Pretty much standard in my world.
I constantly get asked at the events I review if I'm there for work or for pleasure. My standard retort is that I've long since given up separating the two. I love the music, and I love to write about it. It's a no brainer for me.
But this year is different. I guess you could say I'm part of "the new normal." But that new normal keeps throwing nasty surprises at me. I know I'm not alone, and relative to the horrors that many have faced, I am extremely fortunate.
I go every year to the Chenango Blues Festival in Norwich, New York, a bucolic "city" several rolling hills from nowhere at the Chenango Fairgrounds where traditionally one of the vendor booths features information on cow tipping, and The Dinosaur Barbecue sells the best pulled pork sandwich north of the Mason Dixon Line. 
I usually do an advance article or interview with one of the artists, and organizers of the event Eric and Pam Larsen graciously extend comp tickets and backstage passes. This year I decided to go as a civilian. I didn't do any advance articles and I didn't ask for any favors.
Day of the show I roll onto the fairgrounds, 40 bucks clutched in hand. First, I'm greeted by a lady collecting donations for the local SPCA. I give her a buck. Then I'm greeted by lady who asks for my ticket. I don't have a ticket. I'm there to buy a ticket.
Oh, she says, only advance ticket holders are being let in. "Wait a minute," I say, "I just drove 200 miles and you say I can't buy a ticket?" "Well, its all over the internet there are only advance tickets being sold." I am firmly resolved not play "New York critic" routine on her and/or demand to talk to the Larsens. I must have looked pathetic to her. She snatched my $40, handed me a wrist band and told me to follow the car ahead of me and park next to his 4X4.
The next surprise was that the number of vendors was reduced to a handful: no Dinosaur Barbecue pulled pork sandwich, no t-shirts with classic blues labels emblazoned on them, only a couple of artists and jewelry salespeople, and a small Mountain Dew was $2.50.
Ah, but the music! The aural nectar of the Gods! Social distancing be damned. Everyone there had made it to heaven, and we all were sponges lapping up the sounds we loved. And the artists felt it, too.
"It's been a long year of days spent getting up and going to bed," said Mississippi soul man Zac Harmon from the tent stage. Concert cancellations had almost reduced him to living out of his car, and he begged his fans to buy his CDs.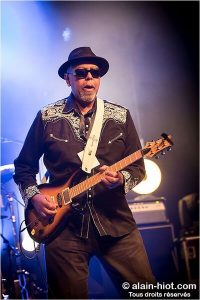 He wasn't canning his deep funk for the crackers in rural New York. Not this bad boy. His "Bad Like Jesse James" was almost scary. The storyline is that he lets a friend stay in the guest bedroom until that friend admits he did his wife. And the rest of song is about his contemplating how he's going to off that friend with options that included drowning and knifing.
The anger was palpable, the delivery so funky, I thought I was in a Mississippi chitlin circuit bar after midnight. This guy wears dark glasses indoors because his stare will reduce women to jello.
Zac covered R. L. Burnside's "Old Black Maddy," took his dark glasses off for "40 Day and 40 Nights" while making eye contact with one middle aged woman in the audience making gestures that said I'm yours. He addressed the men over 50 in the crowd with a song about the little blue pill, promising that it would make them feel 18 again.
Not since Muddy Waters and Howlin' Wolf have I seen a stage presence as seriously seductive as this was, and backed by a seasoned band that knew the score.
Doug MacLeod is a double threat. A fine acoustic guitarist, he's also the best storyteller in blues today. "She makes such good love to you, you think it's happening to you," he told the crowd. He's been happily married for 42 years. Backstage we hugged each other like brothers returned from the dead, and I told his wife she was the fuse to his muse. At the end of his all-original set, he told the crowd, "I could make you laugh, I could make you smile, I could make you think, but most of all I hope I make you feel." That was the universal mantra for the day.
Sacred Steel master Robert Randolph was a last-minute replacement for Jimmie Vaughan who had tested positive for Covid 19.
Far and away the loudest set of the day, Randolph built his hour and a half performance around Hendrix classics "Foxy Lady," "Purple Haze," and "Red House." I find most artists who cover Jimi tend to turn his flights into cement. Not Randolph.
Calling on his background playing on an instrument that has been a stand-in for organ in African American churches for more than a century, he went into an exhausting free fall throughout, giving Freddie King's "Tore Down" a sacred smash mash. He even called up Kingfish, the other fastest string man of the day to sit in on one number.
Kingfish was the biggest festival disappointment for me. His two Alligator albums are the best releases by a youngster under 21 (He's 22 now) I've ever heard, and YouTube recordings of his live sets are more than simply blistering. They're nuanced. But currently on an exhausting tour, he came across more like most young firebrands who place speed above feel. I wouldn't say he phoned it in, but I don't think he was feeling it. And his walk into the crowd came off as an old hat trick.
Kevin Burke, an Iowa educator turned blues man, turned heads a few years ago at The International Blues Challenge with his covers of Bill Withers chestnuts. He did "Grandma's Hands" at my request at Chenango. But his originals and his heartfelt connection with crowd guarantee he's a player for the long run.
The Saturday show began with Los Bancos, a Syracuse four-piece band featuring an accordian. Their sound borrowed from Los Lobos, the Neville Brothers and Hot Tuna. "We play out all over the country, and the Chenango Blues Festival is our favorite festival," they announced. This is the 28th years of this festival run by Pam and Eric Larsen, and they do run it really well!
The Horojo Trio from Ottowa has the distinction of winning the 2020 International Blues Challenge. They weren't bad, but I can think of at least four acts The Northeast Blues Society sent from New York's Capital Region more than a decade ago that could play these guys under the table: Albert Cummings, Tas Cru, Folding Sky, and George Boone. The times they are a changin'.