Gulf Coast Records announces the signing of New Orleans-based artists Jason Ricci and Joe Krown, and will release their debut duo album, City Country City, on October 22. Harmonica player/singer Jason Ricci is a multiple Blues Music Award-winner, while organ/piano player Joe Krown has legendary Crescent City credentials and is currently the keyboardist in Kenny Wayne Shepherd's band. Together, they team up as Ricci/Krown on their new CD, City Country City, a retro soul-infused outing that features Jason's gutsy vocals and stellar harmonica, overlaid with Joe's melodic and earthy organ playing. City Country City brings back the sound and feel of early 1960s jazz/blues with an original sound all its own.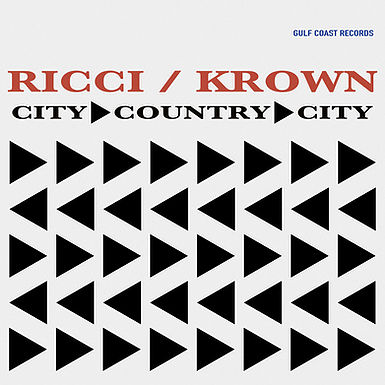 "I first met Joe Krown as the organist of the Clarence 'Gatemouth' Brown band," recalls Gulf Coast co-owner/artist Mike Zito in announcing the signing. "Joe went on to become a staple first-call musician in New Orleans and a member of the Kenny Wayne Shepherd band. His style is very soulful and organic. Jason Ricci and I were signed to Eclecto Groove Records in the late 2000s in Los Angeles.
Jason was touring full time with his band, winning awards and lighting the world on fire with his incendiary harmonica playing and deeply honest song writing. I had never seen anyone play the harmonica the way Jason plays. He is celebrated with BMA awards and nominations for best harmonica. I got a call from Jason last year and after catching up on things, Jason told me about a new project he was really excited about. He had been playing some shows with Joe Krown on organ and famed New Orleans drummer, Doug Belote. They were doing an 'Organ Trio' style group, but with harmonica, organ and drums. Jason was singing as well. He told me this is what he's wanted to do for a long time and they were considering making an album. I got very excited, as I have been a fan of these gentlemen for some years now and the thought of them playing together sounded intriguing.
"The duo with Doug Belote on drums got into the studio in spring of 2021 in New Orleans and got to work recording fresh new original music and covering some classics as well. The sound is pure joy. The music has air and electricity all at once. It breathes and is urgent. Hearing the tracks for the first time was an experience all its own. It was like hearing music you have never heard before and something you have known all your life. The chemistry between Joe and Jason is obvious and they complement each other's styles perfectly. I am so excited for everyone to hear this album, City Country City, wonderful music that is a listening pleasure to experience over and over. I am proud this album is released on Gulf Coast Records and I look forward to more music from Jason Ricci and Joe Krown." 
"Working with Joe Krown makes me feel like I'm finally beginning to be a musical grown-up," says Jason Ricci about the new album. "But we still have as much fun as little kids! Being linked up with a New Orleanian with Joe's heavyweight history is truly a dream come true." 
"Jason and I quickly connected musically," adds Joe Krown. "We're both blues musicians that have also extended into jazz and funk. Within a short period of time we started booking shows under both of our names regularly around New Orleans and beyond.  Our biggest hurdle is finding time that we can play together given both our busy schedules, but Jason and I have always made time and will continue to make time to perform together."
Jason Ricci is one of the best and most imitated blues harmonica players of the 21st century. He picked up the instrument as a teenager when he started playing in a punk rock band. His journey started in earnest when he watched and later was mentored by legendary harmonica player Pat Ramsey in Memphis. As Ricci gigged and grew as a player he found work and support from the southern blues community. He lived and played with Junior and David Kimbrough in Mississippi and then worked as a sideman with Big Al and The Heavyweights for more than a year. In the late '90s, he formed Jason Ricci and New Blood, a band that toured around the world for more than a decade and released critically praised albums like Done with the Devil and Rocket Number 9.
Ricci's latest chapter is the New Orleans band Jason Ricci and The Bad Kind, which is influenced by the sounds of New Orleans and artists like The Meters and Doctor John.  What defines Jason Ricci as an artist is the fearlessness with which he approaches his instrument and music and translates the hardships we all face into unforgettable music. 
Joe Krown is a New Orleans-styled piano and Hammond-endorsed B-3 player. He held the keyboard chair with Clarence "Gatemouth" Brown & Gate's Express from 1992 until Gatemouth's passing in the fall of 2005. Joe is featured on the chart topping Gatemouth albums The Man, Gate Swings, American Music Texas Style and Gate's final studio recording, Back to Bogalusa. Joe's played the New Orleans Jazz and Heritage Festival every year since 2001 and the French Quarter Festival every year since 1998. Along with touring all over the U.S. and the world as a solo artist or with one of his bands, he is currently performing as the organ/piano player for the multi-award-winning Kenny Wayne Shepherd Band, and played on Shepherd's The Traveler and Straight to You Live albums. Krown has also toured with Mavis Staples and Allen Toussaint, among many others, as well as recorded a dozen of his own albums.
In addition, Krown has won multiple local New Orleans "Big Easy" and "Offbeat" awards.