One couldn't envision a more psyched crowd or beautiful location: a contemporary suburban golf course with a respectable VFW post near the singular stage, arranged by the owners of Evanston's popular club, SPACE.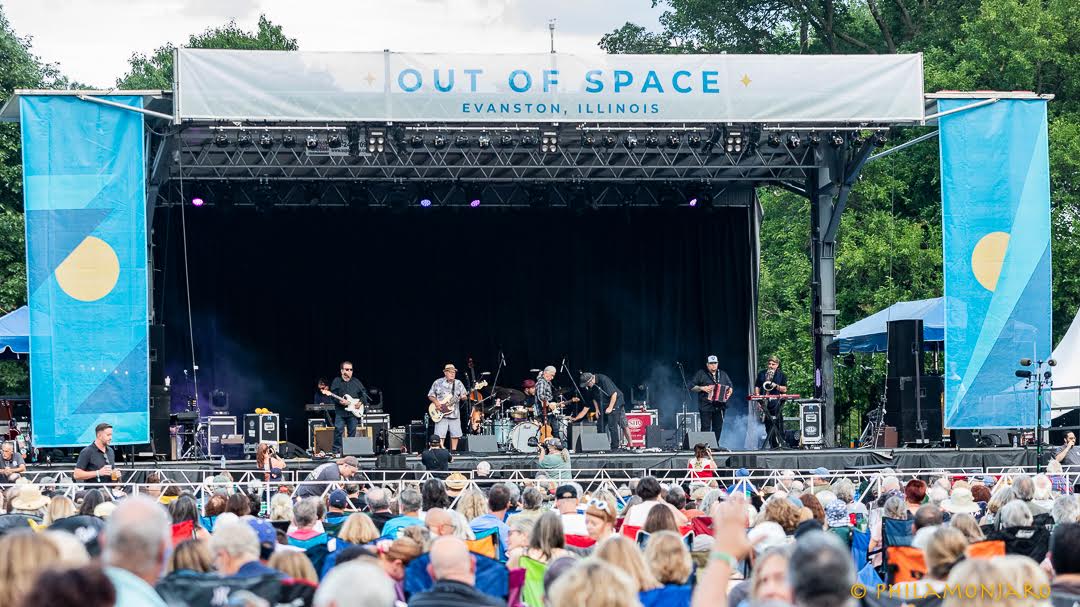 The crowd of vaccinated fans, who most likely hadn't enjoyed live music in a year-and-a half, were pining to hear one of the world's most versatile ensembles. Los Lobos broke new ground in East Los Angeles in the early 1970s. Their memorable lyrics have graced countless pairs of lips; they have made Mexican-American music a mainstream affair.
One can count on one's fingers the number of bands that, like Los Lobos, have sustained legendary status despite starting out in the 1970s. Part of that equation rests on flexibility and virtuosity, qualities that Los Lobos has commanded in spades. That said, their musical oeuvre has included country rock, Tex-Mex, punk and classic rock, genres which they, unabashedly, would explore on the Canal Shores' first set; this night would be followed by three additional concert events.
The original Los Lobos quintet was comprised of: Frank Gonzalez, Richard Escalante, Victor Bisetti, Cougar Estrada and Enrique Gonzalez. In the 1980s, the band underwent a major change after supporting both The Clash and The Blasters, as the punk/new wave scene enlisted and swayed Los Angeles youth. That exposure led to saxophonist Steve Berlin's initiation into the band. Berlin's skill set, richly developed throughout those years with The Blasters, has become a big part of the Los Lobos' signature sound.
Some say that Los Lobos truly came to fame in 1987 with their heartfelt rendition of Ritchie Valens' "La Bamba." Prior to that point in time, Mexican-American influenced music had been more associated with specific radio stations and targeted to non-white audiences.
Los Lobos branched out again with Kiko in 1992. This album, and more specifically the track itself, galvanized lovers of traditional Mexican music and the newly-initiated.
In the 1990s, the band received a Grammy for Best Pop Instrumental Performance. In 2004, the studio album, The Ride featured covers by Tom Waits, Mavis Staples and Elvis Costello. Over the past two decades, the band also boasted a Latin Grammy Lifetime Achievement Award. Then, in 2015, they were nominated for Induction into the Rock and Roll Hall of Fame.
On this recent tour, Los Lobos draw from their 17th studio album, Native Sons, which they have called: "a love letter to Los Angeles" in related press releases. As such, the album celebrates their favorite acts and songs through the ages.
Of special note are two extraordinary touring musicians: San Antonio accordionist Josh Baca, and Fredo Ortiz, the former drummer of the Beastie Boys. While Los Lobos has always procured an uncanny sound, these two men added an extreme layer of excitement.
The five-piece band did not stand on ceremony. After vocalist and multi-instrumentalist Cesar Rosas, wearing signature shades, shouted, "Y'all ready?" Berlin commanded swarthy tones from his bari sax. Ortiz was not shy about filling in the spaces with intricate fills. Shortly after, Rosas informed: "We're gonna play the blues for you now" and Baca complied. By the second verse, the simmering sound of the squeezebox exploded with a fragrant boil.
Berlin dove into the keys when not procuring that buoyant sax sound. But there was plenty of other instrumental bravado, with two battling, electric guitar solos at any given time.
After Rosas brought out the maracas, guiros and cabasas magically appeared as he sang, "My baby's gone, gone, gone…set me free." Rosas, in excellent voice all night, varied his phrasing; sometimes letting a murmur tell the story, other times a succession of animated growls.
"Something in Spanish for your listening pleasure," Rosas proclaimed. A series of infectious beats was followed by Berlin's exhilarating runs. This opening set was rife with jam upon glorious jam.
"Chuco's Cumbia" from The Town and the City got dancers off their lounge chairs and onto the grass. "Volver, Volver," a slow-moving love ballad sung in Spanish was both sentimental and super-charged.
 The best part was that select songs were immediately identifiable:
"Poppa was a Rolling Stone," a grandiose hit for The Temptations in the 1970s, featured an intoxicating bassline and yielded a sea of smiling faces. Judging by the applause, the well-known "Oye Como Va" came in at a close second. The "Tex-Mex section" included a rip-roaring drum solo and syncopated harmonies. With "La Bamba" as the infectious closer, the band detonated electronic distortion, scintillating drum rolls and fills and impassioned electric guitar solos. Los Lobos couldn't provide the encore the audience wanted, as there was little time to maneuver in-between sets, but they lingered before leaving the stage, as if to say, "I missed you all, too."
Photo gallery below. All images: © Phil Solomonson / Philamonjaro Studio