From the rolling prairies of Saskatchewan to the Open Road of a storied career, multi-award-winning, chart-topping, and multi-platinum-selling guitarist Colin James releases his 20th studio album on November 5th via Stony Plain Records. Open Road was mixed at the iconic Abbey Road Studios in London. Colin will support the new album, which is being released on both CD and vinyl LP formats, with substantial touring in Canada and the US — including a spot on the upcoming Big Blues Bender multi-day music extravaganza in Las Vegas in September.
Open Road is a slight departure from Colin's last few albums and leans more into the Americana/blues/ roots categories. While it was made during a time when connecting with others was difficult, Open Road is a record that celebrates personal connections – a deeply satisfying set of original tunes written with long time collaborators like Colin Linden, Craig Northey, and Tom Wilson and reinterpretations of covers by a diverse group of songwriters including Bob Dylan, Albert King, Tony Joe White and Otis Rush.
Open Road was ecorded with long-time co-producer Dave Meszaros, and fueled by standout performances from drummer; Geoff Hicks; bassists Steve Pelletier and Norm Fisher; B3 wizards Simon Kendall and Jesse O' Brien; and rhythm guitarist Chris Caddell.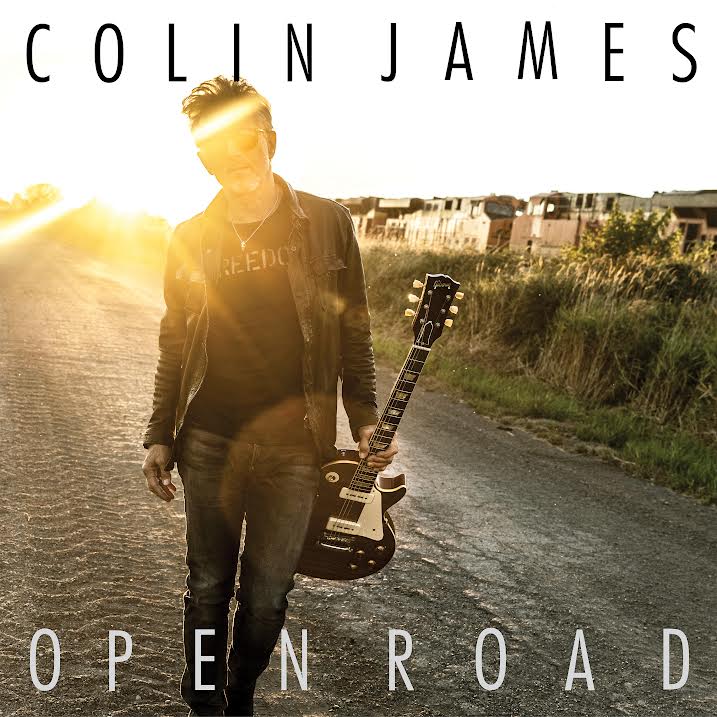 Characterized by ghostly organs set against James' substantial vocal and guitar chops and featuring stellar turns by the likes of Steve Marriner on harmonica, Jesse O'Brien on piano, and saxophonists Jerry Cook and Steve Hilliam, it's also a record with the kind of depth, breadth and impact only someone as intimately acquainted with the genre can pull off in a way that's both fresh and familiar as well as fiery and thoughtful.
In delivering 20-plus albums across 30-plus years, a look back over Colin James' career reveals a timeline rich in highlights, kicking off when he subbed in for a no-show opening act at a Stevie Ray Vaughan concert in his hometown of Regina. He's been following the path Vaughan set out for him that night when Stevie Ray told him, "I'm opening doors for you –walk through them."
His 1988 self-titled debut, featuring two self-penned hits, "Voodoo Thing" and "Five Long Years," was the fastest-selling album in Canadian history, winning him his first of now-seven JUNOs, and an opening spot on tour with Keith Richards. In addition to his own studio offerings, Colin James has worked with some of the world's most revered artists across his multi-decade career — including Bonnie Raitt, Albert Collins, Pops Staples, Robert Cray, Albert King, Keith Richards, Lenny Kravitz, ZZ Top, Mavis Staples, Luther Allison, Roomful of Blues, Bobby King and Terry Evans, John Hammond Jr., The Chieftains, Carlos Santana, Little Feat, Johnny Hallyday, Jeff Healey and Buddy Guy. 
And beyond his own recording and touring to massive sold-out crowds, he is a prolific songwriter, with his music recorded by the likes of Maria Muldaur, Lucinda Williams and Johnny Hallyday. He is also credited with launching the swing revival in Canada, thanks to his wildly popular Little Big Band. 
The album's title track and its accompanying lyric video premieres on ABS today — a song co-written by James and Northey that sets the tone for the album's preoccupation for traveling the highways and byways that are part and parcel of a touring musician's life. But while the track seems custom-crafted to reflect the road life of traveling musicians, it's a song anyone can find their own lives and experiences reflected in; all summed up in the lyrics, "every life is an open road."
Of "Open Road," James tells ABS:
I wrote the title track, "Open Road," with my good friend Craig Northey. This song is about embracing uncertainties, amplified by the events of the last year and a half, which I think is something we can all relate to. My longtime friends and co-conspirators James O'Mara and Kate McBride captured these images on a spectacular late summer evening during our album cover shoot.
Colin James is heading out to support Buddy Guy! Tour dates below: 
March 13, 2022 – Beverly Hills, CA – Saban Theatre
March 16, 2022 – Chandler, AZ – Chandler Center for the Arts
March 17, 2022 – Tucson, AZ – Rialto Theatre
March 20, 2022 – Austin, TX – Austin City Limits Live at The Moody Theater
March 27, 2022 – Lexington, KY – Lexington Opera House
March 31, 2022 – Lynchburg, VA – Academy Center
April 1, 2022 – Ashland, KY – Paramount Arts Center
April 3, 2022 – Greensburg, PA – The Palace Theatre
Connect with Colin James: 
Facebook | Twitter | Instagram | YouTube