Mighty Joe Castro & The Gravamen add an authentic patina of what singer-songwriter Joe Castro calls vintage sounds/not vintage values to their original rock and roll music. The Philadelphia-based quartet play in the style and spirit of their predecessors — but equipped with intelligent lyrics and their own singular atmosphere of rockabilly jangle, doghouse bass, and boogie beats. 
Castro aptly describes their sound: "What if Buddy Holly had access to a stack of effects pedals and some Nick Cave and the Bad Seeds records?"
The band's debut album, Come On Angels, was released last year. From its title track — equal parts whiskey-soaked lament and feel-good song of the summer (and fall and winter) — to the Beach Boys-level harmonies on "Whispering Hell," Mighty Joe Castro & The Gravamen represent a patchwork of the sounds and cultures that made me fall in love with music to begin with. 
Mighty Joe Castro & The Gravamen joined an all-star lineup, which included Patti Smith Group's Lenny Kaye, and performed on the Johnny Thunders Birthday Bash 2021 livestream. Premiering exclusively today is that performance of their soulful re-imagining of Johnny Thunders' "Disappointed In You." The video was recorded live (no overdubs) at Miner Street Recordings, and filmed by Bob Sweeney.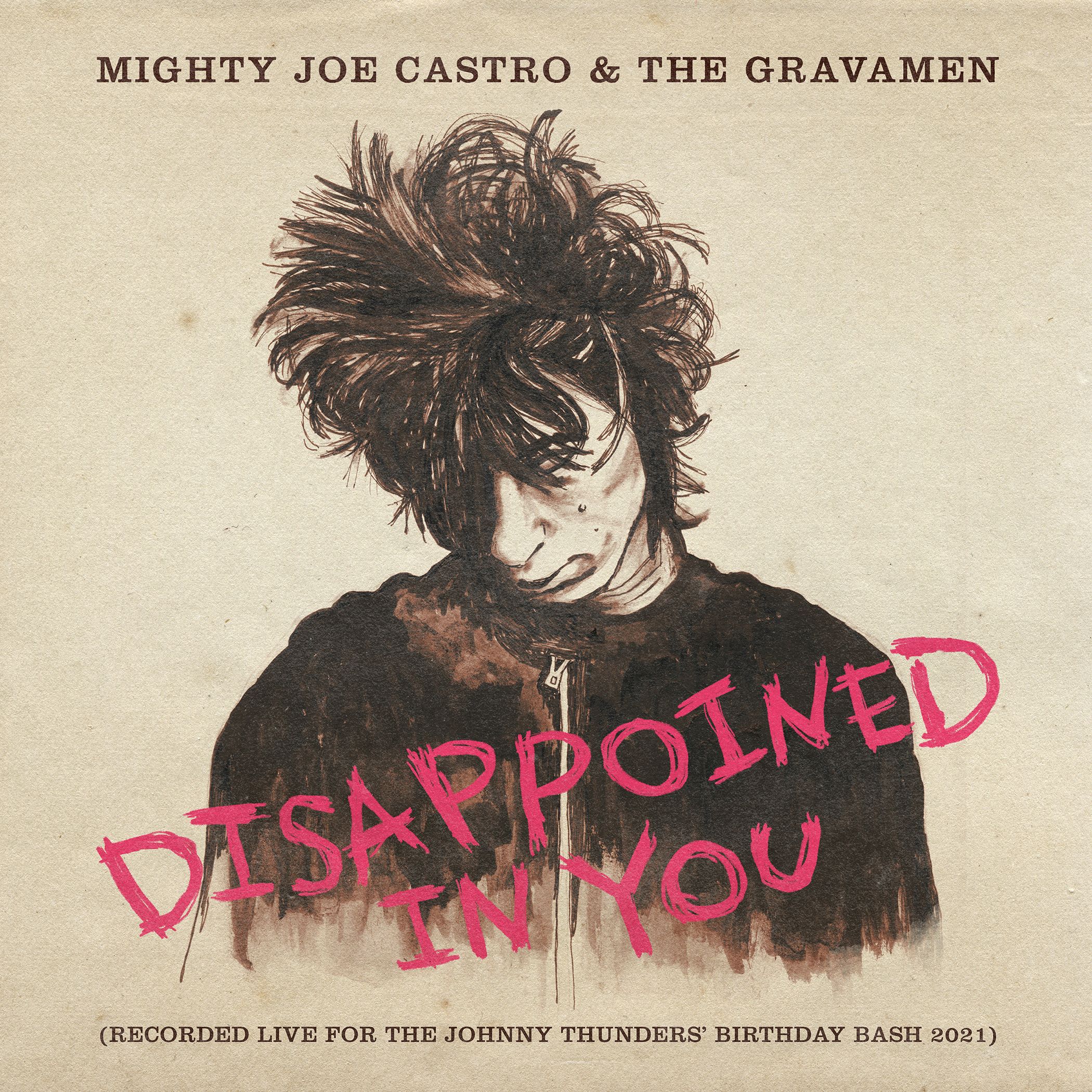 Of Johnny Thunders, Castro writes for ABS:
Going down a Heartbreakers rabbit hole years ago, at a time in my life when a few former bandmates and childhood friends had recently passed before their time, I came across a live version of this tune, with just Johnny and a sax player, and it blew me away. As a song, it didn't feel fully finished but it held its ground with a rough honesty. I got the feeling that Johnny was singing just as much about himself as to some other person. 

I think any working musician or artist with a little mileage under their belt, has lost someone close to them who had so much talent, so much potential, so much heart… But in the end, they let it slip away either to drugs or depression. Sadly, I could relate. 

So I was honored to be asked to participate in the Johnny Thunders Birthday Bash 2021, as part of the livestream, and knew I wanted to do this song.  We took it seriously and I wanted to do it right. It was recorded completely live (no overdubs) at Miner St. in Philadelphia by Brian McTear. It was filmed by Bob Sweeney, who used 4 stationary cameras plus his handheld. For three hours of work, I think it came out pretty good.. Thank you Steve Krebs, Barry Apfel and Simone Zimmerman for including us.

These days, when I think of Johnny Thunders, I think of attitude. Swagger. Style. The guy had it in spades. But if you strip away all the drug mythology and notoriety that gets tangled up with his legacy, what you're left with is genuine 100% New York City rock-n-roll. Not to mention the songs, which continue to stand the test of time.
Editor's note: Joe Castro is also an accomplished collage artist, musician and graphic designer. His work has been shown in galleries and art spaces across the United States, Canada and Europe and featured in numerous books and magazines including The Age of Collage (Gestalten),Glamour, GQ Style, Arkitip and The Baffler. Last year, following the release of Come On Angels, he penned a thought-provoking Rockabilly Against Racism op-ed for ABS.
Connect with Mighty Joe Castro & The Gravamen: 
Mighty Joe Castro  |  The Gravamen | Instagram  |  Facebook  | Twitter
*Feature image credit: David Norbut