Home is the space you prefer to be above all others. Emotional bonds are not with the home itself but what resides there. Home is a dance floor with no pants and my animals. Home is a bus ride on the long commute to work early in the morning. Home is a hotel room for the night where I can bathe and pump the AC as high as it will go. Come in, she said, I'll give you shelter from the storm. Home is a relative term that womxn are quite adept at making wherever they go.
This month we feature Breezy Peyton (she/her) from Reverend Payton's Big Damn Band and Mel Flowers (they/them), currently of the Secret Lives. These womxn make a home wherever they find it and find themselves mostly on stage where they create a musical home for all to witness, if for only one night or for as long as you follow them. In many cities, on many different stages, home is where the heart is.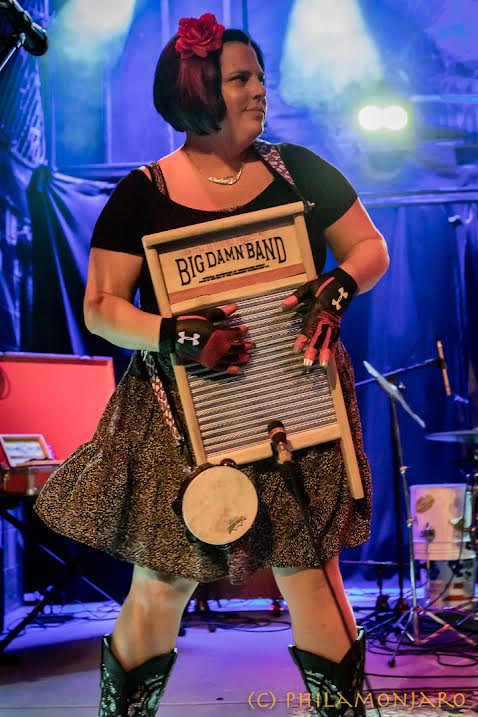 Playing 300 shows a year until March 2020, Breezy Peyton was hit early with a 102-degree fever for a month straight while she witnessed her gigs dry up overnight. Facing the loss of her vitality and her livelihood, her home became the rock on which her new foundation was built. She anchored herself to making new music and keeping her band employed.
"The first month was just survival month, you know, how are we going to survive this – physically, and also emotionally and financially. After we made it through that first month and figured out that we were going to be okay, then it was, let's make the most of it." Breezy Peyton (she/her)
Luckily Rev. Peyton's Big Damn Band was playing a show in Chicago when the shelter in place order was enacted. They were not too far from Brown County Indiana so they weren't too far from their home. At that time they figured they would have a month or so off but the silence lasted much longer. Moving the scheduled show dates back until it was deep summer caused them to rethink when exactly it would be that they could get back to playing shows.
"We live in a log cabin that was built in 1845, so it's an old cabin. What you see in the (livestream) videos isn't much more than what the house is. There is a downstairs, so we keep some of our music stuff in the kitchen, obviously. But that's pretty much it. It's a pretty small place but it's beautiful Brown County and it's in the hills and we've got a whole national forest behind us. It's beautiful. It's beautiful rolling terrain. I love it here." – Breezy Peyton (she/her)
"Something that makes me feel safe when I need emotional shelter is music. I actually don't play bass that much, surprisingly. I mainly play guitar when I'm at home. I write songs. Recently, I've gotten back into playing drums, which I love. I'm obsessed with it right now. I just got a new drum kit, super excited about that." – Mel Flowers (they/them)
So is home where the drum kit is? Is home where the musical instruments occupy the kitchen? Home is a gesture. It's a feeling and a small act of making home wherever you are at, wherever you feel at peace.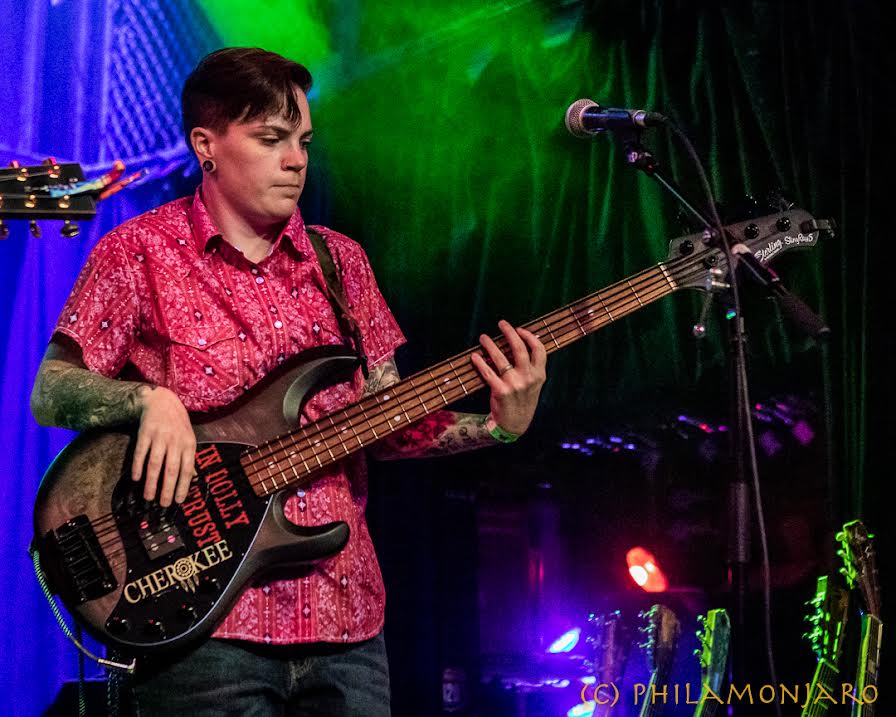 "Home is an interesting thing to me because I think a lot of people equate house with home, but I view it as two completely separate things. As someone that has traveled a majority of my life, not so much during the pandemic, of course, but for a while, I didn't really have a house.  A house becomes something less familiar than a home. Brandi Carlisle has a song that I love. One of the lyrics is wherever is your heart, I call home. There are three things that have my heart, music being one of them.
"Whenever I am on the road, a lot of people miss home. But to me, that is home because of all the people I get to meet and the experiences I get to have, and all the enjoyment I get out of being in a new place that feels like home to me. When I'm on the stage, that feels like home to me. Of course, my girlfriend and my daughter feel like home to me. Wherever they are, doesn't matter if we are in a house or on vacation or wherever we are. Those three things to me are home because a house and a home are not the same things at all." – Mel Flowers (they/them)
"I'm the type of person that even in our hotel rooms, if we are in a hotel for 2 days, I'm going to the grocery store to make it feel more at home instead of having the best food or ya know… restaurants that aren't too great. I'm very adaptable and that's one thing I've learned. Touring full time for fifteen years, the hardest thing to find is touring help. We have gone through guitar techs and touring managers and drummers over the years. Your ability to adapt is as important as your ability to play the instrument or do the job because no matter how good you are at the other stuff, I know plenty of better musicians than me, but they can't take the touring side of it. That's the hard part. This last year has made me realize that I am a lifer. We got to spend a year and a half at home but I still prefer being on the road." – Breezy Peyton (she/her)
Twenty percent of the clubs Reverend Peyton's Big Damn Band used to play at don't exist anymore. While live streaming has been a whole new world and a great way to keep listeners in the loop, it still isn't the serotonin-inducing experience of live music. These womxn will have to think outside the box to keep themselves and their fans safe while still finding home on stage performing for an audience.
While so many find their strength at home, home is a state of mind. Home encourages and uplifts. Home provides the structure for your life. If you are in the creative arts, home is where you find that creative flow.
"We've started a Patreon during the pandemic, which was like the biggest help for us. People can become a member for as little as a dollar a month. We've made some special recordings for that, just our supporters. We have recorded music that I didn't think I could ever talk Rev into covering. The theme song for the Golden Girls, Thank You for Being a Friend. I've always loved that song and I always sing it, so when we created a Patreon, I said Hey! I want one of the goals to be to record that song.
"Rev was willing to do it because it was just for our fans on Patreon. It's a place where we can post things that maybe we wouldn't post on regular social media. It feels like a safe space for just us and our most hardcore fans. Also, the financial help has been wonderful because we have been able to keep our entire crew salaried during the shutdown. I don't know how many bands were able to do that. It helps that I have never lived beyond my means and saved my pennies. All the money that has come in has been used to pay our crew." – Breezy Peyton (she/her)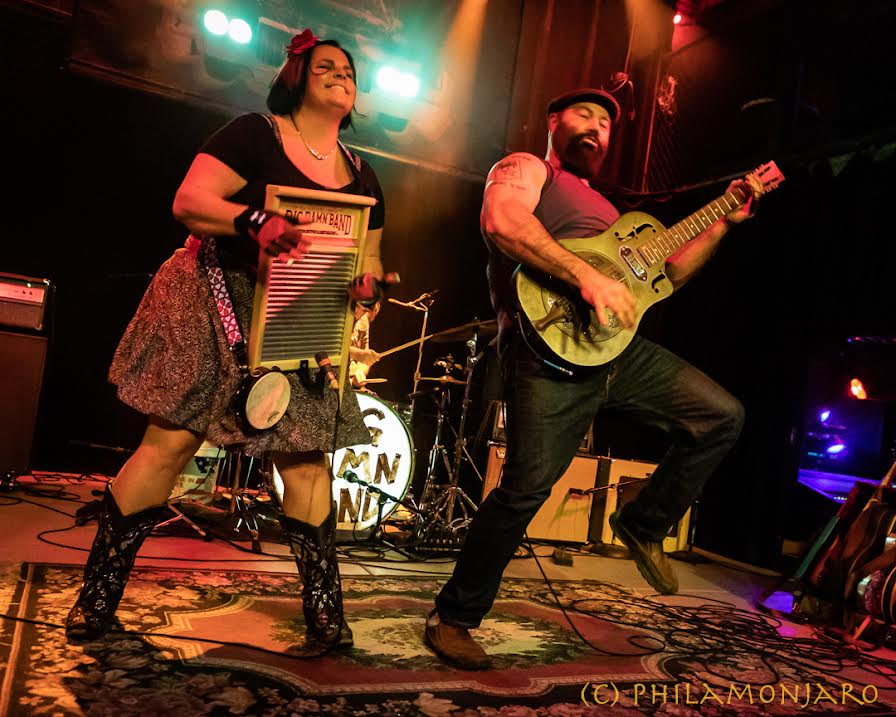 When the creation of a home now shelters other people, keeping the lights on is vitally important. It's almost metaphoric. Letting your spirit shine in a dark time is what home is all about, isn't it? Artists are home inside their creations. Imagine the pandemic without art. So much media was consumed during the shelter in place order that kept everyone's spirits bright when another weekend passed with nowhere to be.
"We really battened down the hatches and we wrote and we just got really tight as a band together because none of us were working. Two of us don't have actual jobs besides music. We were just really focused on music and being a tight band. We knew coming out of this pandemic there would be a lot of bands that wouldn't make it. We spent hours, sometimes seven days a week together trying to be the tightest musical unit we possibly could." – Mel Flowers (they/them)
A turtle carries their home on their back, wherever they may roam. But, turtles have instincts to get them to where they need to go. If you transported a turtle outside of its native habitat, even with its home on its back, it would abandon ship and try to return to its native habitat. Sometimes that results in confusion, disorientation, starvation, even death. They use the same places to nest, hibernate, and find food and water. 
"I feel safe. I had COVID-19 over a year ago, plus I'm fully vaccinated. I don't go out to the merch table anymore, which is a really hard thing for me because it's something I've always enjoyed, going out there and hanging out with the fans. Most of the clubs are following protocols very well. At this point, if people want to get vaccinated, that's great and I encourage it. The ones that don't know the risk at this point. Life has to go on. We have some fans that are high risk and are not able to get vaccinated so we will keep doing live streams for them." Breezy Peyton (she/her) 
"I'm thinking of putting some of my own stuff out there. I'm excited about that but I haven't done it since I was 17 years old. Revisiting my old songs, even from when I was a teenager, I think I can put an album together. Some of these songs are embarrassing but I'll make it work. Playing any stage at this point because it has been a hell of a couple of years. Got some plywood in a parking lot? I'll play it. As far as my long-term goals, you'll probably think I'm crazy but I wake up every day and to myself, I say Madison Square Garden and Red Rocks. Everyday. That's because I want to be on those stages one day." – Mel Flowers (they/them)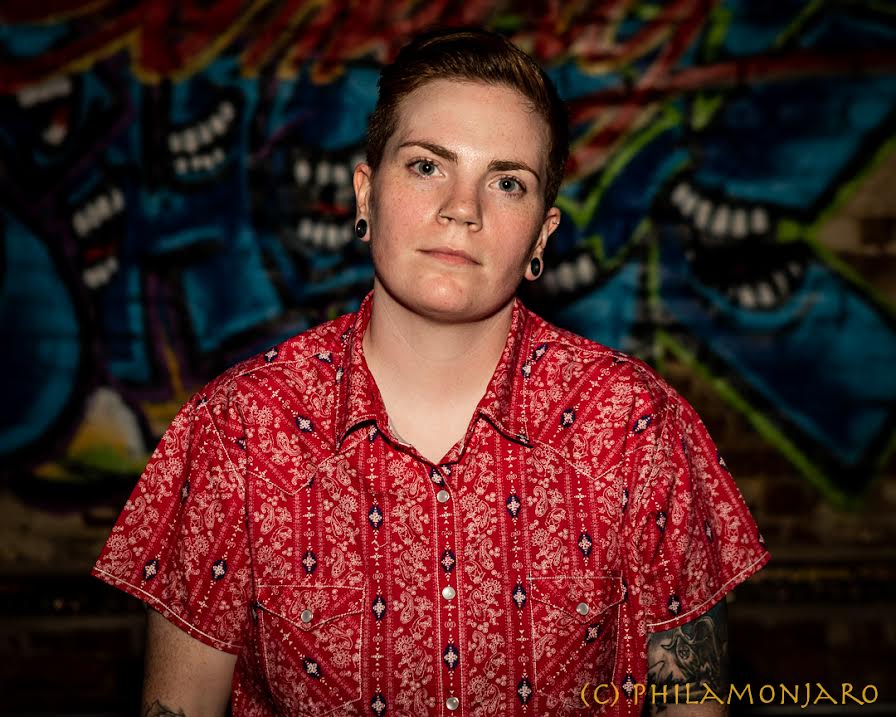 Is a home a house? Is home a feeling? Is home an instinct? Home is a place where you can be authentically yourself. Tis home wherever the heart is, wherever its loved ones dwell. In cities or in cottages, present haunts or mossy dwells. The heart is a rover ever and thus on wave and wild. The maiden with her lover walks, a mother with her child. 
*All images: © Phil Solomonson / Philamonjaro Studio