In the Zydeco game for more than two decades, two-time Grammy-nominated Dwayne Dopsie is now fresh from the release of his 11th album, Set Me Free. On his second album for Louisiana Hot Records, the singer-songwriter/accordionist continues his long-standing family tradition but also considers this to be his most potent effort yet.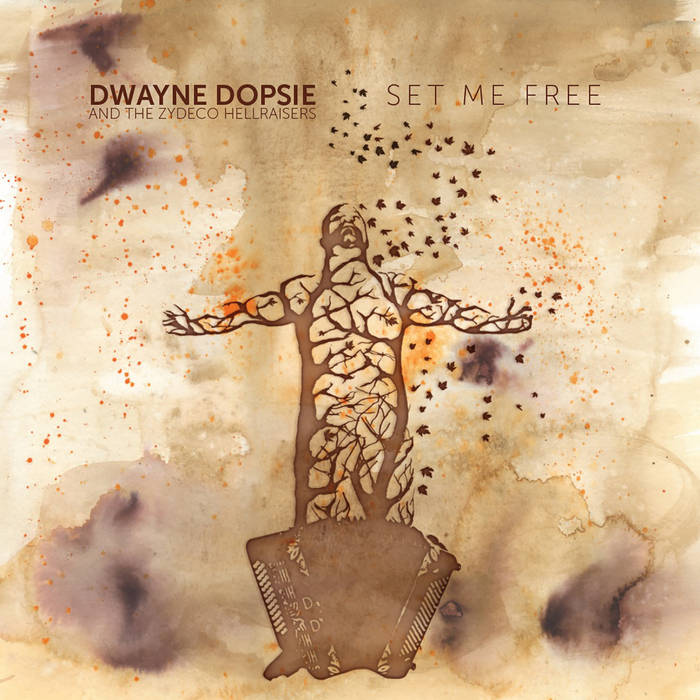 "The only difference is this is just brand new songs," he observes. "That's all, you know. I definitely consider this my best work, because this is a variety of songs — but it's definitely got a lot of something for everybody. That entire CD means, to me, just working hard during the pandemic — not only just having time, but taking advantage of it."  
All the music and lyrics on Set Me Free were composed by Dwayne, save one, and performed by his band the Zydeco Hellraisers: Dwayne on accordion and vocals; Paul Lafleur on washboard; guitarist Brandon David; Tim McFatter on saxophone; bassist Dion Pierre; Kevin Minor on drums. His brothers Tiger, Anthony and Rockin' Dopsie Jr. appear on several tracks, including their version of the Guitar Slim's "The Things I Used To Do" — an homage to their late father.  
Dwayne is the youngest son of zydeco trailblazer Alton Jay Rubin, known the world over as Rockin' Dopsie. His father's presence still looms large for Dwayne and the Zydeco Hellraisers, who together combine over a century of zydeco experience. While still preserving early zydeco heritage, Dwayne advances his own contemporary and high-powered brand.
Fellow Lafayette native and R&B singer Erica Fox is that lovely Creole "Louisiana Girl" you hear on the enlivening track by that title. "That was actually my first time having a woman not only sing background, but on my album period," he says. "Lousiana Girl" serves as the perfect lead-up to the title track. Dwayne in "Set Me Free" is Louisiana personified, injecting as much soul and blues as one possibly can into zydeco and waxing almost vocal on his accordion. 
Citing Muddy Waters, BB King, Albert Collins, Stevie Ray Vaughan, T-Bone Walker, and Lightnin' Hopkins as his biggest influences, he makes an inarguable point: "That's definitely blues to me. It's very different from how they're doing it now, like rock-blues." 
His infectious rhythm and performance style has earned him such titles as the "Jimi Hendrix of accordion." He shares, "Basically I'm playing accordion like a guitar. I'm not like playing how most people would really play it." A foremost example of this astonishing approach can be heard on "My Sweet Chaitanya." It makes sense that he plays this way, because his biggest inspirations are guitarists. "My father would also play certain things as a guitar player, too, you know." Rockin' Dopsie did play a bit of washboard occasionally, but for the most part he was a "French-talking accordion player," enthuses Dwayne. 
During his Lafayette, Louisiana childhood Dwayne watched videos of his father as he played with "King of Zydeco" Clifton Chenier. He took readily to the video camera, watching himself, and then practicing for hours upon hours until he felt he had his methods right. "It's not really just watching him; it's having an interest. Because, you know, there's a lot of people that watch all kinds of things because they might like it, but they don't truly have a deep down interest where they want to master that instrument or figure out — how are we doing it, or I want to play, but I want my songs to sound like what he's doing. So, it definitely took a long time to figure out the instrument.
"I definitely understood what zydeco music was, because I heard it on a regular basis. I just didn't know as far as his aberrations — of what made him play certain things, certain ways and sorts of styles. As I got older and understood the music more, everything made sense to me."
Dwayne was nine years old when he performed on The Dolly Parton Show. And at just 16, he quit school to carry the torch of his father's legacy. And so began the life music gave him that he couldn't have had otherwise. "Music has given me everything," he expresses gratefully. "(I) just praise my father's music and keep it going." 
He continues, "We travel every week, so I'm always traveling." Dwayne Dopsie and the Zydeco Hellraisers' touring career is as alive and bustling as their playing. While they're not on the road for really long periods of time, the band does go out each weekend — often traveling to different states. 
Set Me Free was recorded at FatTone Studio, Luling, Louisiana, produced by Dwayne and Brandon David – engineered by David. It's being released via Louisiana Red Hot Records on CD, as a digital download, and via streaming platforms.
Connect with Dwayne Dopsie: Official | Facebook | Instagram | Twitter