George Clinton with Parliament-Funkadelic, as well as two other bands, provided an audience at the Temperance Beer Company with almost three hours of funky, jazzy soul music on Sunday night.  
The audience included everyone from seniors who have been seeing George Clinton live for decades, to little children with their parents who clearly wanted their kids to experience the legend known as "The Godfather of Funk" — and every age in between.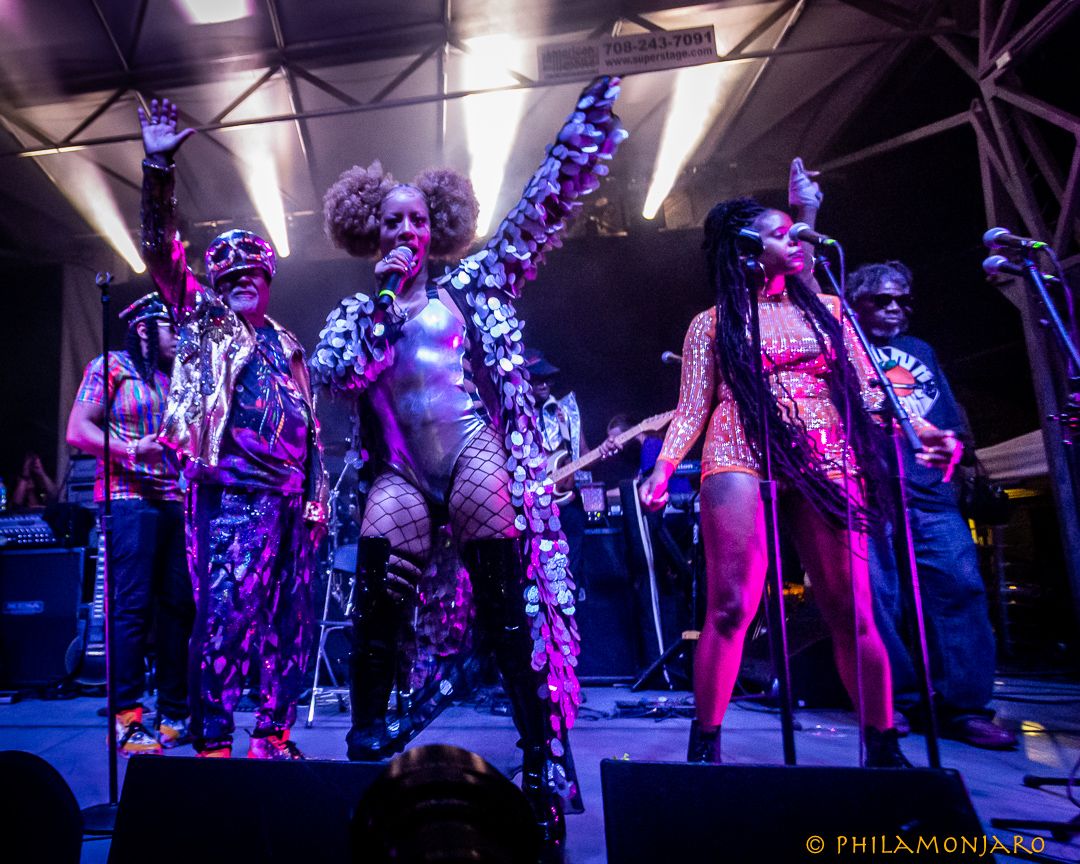 On a perfect night for music, the crowd danced the night away. The show was sold out, yet the parking lot where the music took place never seemed super packed with people. The audience gravitated to the stage, of course, but there were plenty of places to hang out away from the bands.
Although George Clinton's "Farewell Tour" was supposed to end last year, because of Covid-19 cancellations the Farewell Tour is scheduled to continue in the United States and England until at least the middle of next year.
Highlights included extended versions of such Parliament-Funkadelic classics as "Flash Light," "Pole Power," "Maggot Brain," and "Atomic Dog" — as well as a funky cover of the House of Pain classic "Jump Around." George Clinton sometimes sang lead vocals, but oftentimes was off the mic acting as a cheerleader/ringleader, exhorting the crowd to wave their arms, chant along with the music, and to "Funk This Shit Up."
George Clinton has been releasing recorded music for more than 60 years, and the man is 80 years old, so at times he had to sit and watch his band do their thing.
George Clinton and Parliament-Funkadelic were inducted into the Rock and Roll Hall of Fame in 1997. The induction set a record of a total of 16 members of one band/conglomerate admitted into the Cleveland shrine. There were almost that many band members on stage on Sunday, with various members switching lead vocals from song to song, and oftentimes during songs.
The middle act was a funky outfit known as the Blue Wolf Experience, who have been with George Clinton on this tour. They played a crisp well-received twenty minute set.
Legendary Chicago band Liquid Soul, who have played together on and off for 25 years, provided an enthusiastic hour-long set to open the proceedings.  It's rare for a band to have a saxophone player as their frontman. But Mars Williams is no ordinary sax player; he also is a longtime member of the Psychedelic Furs. Although they were once characterized as a band which played "liquid jazz," it's hard to put a label on Liquid Soul's high-energy funky sound.  The band does not perform concerts often, therefore it was a particular treat to see Liquid Soul live again in the Chicago area.
*All images: © Phil Solomonson / Philamonjaro Studio
Full photo gallery below: