I don't know this from personal experience, but it was always told to me that if you go out with a preacher's daughter, you're gonna get lucky faster than you will with anybody else.  
"That should be carved on the side of a mountain it's so true," says Paul Thorn, a Pentecostal preacher's son best known for his song "Pimps and Preachers."  
He and I are laughing. But his new album Never Too Late to Call is pretty serious stuff. 
"Yup. It is because a lot of serious things happened to make those songs. You kinda go down the list, and I can tell you about all of 'em because it's a very personal record, man. I'm very proud of it."  
Paul admits he paid a heavy price to write the title cut "Never Too Late to Call."
"I got that song from my sister who passed away a few years ago. I used to call her late at night, and she would always pick up the phone. She never would complain about me calling her late. She would talk to me, and sometimes I would apologize. 'I'm sorry I'm calling so late.' She would say, 'Hey, it's never too late to call.'  
"Boy, that stuck in my head and became a song, but the price of the song was I had to lose my sister. I'm just saying if I've ever written a great song, it would be because I lived through something. 'Never Too Late to Call' I feel is a great song, but it came at a price. It wasn't free. If my sister was still alive, I probably would never have written it, but that's the price you have to pay, you know?" 
"Breaking Up for Good Again" is about his wife. "It's about how in a relationship you need time together, and you also need time apart. When I was writing it, I heard her through the walls singing a song. She was in the kitchen singing, and her harmony sounded great. So, she wound up singing on the record, too.  
"Me and my wife live that song. You and your wife live that song. It's all about, yeah, we love each other. Yeah, we get in arguments when things come up, but that don't mean we're gonna separate forever. That just means we need a break. I think that's a message a lot of us need to hear.   
"This whole project was magic for me. I got along so good with Matt (Ross-Spang, the producer), and he's so talented and has so many creative ideas. I came up with the riffs for these songs I play on the album which made everybody else happy. It kind of stripped down what they do, not playing as much or as busy as normally they would play on a record. It's very organic sounding, and when I was getting ready to cut, I sent Matt iPhone demos.  
"I was singing into my iPhone, and he heard the riffs I was playing and the way I was playing, and he said, 'Man, I want you to cut the record based on that.' So, that's what we did, and it's created a record that's a completely different animal than any other record I ever did." 
Matt Ross-Spang is Sam Phillips' Recording Service's in-house Grammy-winning producer who has mixed Elvis records and recorded Jason Isbell, Margo Price, Chris Isaak, Drive By Truckers, the Rival Sons, and Kris Kristofferson. It was Sam Phillips, CEO of Sun Records, who first recorded Elvis Presley.  
"I told my band before we went into the studio, we're gonna play a lot less. It's not gonna be jamming or a lot of guitar solos. It ain't that."   
For the first time, Paul plays lead guitar backed by the same band he's always had and the one that tours with him. Like Paul, the instrumentation is simple and homespun. Willie Dixon defined blues simply as truth. By that definition, this is a blues album.  
"This is all about focusing on the songs. That's all it is, and I was inspired by a couple of artists who might seem odd, but I think you understand when I say it. It's like when you listen to a Kenny Rogers album, there ain't a lot of instrumentation solos. It's all about singing a great song, and that's why Kenny Rogers was so popular because he didn't cut half decent songs. He cut nothing but killer songs, and the songs didn't need a lot of razzamatazz. In fact, they need a lot of razzamatazz taken away so that the song could really be heard."   
Paul sings with his daughter Kitty Jones on "Sapphire Dream" a song he co-wrote with her. "Years ago, when my older daughter was about 14, she got into the Beatles, and she wanted to write a song that sounded like them. That's a hard task. We all wish we could do that, but we wrote this song called 'Sapphire Dream,' and she had the little riff she came up with. So, we wrote a song together. Over time, the song stuck in my head. I really liked the song, and my daughter's great singer as well. So, she came down to the studio and spent the day, and she recorded 'Sapphire Dream' with me. It was a nice memory. It was a nice thing to have."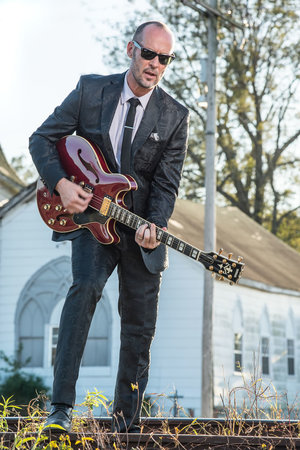 Paul is an everyman whose music addresses things we all think about but few can articulate with the kind of candor, humor, and folksy truth that immediately endear him to almost everyone lucky enough to hear his music. I first heard him open for B.B. King at the King Biscuit Blues Festival in 2010. He isn't technically a bluesman. He was totally unknown to this audience, and he was preceding the most popular blues performer alive in the heart of Delta blues territory. 
I thought the audience would eat him alive. Instead, they loved him so much, he's been invited back every year since. At the end of his performance highlighted by "Pimps and Preachers (his dad's the preacher and his uncle the pimp), he told the crowd that if they didn't buy the album, they were all going to hell. Hundreds took him at his word.  
"I like to tell jokes and be funny, but I'm not a comedy writer. I'm a singer/songwriter."    
He went on the radio one time and off the top of his head belted out a number called "It's a Great Day to Whup Somebody's Ass."  
"It's a novelty song. I sang it on some radio show, and I didn't know they recorded me live singing it. Then it went viral, and the next thing you know it's got seven million views on YouTube, and my really good songs not even half of that. It's just the way it is. You can put out the greatest, most serious album in the world and put it on YouTube, but people would rather watch a video "Grandma Farts," you know? 
"I'm 57 years old and I'm still a big kid. I collect old toys and stuff, and my wife surprised me on my birthday with the comic book Kiss Alive Again. Growing up I was a big Kiss fan, but because we were Pentecostal, we couldn't have any records by them, and I always envied my friends who had the Kiss Alive One album which is a great album, and some of my friends had the Kiss comic book with the blood in it – with Kiss's own blood."  
When Paul first recorded, he named his label Perpetual Obscurity. With each passing release, that name becomes more of a joke.  
*Feature image credit: Steve Roberts