"My hometown in New Mexico is unlike any place," folk-blues troubadour Max Gomez tells me. "It's a place that artists, writers, poets have long come to get away from cities and create." 
It's his hometown, Taos, and Los Angeles where he divides his time and nurtures soundscapes, as it were. "I do feel that, in a sense, I've got the best of both worlds — the small town and the big city, in Taos and LA. The peacefulness of Taos inspires, and the hustle of LA inspires in different ways. I like them both." 
At just 18 he moved to Los Angeles and rapidly established a fanbase while catching the attention of fellow folkie Shawn Mullins, with whom he toured nationally and co-wrote songs. His video for the single "Run From You," from debut full-length album Rule The World (New West Records), was directed by actor Kiefer Sutherland. Gomez's debut EP, Me & Joe, features pedal steel by Greg Leisz — whose pedal steel and production work on Dave Alvin's King of California alone is enough to consider him a legend. 
Earnest echoes of folk forefathers are ever present in Gomez's music, not just in his sound but also his platform to promote equality — as evidenced in his rendition of the folk standard "He Was A Friend Of Mine." First recorded in the 1930s by ethnomusicologist Alan Lomax, and covered by Bob Dylan, Willie Nelson, and The Byrds, Gomez decided to update the lyrics to reflect both present-day and historical racial injustices.
It was none other than Big Bill Broonzy who helped him to find that voice, figuratively and literally. "I think it's been an influence of many that led me to know it was okay to sing a song like that," he says. "Big Bill Broonzy comes to mind right away. Most people think of Big Bill as strictly a blues singer, but he wrote and sang many protest songs. Really powerful ones too. 'When Will I Get To Be Called A Man,' 'Black Brown And White.' But most all of my heroes that have left a mark on me have sung or written some protest songs. I guess it really rubbed off on me when the country was really fired up about George Floyd. Right in the midst of the pandemic 'lockdown' and the only thing I could think to do was sing a song. So that's what I did."
Just as there will be compromise of musical substance in the digital age, there is of course the self-censoring. In fact, it seems there is an alarming number of artists who eschew social messaging in times of crisis for fear of the shut-up-and-sing crowd. Some are touched by unpretentious naked truths, while some feel it's a personal affront. "I think that what a song like this is supposed to do is shed light on a situation that we might not otherwise talk about," he explains.
"Maybe we don't talk about these things because it can be uncomfortable. The truth isn't always easy. Bringing a topic and the truth to light in a song is a centuries old, though now rare, way of communicating. I think that's what folk music is all about. Singing about what's going on, what you see and what you feel. I know a lot of great artists out there are scared to share songs like this, because of the backlash from fans that don't see things the way they do. I believe we'd be living in a world that was just a little bit better if they got up there and sang songs about how they really feel."
Recently, Gomez honored Big Bill Broonzy with a song and music video for "Key To The Highway." Blues pianist Charlie Segar first recorded the song in 1940, followed by Jazz Gillum. But it was Big Bill Broonzy's arrangement that would become the blues standard.
When you consider social underpinnings and political impact, folk runs parallel to the blues in more ways than one. Gomez beautifully blurs the lines of these genres, and one would argue the name for that would be Americana. To Gomez, American roots music is many-sided and fortunately alive and well. "The impact of Delta Blues or Country Blues recorded in the '30s and '40s almost defines American roots music. But it wouldn't be so without the influence of folk and country artists like Woody Guthrie and the Carter family. 
"And these 'American Roots' can be traced overseas! Into Irish folk music and even French music that was being played around Louisiana. I think American Roots music is destined to remain a bit of a mystery. That way, when people like me start working on a new waltz, we won't know where the heck this music came from and in turn it will fuel the fire that keeps the mystery of roots music alive."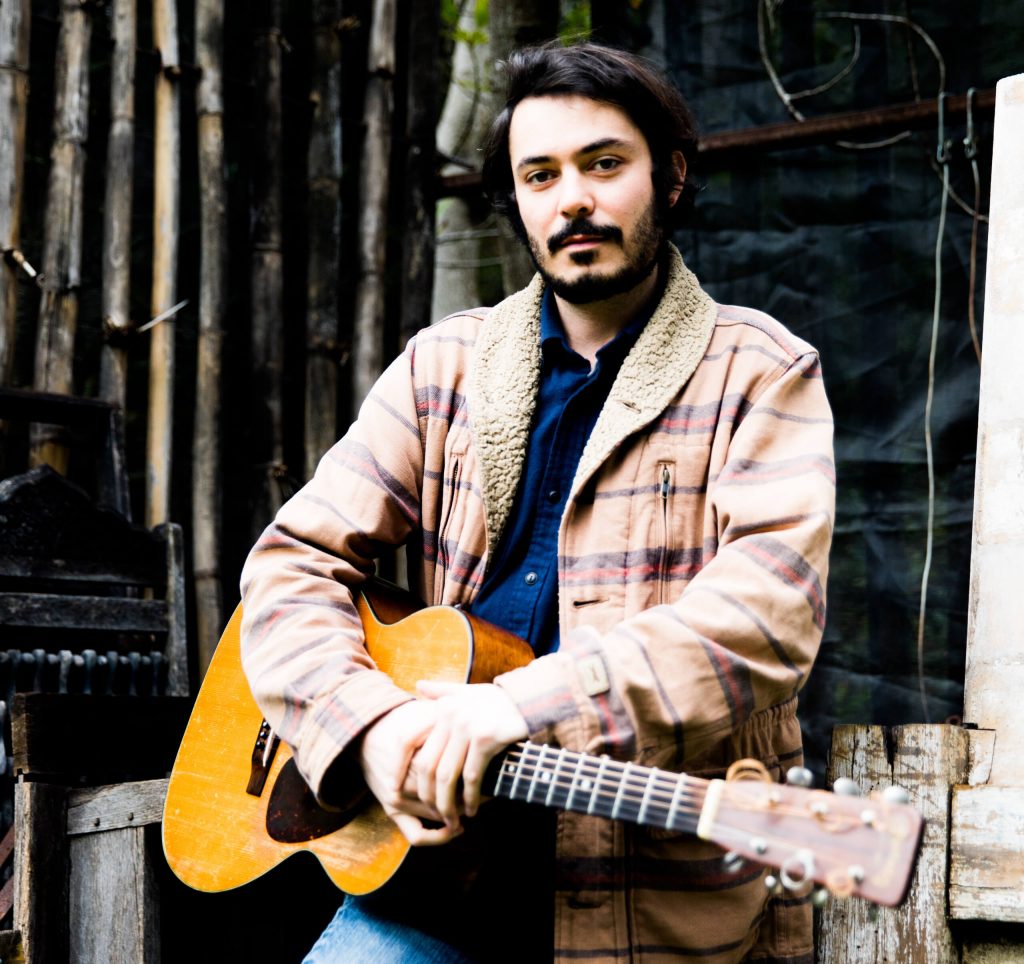 Gomez has shared stages with the likes of Patti Griffith, James McMurtry, and John Hiatt. Reflecting on his career, he shares, "Making friends on tour like John Hiatt and James McMurtry has been a rewarding experience in it's own. I can remember a show in Montana at a theater and I was playing just me and my guitar. I told myself I wanted to get everyone to stand up when I was done with my little set and I did! Both balconies and all of these people gave me a standing ovation.
"I was humbled and felt connected to the world. That to me is a highlight from the road. This was a long time ago, and opening for another artist it can be hard to get the crowd just to listen to you. So, I felt this little thing was an accomplishment. I'll always remember that night."
And since that time, he's racked up more achievements. "We just did a music series on PBS called Bands of Enchantment. It was really good. Myself and a great band went off the beaten path to find this old train station in Tucumcari, NM where the stage was set. It was a very memorable time. Aside from the show, I'll never forget the little doughnut shop in Tucumcari. I think I'll go back for another dozen someday."
Gomez also produces and curates the Red River Folk Festival, set for September 23-26, 2021. "An old friend of mine lives and works in Red River, NM. He's a purveyor of live music. In many ways he keeps the music scene alive in Northern New Mexico. Years ago he asked me if I wanted to host a festival with him in late September. Thus the birth of the Red River Folk Festival. 
"We're now embarking on our 7th year and though the event is a monumental task, I couldn't imagine life without it. In my own life and business, some years are slower than others, more challenging than others, but now I always have the Folk Festival to look forward to. It's a beautiful event in a beautiful place. We bring world class talent to a small stage in the mountains."
Another accomplishment he would like to see come to fruition is writing songs for movies. "That's always been a dream of mine and something I aspire to do. That and to keep making records and touring. All while wearing a smile." 
Will there be new music from Max Gomez soon? A resounding yes! "A new album will be on its way in 2022, and touring has seemed to pick up for me lately. Check my schedule and come out to one of these shows. I love meeting people on the road in different parts of the country. Sharing stories with friends old and new. Until then, I'll be home working on songs and plans to get back out there." 
For more info on Red River Folk Festival, head here.