Patti Smith seems like the quintessential New York City artist, with her history of writing poetry while she lived in the Big Apple starting in the late 60's — releasing many essential early albums with the Patti Smith Band starting in 1975 and through the end of that decade. But Smith was born in Chicago, as she pointed out to an enthusiastic and adoring crowd on the Thursday "Preview Party" of Riot Fest at Douglass Park. However, at one point during her show, she said that she didn't think that she was playing in Chicago proper but rather in the suburbs, although the crowd corrected her immediately.
Starting her show with her anthem "People Have the Power," Smith finished the song by reminding her fans, "Don't forget it. Use your voice!" Prior to playing "Redondo Beach," Smith informed the crowd that Morrissey (who would be playing the Riot Stage after Smith) had covered this song years earlier.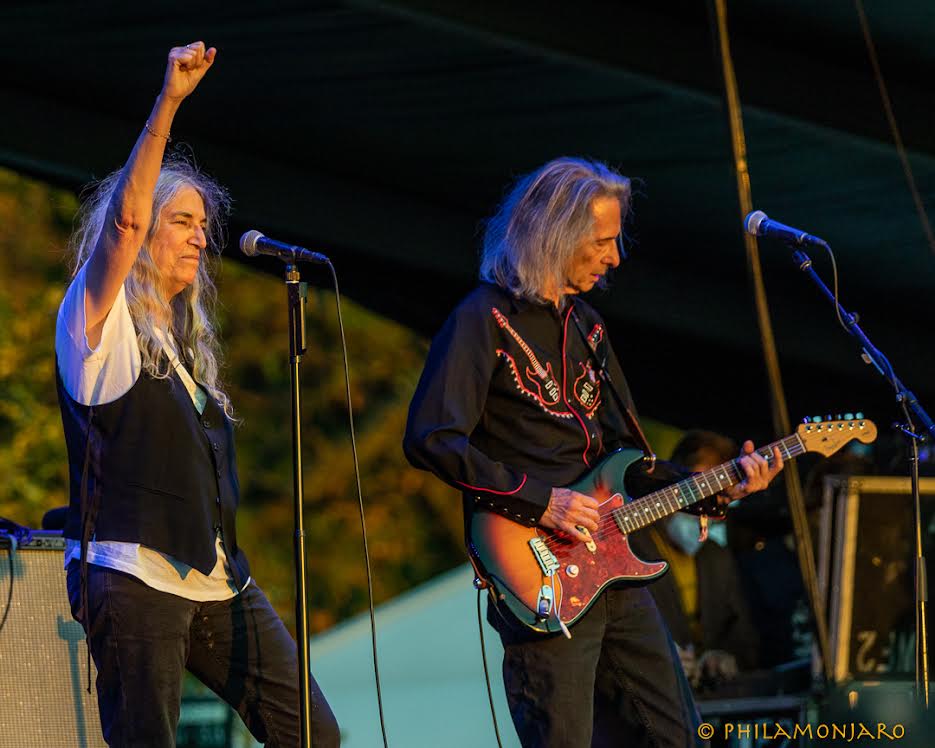 When Smith started playing, the sun was bright and unforgiving, and Smith had to point out that she was wearing sunglasses not trying "to look scholarly or cool" but because "I just can't fucking see!"
Early on in her set a young woman was waving a vinyl copy of Smith's Horses album, and Smith joked that the woman thought that Smith was going to stop her performance and come off the stage to sign the record. Although everybody laughed, Smith did the next best thing: she had a roadie bring the record up to the stage for Smith to sign. The Thursday night crowd consisted of fans who had witnessed the Patti Smith Band in the '70s (and were as old as Smith was), to relatively young fans who wanted to see what the big deal was about this band. They found out!
Smith has been characterized as the "Godmother of Punk," and there is a lot of truth to that description. Although she has gray hair, the 74-year-old Smith danced around on stage when the spirit moved her. Smith's intense and proficient band consisted of longtime collaborator Lenny Kaye on guitar and drummer Jay Dee Daugherty, who have been playing with Smith from the beginning. Tony Shanahan, who played bass guitar and keyboards, has been playing with Smith for 25 years, and the newest member of the Patti Smith Band is her son Jackson Smith, who has been playing guitar in his mother's band for five years now.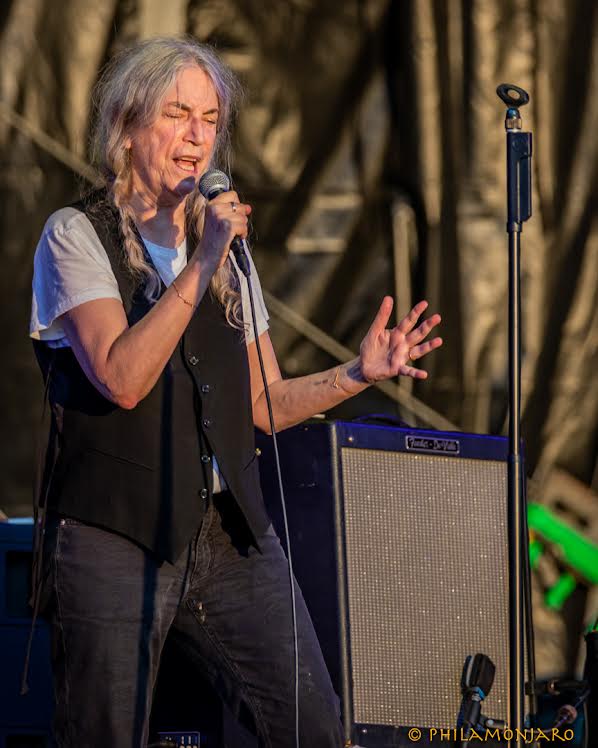 Smith played perhaps her best known song, "Because the Night," which she co-wrote with Bruce Springsteen, and the audience helped her with the chorus. Smith followed that with the Bob Dylan classic "One Too Many Mornings," explaining that she was a big Dylan fan as a teenager. Unlike last month's performance at Out of Space in Evanston, Smith did not follow that song up with Dylan's "A Hard Rain's Gonna Fall," which ironically was the last song Smith played in Evanston before the concert was called off in the middle of Smith's set because of impending severe thunderstorms. No worries at Riot Fest; the weather was comfortable and non-threatening!
Smith's finale was the "Land/Gloria" medley, including the lengthy pause from one of her most memorable lyrics, "Jesus died for somebody's sins (wait for it) but not mine." Although Smith and her band gave one of the first performances of Riot Fest 2021, it will be hard for another act to match the intensity and musicianship of the Patti Smith Band over the next three days.
*All images: © Phil Solomonson / Philamonjaro Studio