This fall will see Cleveland International Records start to issue a slate of archive album releases that underscore the iconoclastic label's rich and eclectic heritage.  A very special expanded 25th Anniversary edition of Joe Grushecky and The Houserockers' American Babylon is set for digital and streaming release on October 29 with a vinyl LP set to follow early in 2022. Long a fixture on the Pittsburgh music scene, originally fronting the Iron City Houserockers, Grushecky is the son of a coal miner whose "day job" is in special education. He has become a legend among heartland rockers. His loyal following is testimony to his down-to-earth approach and honesty as a songwriter, bandleader and performer since the 1970s.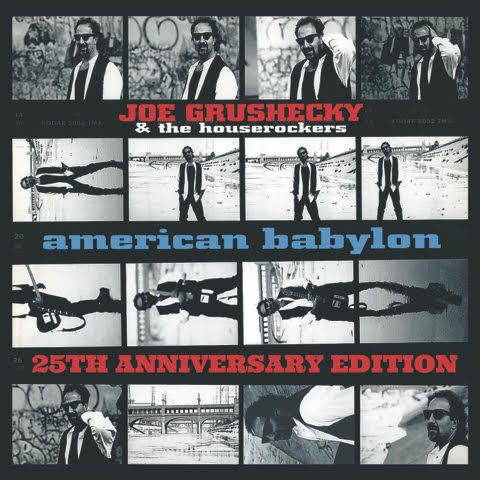 American Babylon, first issued in 1995, was produced by Bruce Springsteen whose friendship with Grushecky predates the album's sessions and has endured in the intervening decades.  The new American Babylon2 CD set offers 27 tracks including the album's original 12 selections among which are "Chain Smokin'," "Only Lovers Left Alive," "What Did You Do In The War" as well as "Homestead" and "Dark and Bloody Ground," the latter two co-written with Springsteen.  Original demo recordings of "Chain Smokin'," "Never Be Enough Time" and "Only Lovers Left Alive, never previously released, round out the first disc.   A 13-track companion disc documents live performances recorded at Nick's Fat City in Pittsburgh during the Houserockers' legendary "October Assault" tour that launched the album that month in 1995. Joe and the band performed not only in Grushecky's hometown but also in Philadelphia, New York, Chicago and Asbury Park as well.  
Springsteen is heard on eight of the album's tracks and his voice is heard on "Light of Day," his own song, as well as on the Chuck Berry version of "Down The Road Apiece," the album's closer. One track featured on the live disc that is not part of the American Babylon tune stack is "Pumping Iron," a fan favorite from The Iron City Houserockers' 1980 Have A Good Time But Get Out Alive album.
On the topic of collaborative songwriting, Grushecky commented to Rolling Stone, "It's a great thing for me to write with a talent like Bruce who is obviously one of the greats. I think that in a quiet way it sort of says something about my writing ability."   Rolling Stone's Andy Greene chronicled the relationship between Joe and American Babylon's recently:  "As the leader of the Pittsburgh-based Iron City Houserockers, Joe Grushecky hammered out four heartland rock albums in the late 1970s and early 1980s. These won over more critics than fans, so he became a special education teacher to support his family. Still, he maintained a close friendship with Bruce Springsteen, and in 1995, they teamed up for American Babylon. The two remain tight and play together at least once a year, but this album remains their greatest joint accomplishment."
The collaboration was not pre-planned and came about quite organically.  Joe recalled, "I was thinking about making a new record and had a couple songs written. My wife suggested 'Why don't you ask Bruce to play?' I hemmed and hawed for a while and finally we got in touch. It sort of just took on a life of its own. It was fun working with Bruce; he added little twists and turns that I wouldn't have come up with on my own which made the record a lot of fun to do musically. Once we got together, it just seemed like we were real sure of what we were doing. There wasn't a lot of second guessing and pulling your hair thinking, 'Is this good?" We just sort of went in and did it in a very relaxed atmosphere, so it was fun."
The 25th anniversary edition of American Babylon was preceded by the August 27 release of the live version of "American Babylon" (title song) as well as the demo for "Only Lovers Left Alive." Stream/download "American Babylon" (live) and "Only Lovers Left Alive" demo.
*Feature image: Wonder Bar w/ Bruce Springsteen / Credit: John Cavanaugh