MaryBeth Zamer and Mike T. Lewis – aka the Twangtown Paramours – announce the upcoming launch of their new singles to Spotify and other digital platforms. The singles "Talk about Peace" and "Double Down on a Bad Thing" will be released as a prelude to their new full-length album, Double Down on a Bad Thing (out February 4, 2022 on Inside Edge Records). The Nashville-based duo will additionally release a special Christmas single, "My Gingerbread Man," on November 12 to all digital outlets, which will also be included on the new album.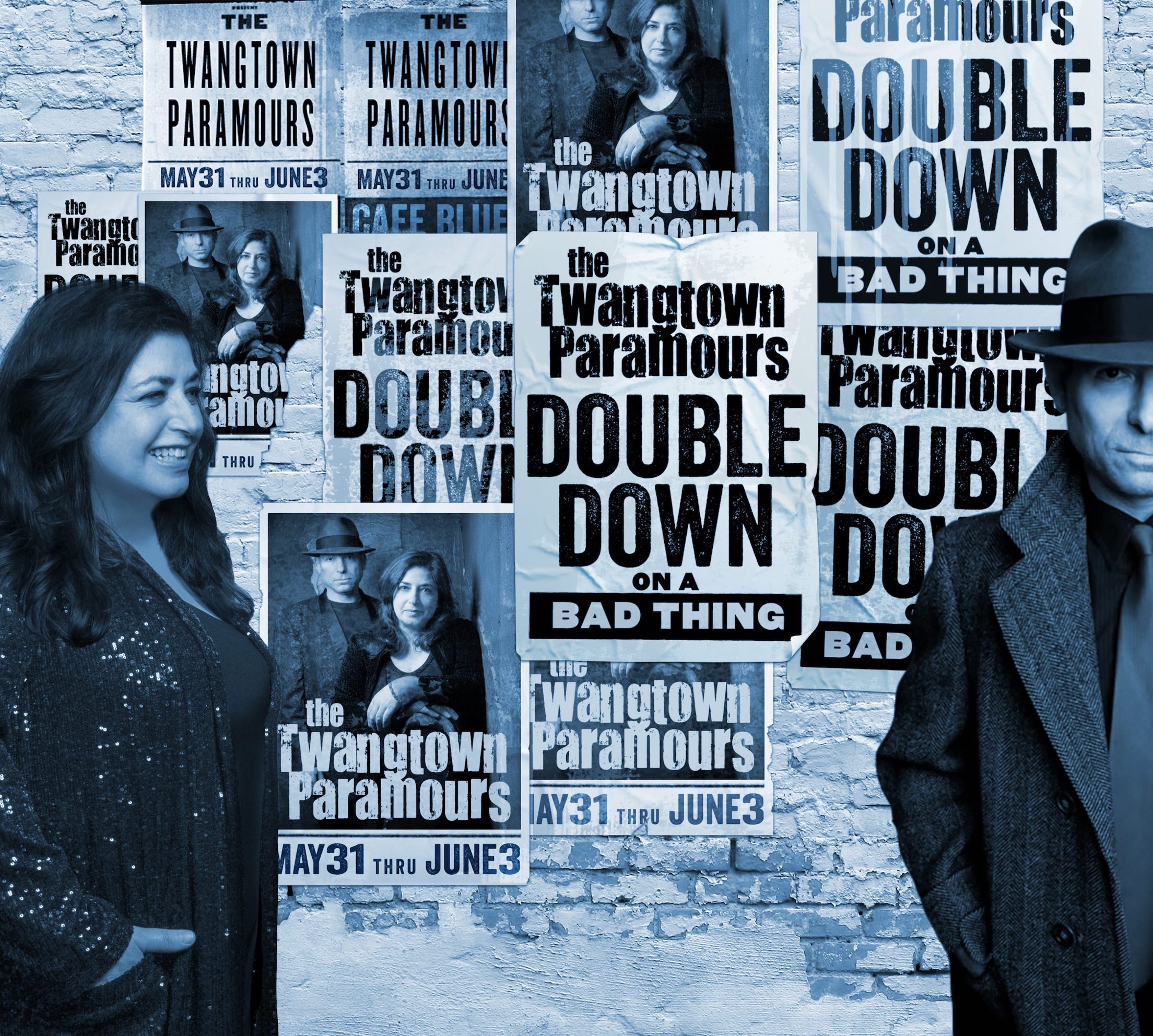 The Twangtown Paramours are an award-winning husband and wife duo who are three-time Kerrville Folk Festival finalists and winners of Texas's Wildflower Contest. The team of Lewis and Zamer are excited to release a project that represents a new and energetic musical direction for them. In contrast to their earlier acoustic work, Double Down on a Bad Thing is electric, rhythmic, and band-centric.  This full band album is mostly uptempo and upbeat. 
 The core group on Double Down on a Bad Thing consists of MaryBeth on vocals, Mike on guitars and bass, and Shawn Pelton of the Saturday Night Live band, Shawn Colvin and Roseanne Cash fame on drums and percussion.  Some of the other featured musicians on the album include Dave Keyes, who is a two-time Blues Music Awards Pinetop Perkins pianist nominee; Rave Tesar, music director of the band Renaissance; Steve Conn, pianist for Sonny Landreth; New York session piano player and organist, Ed Alstrom; and horn players Dan Nigro and Vinnie Cutro from Smokey Joe's Café.
"'Talk About Peace' is a song with a clear message," says Mike T. Lewis about the first single. "We live in a society that is set against itself. We all know how to fix it, but we haven't so far. Every major religion tells us what to do: think of others before you act, love thy neighbor as thyself, don't let ego and greed get in the way, be kind, and forgive. This song is an anthemic plea for action instead of lip service."
"Our second single, 'Double Down on a Bad Thing,' is the title track and goes right to the heart of what the album is about – a retro early 1960s sound, a great catchy melody, a hard hitting groove, and a lot of fun," volunteers MaryBeth Zamer. "The tune features Dan Nigro and Vinnie Cutro in a Memphis-sounding horn section."  
Lead singer, MaryBeth Zamer was a fixture in the Washington, D.C. club circuit for many years. She performed with the band Ignition and sang background vocals for Eva Cassidy in the band Method Actor. She is also the main author of the some of the most meaningful songs in The Twangtown Paramours' catalog. 
Mike T. Lewis is a session musician, producer, and hit songwriter. He is the author of a #1 platinum pop tune in Korea, "A Heartbeat Away," which is ranked as the second biggest-selling female ballad of all time in that country. He also sometimes plays upright bass for Jimmie Dale Gilmore and does a little TV acting. He has appeared on the Investigative Discovery Channel and as a background actor on CMT's "Nashville." Mike is the main writer of the tunes on Double Down on a Bad Thing.
In their exciting, hard-hitting, largely retro, and often whimsical album, Double Down on a Bad Thing, the Twangtown Paramours ask their audience to recall when catchy pop melodies and great blues-influenced grooves ruled the world, when dynamic Beatlesesque chord progressions served as the soundtrack of a confident and evolving society, and when music inspired forward thinking and action.  If the positive feel and energy of a past musical era can help change people's mindsets to one of positivity and hope, this is the album to do it. If not, it will at least cheer folks up while they are listening.
Double Down on a Bad Thing is the third album by The Twangtown Paramours. Their first two acoustic albums went to #11 and #2 on the folk charts and received accolades for singing, songwriting and performance. Songs from those projects tackled serious subjects and have been featured in holocaust museums across the world, at a Triangle Shirtwaist Factory Fire memorial in NYC, and are now being recorded by other artists such as the Price Sisters on Rebel Records.
"It's our hope that while listening to this record, people will smile and dance around their living rooms like nobody's watching," MaryBeth Zamer declares. "We may be living in difficult and divisive times, but if a good groove and musical energy can help change people's mindsets to one of positivity and hope, this is the album to do it."
Adds Mike T. Lewis: "Influences of the Beatles and Memphis blues are prominent, but those sounds are re-interpreted and combined to form something new. This is the kind of record we've wanted to make for a long time and we plan to follow it up with live band touring."