Bloor Street, out today, is Kiefer Sutherland's third album in five years. It follows 2016's Down In A Hole and 2019's Reckless & Me. The first two were predominantly country oriented. His third album has a country flavor to it as well but is R&R laced, seasoned with Americana and a dash of R&B tossed in. Yes, we are talking about the same Kiefer Sutherland who played a bully in the movie Stand By Me, the hardboiled counter terrorist agent Jack Bauer in 24, and reluctant politician turned president Tom Kirkland in Designated Survivor.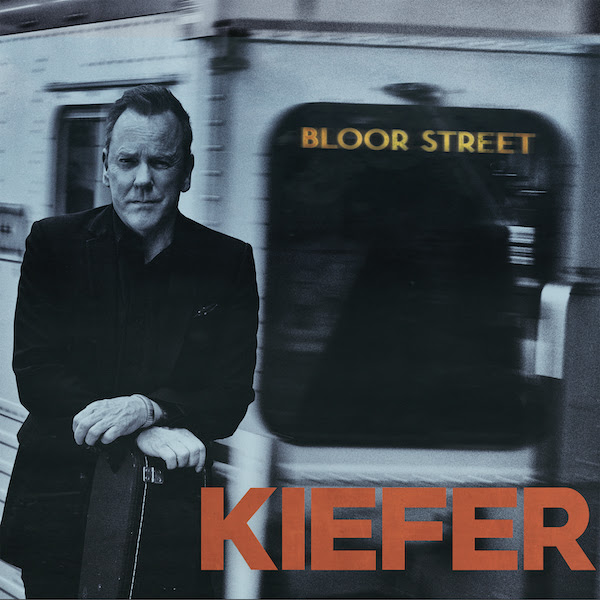 Songwriters should write what they know. In songwriter mode, Kiefer Sutherland writes what he knows, and what he knows is the city of Toronto. The title of the album is derived from the street where he got his first job as a dishwasher in a food court, had his first meaningful kiss at the entrance to the subway, and got beat up for first time while doing something stupid. It also is the title of the first single released from the album.
He takes a walk down Bloor Street and you almost feel like you are walking along with him. It is a story about returning home. It is a reunion of sorts, one he has mixed feelings about. "I mean, there's been moments that I've loved Toronto," he says, "and there's been moments that Toronto has taken a piece out of me, you know, and so I have this back-and-forth thing with Toronto." 
All the same, Sutherland may live in Los Angeles now but he knows where home is. "They say you can never go home. This song, for me, says in your heart you never leave." Perhaps that is why he hears the city whisper to him, "Baby, don't go."
Sutherland also knows what it is like to be on the wrong side of a jail cell. He did 48 days in a California prison in 2007 for drunk driving. The experience, along with others from a more reckless time in his life, was the catalyst for "County Jail Gate."
"Two tons of steel grinding on the wheel is a sound you'll never mistake. As the buzzer rings you're gonna feel the sting as they open the county jail gate." It is a sound he will never forget. Not surprisingly, the song is not about how cool it is to go to jail. In Sutherland's words the song's message is simple: "Don't do this or you're gonna feel like an absolute moron."
"Two Stepping In Time" is an unabashed love song. Despite the cliché line "I will love you forever," the song really isn't cliché at all. It starts out with a picture of "cigarettes in the ash tray" and "empty glasses of whiskey (that) show the passage of time." Dancing around the kitchen island with no one left to stare could have the song taking place after an evening party. Yet, the passage of time also could be a lifetime together. It is a song with many layers.
The R&B entry is "Goodbye," a song about knowing when it's time to move on, when you get tired of living a lie. "Nothing Left To Say" is another song about a love affair coming to end. "We both know we tried but we have nothing left to say."
"Chasing The Rain" is about life on the road with the backup band and missing a loved one. Does that lead to a time when there is nothing left to say? "So Full Of Love" was written during the pandemic when Sutherland realized he had a lot to be thankful for. "I woke up humming that melody, then I'm in the shower, singing it," he told The Sun. "So when I went to dry off at the kitchen island, where I write a lot of songs, half of me was laughing, thinking this is the most corny thing I've ever written."
"So Full Of Love" is an expression of gratefulness, kindness, and humility. Fittingly, it also is a tribute to his mother, actress and activist Shirley Douglas, who passed away in April 2020 at the start of the pandemic.
Sutherland wrote all the songs on Bloor Street, three-quarters of them during the pandemic. He brings to mind hints of Don Henley, Bryan Adams, Tom Petty, and others, yet the stories he tells are uniquely his.  And make no mistake about it – Sutherland is a storyteller. The album was produced and mixed by the multiple GRAMMY-winner Chris Lord-Alge – known for his work with Keith Urban and Carrie Underwood – and is well worth a listen. 
*Feature image credit: Beth Elliot