"Honestly? Sincerely? There's no fix on this record. There's nothing overdubbed or fixed. I'm a fan of let's go for it. I think that brings out the best as long as you can accept that shit's gonna happen."
Mike Zito is talking about his new 17-cut live CD Blues for the Southside on his own Gulf Coast Record label. When he started Gulf Coast Records in 2019, the prevailing opinion among performing musicians was that CDs had been reduced to calling cards used primarily to convince promoters to book them in shows which were their principal source of income. Remember that pundits at the time predicted the death of local newspapers in the same breath as the "inevitable" death of the CD.
Never mind. Mike Zito went ahead with his label anyway.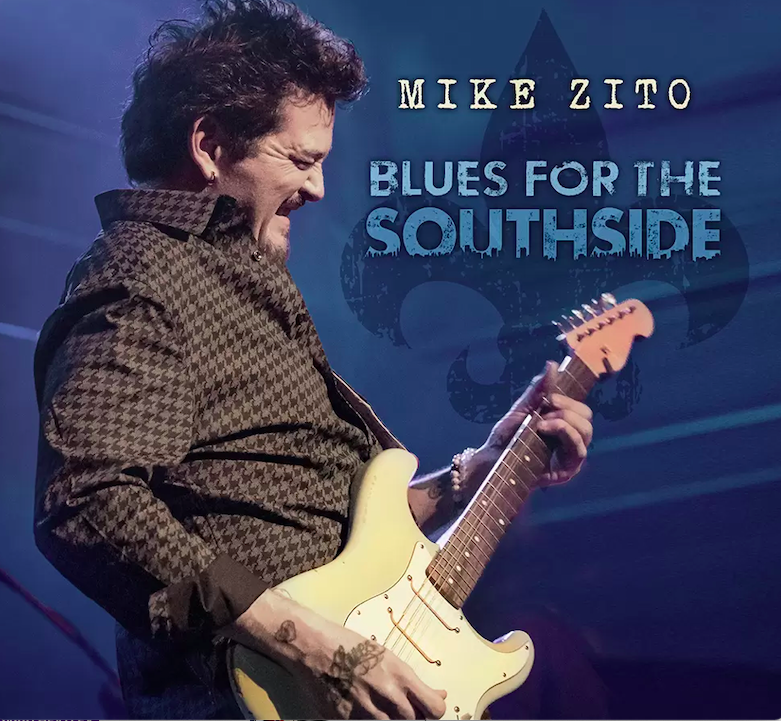 The pandemic for more than a year shut down most live concerts. Now, three years after the predicted swan song for recordings, we're in a never never land. There are as many rules about what you can and can't do with live concerts as there are politicians who make those rules. The pundits said the CD was dead. Years before, the same pundits consigned vinyl to the scrap heap and are now predicting the death of movie theaters. Tell that to the producers of latest Spiderman movie that holds viewers to their theater seats for more than two and a half hours. As of this writing, that film is the third largest grossing movie of all time.
There are losers in the new normal, but there are winners, too, people who can see the needs of their fans in a stressed situation and then find a way to fulfill those needs. Mike Zito is one of those artists. Fundamentally he makes good music. 
He ignored the naysayers when he formed his record label. And he's ahead of the curve with his new album Blues for the Southside, a 17-cut live extravaganza that will blow your head off and "take you there" as the Staple Singers would say. It's the closest thing to being in a club on a Saturday night as you're gonna get without leaving the "safety" of your own home. And in this day and age, the very meaning of safety is being redefined. The album drops January 29th.
I caught up with Mike on January 12th on the phone, the first stop of a tour that hopefully runs until March 24th when he begins another tour with label mate Albert Castiglia who also has a new album on Gulf Coast, I Got Love. 
"I'm in Tucson, Arizona, and I have a show tonight, and obviously there's all this Covid stuff going right now, but most of the shows are still going forward. I don't know what the turnout will be, but we'll see. We had one cancel tomorrow night in Las Vegas, but then we had a night off next week and then a show in California picked it up, and we're even Stephen again."
The Southside in the title of Blues for the Southside is in St. Louis, not Chicago. "I don't live there anymore, but it was my hometown for 33 years. So, that was the place to get a crowd out. And I needed them to be interactive and make noise and clap and be into it and stuff, so we'd get that energy out of the room, and I wanted the album to be very lively, fresh and spontaneous. I wanted this energy, and I didn't want it to be laid back. People are feisty. They're drinkers, and they like to party. I wanted that. 
"Here's the thing. I thought it made for a kind of bluesy greatest hits that I could play some more kind of straight blues and blues rock and roll guitar. I didn't know it would be a live double album.
"The whole album was recorded in one night with no overdubs. That's what people love. I might be struggling and not playing, and I'm really trying hard, and they all scream and holler like shit. What are you hollering for? That sounds like shit. They don't care that it sounds like shit."
Mike chose a favorite early stomping ground to do the show, The Old Rock House. "It was a venue I played at for years. It's just on the edge of South St. Louis and downtown. It's literally blocks from where my father was born and raised and lived probably 10 minutes from where I was born and raised and lived. So, it was right in the right spot. 
"They're really old buildings, really old, like New Orleans old. So, those buildings are like from the 1800s, all red brick and this was one that was restored into a concert venue. Very, very cool vibe and, yeah, I think we always play well, but I feel like I did the best job. We really put it out there, but we didn't try to go crazy and lose the groove on the song, but we also didn't lay back so much that it just became stale, like, oh, my God, we're recording. Everybody just try and play perfect. It was really a good mix and tight. So, yeah, I was very pleased."
Mike picked Guy Favazza to host the show. "He's my friend from St. Louis. He's a deejay from the biggest rock and roll station in St. Louis which is KG95. and it's been a rock and roll station since the late '60s. So, it's a real famous rock and roll station, and he's been on there for I don't know, 30 years."
Favazza opens the recording with his introduction. "When I was first coming up in St. Louis and had the first album out, he would play my songs. In fact, he got me my first opening slot for Walter Trout in the '90s 'cause they used to play Walter Trout on that station back when rock and roll stations would play new blues records. (Chuckle) So, it was great to have him there. 
"All kinds of friends and family, people were all there from St. Louis. It turned out really great. I'm really excited about it. It's what I wanted people to hear. I wanted to play guitar the way I play guitar. I'm not a shredder. I like what we do, and I think we captured – band is so good. They did such a great job. That's a one night only pressed record and I got a guy from a local studio to come in and put some mics up, brought in a little mobile system."
From his 2018 First Class Life album Mike performs the title track, "Mississippi Nights," "Back Problem," "Wasted Time" and "Dying Day." From his 2016 album Make Blues not War there's the title cut and "Highway Mama." 
"Hell on Me" and "The Road Never Ends" are from Gone to Texas. (2013). 
The centerpiece of Blues for the Southside is a 12-minute guitar exchange with Eric Gales on the Hendrix classic "Voodoo Chile."
"Eric just happened to show up 'cause he had a rehearsal night in St. Louis for another show, and he came out. I said, 'Do you want to play?' He goes, 'Yeah.' And he came up and said, 'What are we gonna do?' I go 'I know exactly what we're gonna do. Let's do this.' There you go. 12 minutes."
The same doom sayers who were predicting the death of record labels and are reeling at the daily changes in Covid restrictions on live concerts are sometimes bemoaning the deleterious impact of social media. 
Get over it.
The fact that you're reading my words right now means you've made a conscious decision as a member of a free society to spend time on American Blues Scene, a vehicle that gives you information that enhances your appreciation of "good music." 
And Mike Zito produces good music, both as a label head and as a veteran performer. 
You may not even stop to think about it, but chances are you appreciate that American Blues Scene is a vehicle that informs you of artists who enrich your life with their music. Sure, we're about blues, but the "staff" (primarily Lauren Leadingham and J.D. Nash) thinks outside the box in selecting topics that some would say don't meet the definition of blues. I, as one of their writers, only interview musicians I think make "good music."  The amorphous "they" can label that music blues or whatever else they want.
Nuff said?
Mike Zito tour dates:
01/24   Peavine Taphouse Eats & Beats – Reno, NV 
01/26   The State Room – Salt Lake City, UT 
01/28   Lobo Theater – Albuquerque, NM  
01/29   Tumbleroot Brewery & Distillery – Santa Fe, NM 
TOUR IN EUROPE IS BEING RESCHEDULED TO LATE 2022 (UK & NORWAY DATES ARE ON!)
NORWAY / UK TOUR
02/11  Skedsmo Blues Club – Lillestrøm, NO 
02/12   Oslo Bluesklubb – Oslo, NO 
02/13    Notodden Book and Blues House – Bellman Kulturpub – Notodden, 
02/16   The Robin 2 –  Bilston, West Midlands, UK 
02/17   The Stables / Jim Marshall Auditorium – Wavendon, Milton Keynes, UK – 
02/18   Goin' Up The Country Blues Club – Farndon Community Club – Farndon, Cheshire, UK 
02/19   Long Street Blues Club – Devizes, Wiltshire, UK 
02/20    Scottish Blues Weekend – Assembly Roxy – Edinburgh, UK 
02/21   Portsmouth Guildhall – Portsmouth, Hampshire, UK 
02/23   The 100 Club – London, UK 
02/24   The Cluny – Ouseburn, Newcastle upon Tyne, UK 
02/25   The Leopard – Doncaster, UK 
02/26   South Durham WMC aka Hartlepool Steelies – Hartlepool, UK 
03/12   Bonita Blues Festival –  Mike Zito Big Band w/ Albert Castiglia & Kat Riggins – Bonita Springs, FL
​03/18  The Guitar Sanctuary – McKinney, TX 
​03/19  The Post at River East – Fort Worth, TX
Blood Brothers Tour – Mike Zito & Albert Castiglia Bands:
03/24 – Stocks N Bonds – Blues Society of Omaha – Omaha, NE
03/25 – Knuckleheads Saloon – Kansas City, MO
03/26 – The Wildey Theatre – Edwardsville, IL 
03/28 – City Winery – Chicago, IL
03/29 – The Southgate House Revival – Newport, KY
03/30 – The Kent Stage – Kent, OH
03/31 – The Tralf – Buffalo, NY
04/01 – Center for the Arts of Homer – Homer, NY
04/02 – The Boulevard (Central Delaware Blues Society) – Dover, NE
04/03 – Pearl Street Warehouse – Washington, DC
04/05 – Rams Head on Stage – Annapolis, MD
04/06 – Sellersville Theater – Sellersville, PA
04/07 – Mauch Chunk Opera House – Jim Thorpe, PA
04/08 – Bull Run – Shirley, MA
04/09 – Jimmy's Jazz & Blues Club – Portsmouth, NH
04/12 – The Iridium – New York City, NY
04/13 – Daryl's House – Pawling, NY
04/14 – Gateway City Arts – Holyoke, MA
04/15 – The Music Room – West Yarmouth, MA
04/16 – Narrows Center for the Arts – Fall River, MA