Everything is full steam ahead for New York Blues Hall of Fame inductee Peter Veteska and Blues Train, who have released six albums in seven years. Following the internationally acclaimed 2021 release, Grass Ain't Greener On The Other Side, which was chosen by Jersey Shore Jazz and Blues Foundation as their entry in the best self-produced record competition at the 2022 International Blues Challenge (IBC) in Memphis TN, Veteska & company return with So Far So Good, a twelve-track album on Blue Heart Records featuring eight dynamic originals.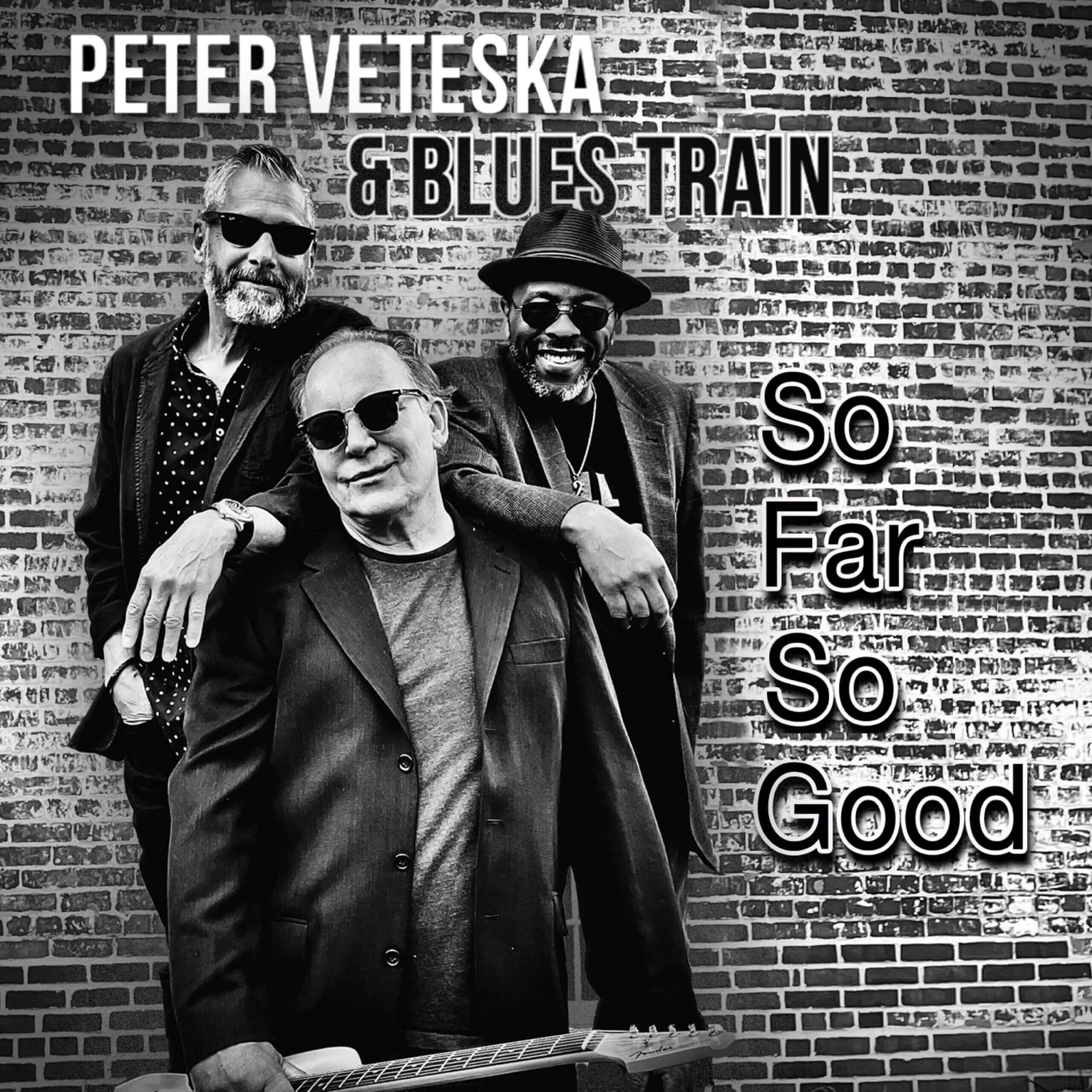 The guys once again teamed up with Joseph DeMaio at Shorefire Recording Studios – New Jersey's longest running recording studio. The stalwart trio of Veteska on guitar and vocals with Coo Moe Jhee on bass and drummer Alex D'Agnese, invited revolving bandmates keyboard ace Jeff Levine together with friends Garry Neuwirth, Mikey Junior, Roger Girke, Rick Prince and Jenny Barnes, session horn players Tommy LaBella, Steve Jankowski, and Doug DeHays and more to join in the sessions early 2021.
D'Agnese leads the charge with a thundering drum roll kicking off a set of rambunctious blues and roots rock on the driving opening track "Done With Bad Luck." Levine leads the slow blues testimony "I 've Got The Blues This Morning," with deft piano and Veteska spars with powerhouse vocalist and Jersey girl Jenny Barnes during the Chicago shuffle "I Miss You So." He then declares his loyalty and inspiration for his art on "My One And Only Muse," bolstered by hot blues harp from Mickey Junior, who also joins him for a romp through the saucy James Cotton Rhumba "Young Bold Woman," paying tribute to the blues legend.
The swinging "Lovin' Oven" features greasy Hammond B3 from Levine and Derek "Slim"Matterson on harmonica. Guitar Slim's 1956 classic, "You Give Me Nothing But The Blues," is transformed into a horn driven soul blues tête-à-tête with Veteska and Barnes stepping onto the roles of Dinah Washington and Brook Benton for the radio ready showstopper. Veteksa then lets his guitar do most of the talking as he digs in to the twelve-bar meditation " Low Down Dirty Blues."
The house party continues as Levine and Junior strut their stuff on the Johnnie Johnson Kansas City Jump Blues "Baby Please." Paul Boddy rips on slide guitar during the Delaware Destroyers'styled road boogie "East Coast Blues," before the crew stretches out and trades solos on the funky title track "So Far So Good." The final track, "Can't We All Get Along," takes a page from the Marvin Gaye playbook and concludes the album with a plea for unity in a troubled world set to a smooth bed of soulful R&B.
After a long hiatus from the music scene, lead guitar man and vocalist Veteska formed the original Peter V Blues Train in late 2013. In 2015 the band released its first album, Peter V Blues Train, which the Jersey Shore Jazz and Blues Foundation selected to send to IBC in Memphis. By 2016, they had followed up quickly with another release, On Track, at which time the New York Blues Hall of Fame inducted Veteska.
While playing venues like the legendary B.B. King's in New York City and festivals throughout the tri-state area in 2017, the band released its third recording, Running Out Of Time, which reached RMR's Top 10 and garnered glowing reviews from across the world.
Shaken But Not Deterred, released in 2018, peaked at Number #3 on RMR. In 2018 through 2019 Peter V Blues Train had two albums in the Top 100 RMR contemporary blues category and charted in 14 countries worldwide.
Peter, along with Blues Train drummer Alex D'Agnese and bass player Coo Mo Jhee, began work on the band's fifth music project in 2019, while performing as far north as Rockland, Maine and as far south as Brooksville, Florida at the Camping With The Blues Festival. Grass Ain't Greener On The Other Side released in late 2020, features guest artists from New Jersey, Delaware and Pennsylvania and includes six original tracks as well as four reinterpreted blues classics.
Now performing and recording as Peter Veteska & Blues Train, the band's latest release on Blue Heart Records reflects a return to a purer blues sound and a departure from previous albums that were rooted in the blues but in infused with elements of jazz and rock.
Right now, So Far So Good is charting at #4 on the Roots Music Report charts and the song "You Give Me Nothing But the Blues" is #8 on BB King's Bluesville's Rack of Blues.
Hard work and dedication have paid off for Peter Veteska and his Blues Train with So Far So Good. This group of top-flight Jersey Shore musicians are certainly on a roll.