Last weekend marked the welcome return of live blues events to the Scottish capital hosted by Edinburgh Jazz & Blues Festival. Saturday's Blues Afternoon has always proved to be a popular event and, together with the twilight session, this proved to be the case once again.
First on stage at the Assembly Roxy was the 'hidden gem' from Glasgow, Gus Munro, an electric and acoustic slide guitar supremo. He opened his set with an original song about the tribulations of paying tax, followed by the more folksy, strumming style of the upbeat "Stepping Stone."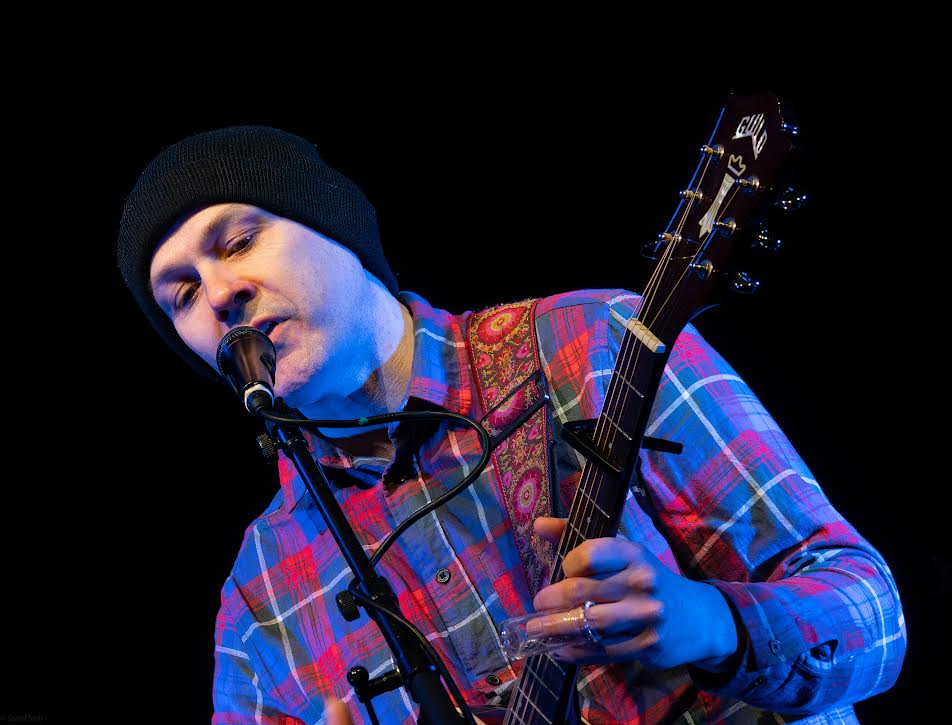 A regular at Glasgow's award winning 'Howlin' Wolf' live music venue, it is not surprising that Munro's repertoire included "Moaning At Midnight" and the wailing harp and primeval whooping vocal delivery style of one of the all time greats, Chester Burnett. Neither did Gus shy away from covering Robert Johnson's classic, "Love In Vain," his slow, balladic acoustic slide version sung with passion, intensity and subtle contrasts of light and shade. Optimistic vibes were prominent within Munro's compositions, his engagement with the audience, and the positive message in the finale's appeal to "look inside yourself' and 'Don't let the sun go down and spoil your happiness' because there is 'no point in blaming others when you're feeling blue." Overall, this was an uplifting performance from a remarkable talent setting the scene for a brighter future in 2022.
Toby Mottershead is a highly respected solo musician, blues scholar, historian and teacher in the capital city who was performing with his new band Jawbone Walk. A slide guitarist of considerable repute, Toby is a master of traditional blues and also gospel-tinged songs, the latter reflected in the opening number, "Lord Have Mercy." 1950s down home blues followed with Guitar Slim's "Things I Used To Do" and an impeccable cover of Memphis Slim's  "Mother Earth" enhanced by Luke Cunningham's atmospheric piano keys. Fitting tributes were paid to both Robert Johnson and Blind Willie Johnson in this impressive debut set which augurs well for the band's future. Toby sings with integrity and conviction, retaining the authenticity of songs like "Rollin' And Tumblin;" The band's version of Dr John's "Storm Warning" made the real Storm Eunice, casting its shadow overhead, feel like a gentle breeze. Either could have brought this converted church venue down especially when drummer Vid Gomac's thundering and technically brilliant Bo Diddley beat shook the foundations.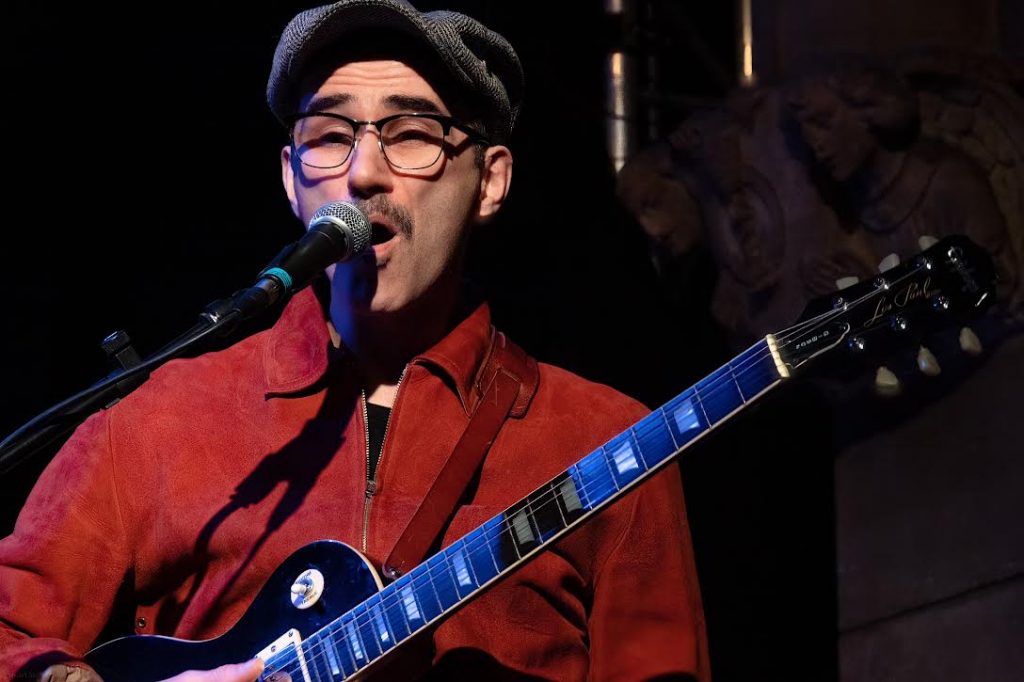 Blues Afternoon would not be complete without the blistering intervention of The Jensen Interceptors. Since the previous review last summer, the lineup has been revamped with Mike Park and Mike Katz now playing lead and bass guitars respectively. Slim Harpo's "Dynamite" was the cue for the first harp attack from the irrepressible Gary Martin. As for Richard O'Donnell, the word genius is an understatement when describing his flamboyant, flowing keys, creativity and technical prowess on "Walking Blues". The band paid homage to Paul Butterfield's version of "The Thrill Is Gone," the performance of the afternoon which rekindled the spirit of the electric Chicago blues of that era. 
The early evening session featured Liz Jones & Broken Windows whose profile has grown exponentially in recent years due to the founder's clever songwriting abilities, vocal dexterity and sheer determination to forge a career in music. Who could forget her moving tribute to Peter Green's Fleetwood Mac at an earlier Edinburgh Jazz & Blues Festival event?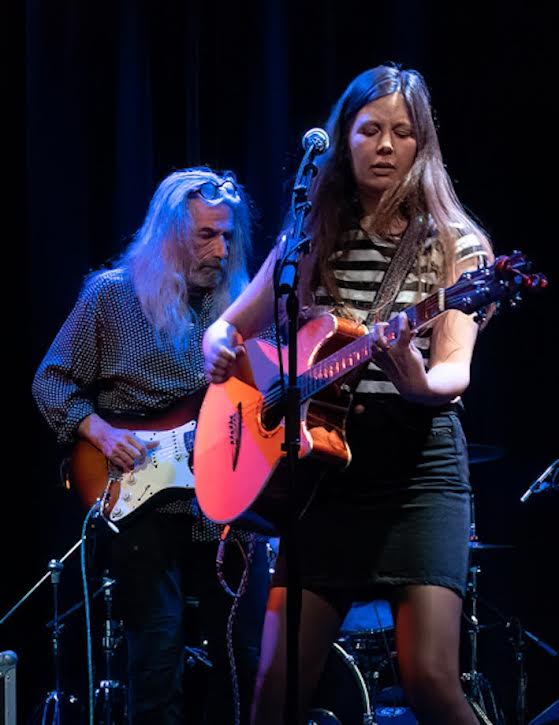 Last year's groundbreaking album Bricks & Martyrs further accelerated the band's progress. The set opened with "Call Centre Blues" co-written by Bruce and Jones which sums up how Liz juggles her musical ambitions with her regular employment. The song is the ultimate earworm with its mesmeric repetition of, "I just need a minute of your time/Just your thoughts over the line." Nuisance calls for those on the receiving end and a mind numbing script for the call center operator, this song has the blues at its core. The forceful guitar dueling between Liz and John, the latter adding distortion to his riffs, emphasized the frustrations. By contrast, "Jo" was a slow blues sung in conversational style, this time with a haunting guitar duet including sumptuous slide from John.
Like most of the original songs tonight, "Wendy" was written from personal experience, this one a fascinating tale about what happened to a former regular customer who had stopped frequenting Liz's coffee shop.  This funk-driven, percussive extravaganza provided the perfect platform for Bruce's piercing guitar licks and scintillating solos. On current form and at the top of his game, there are very few blues guitarists worldwide who can perform to this consistently high standard with such energy and innovation whilst making it appear effortless. Liz also revealed the breadth of her talent, including an incredible vocal range which at this extreme made Janis Joplin sound like a soprano chorister. However, Jones is no blues shouter, with songs later in the repertoire showcasing refined, mellifluous tone and pitch appropriate to their lyrics and mood. This included "Lover," a vocal tour de force — its melody enhanced by Cargill's empathetic mandolin.
A major strength of the band throughout the set was the chemistry between the musicians which impacts upon their interactions with each other to achieve a cohesive and expansive sound. Percussion guru Suzie Cargill was a key player in this respect as she weaved between and complemented Rod Kennard's nimble bass lines and the precise rhythms of Gary Davidson's drumming, "Stain" being a prime example. Jamie Hamilton's keys were always tasteful and measured as he resisted the temptation to overplay thus adding more to the overall effect of the band. His fluent, calming keys provided the foundation for the shuffling rhythm of "Karma" and Liz and John's strident guitar interpolations. However, on the jazzy "No Classic Love Song" Jamie proved that he could also solo with panache.
An eagerly anticipated new song was premiered entitled "Jesus" and involving a trip "down to Mexico getting high" reminiscent of 1960s frenzied psychedelic rock. Whilst it was not always possible or necessary to pinpoint specific genres in this eclectic show, no doubt existed whatsoever with the finale, "Women Be Wise" by Sippie Wallace. It was pure blues from a bygone age when women were encouraged to keep their mouths shut, to avoid gossiping and, above all, to be careful not to advertize their men. The washboard and piano keys accompaniment were faithful to that era, the laid back exchange of guitar licks between Bruce and Jones equally contemporaneous. It was appropriate for such an enduring and inspirational song to end what had been a breathtaking show.
*Sound recording and production of "Wendy" by Jen Clark. Video by Liz Jones Design.