Pete Muller is a singer/songwriter who hails from Santa Barbara, CA. His passion for math is as great as his passion for music. So when he tells us, "There's no such thing as time" – as he does in his video for "Tin Palace" – you could be forgiven if you expected some kind of marriage of math and music to explain the absence of time. It's not that kind of marriage.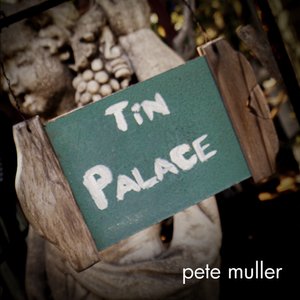 Pete uses his math skills in his day job guiding the mathematically driven investment fund, Process Driven Trading (PDT). And despite his declaration about the absence of time, he makes sure to create time for his music. His sound has been described as Americana with a rock and soul vibe.
The soft rock "Tin Palace" takes you to a place where time, if it exists at all, stands still. It is a place of pleasant moments, sunshine, gentle breezes, and memorable company. It is a place where sunshine gives way to "raindrops on the rooftop (that) make such a soothing sound." Then you find yourself "dancing in the kitchen to soulful French music." You can't help but to feel mighty fine.
And then there is the memorable company in the person of Wendy. As the rain keeps on falling and the river rises, you sit with her sharing stories and making memories. They will be memories that sustain you and fill you with joy and contentment when you sit at a sidewalk café, drinking coffee, and taking a reminiscent trip back to the Tin Palace.
"Tin Palace" is the first single from Pete Muller's latest album SPACES. Set to be released on May 20, it will be his fifth solo album and first since 2019's Dissolve. He also released an album of covers in 2021 with The Kindred Spirits entitled The Sound. It featured such classics as "For What It's Worth," "I'm On Fire," and "Don't Worry, Be Happy." Video aside, the pleasure in his voice is unmistakable as he recalls of those most memorable of moments.
It has us hoping time won't pass too slowly before the album debuts.
As a board member of The Live Music Society he has supported independent venues struggling in Covid times, and he's partnered with the Berklee School of Music to save the legendary Power Station recording studio in NYC, which has hosted the likes of Bruce Springsteen, Paul Simon, David Bowie, and Bob Dylan.