Today marks the release of Truth Hurts, the second album from Brooklyn-based vocal dynamo Regina Bonelli, who belongs to a rare breed of spitfire soul and benchmark blues singers. Backed by the True Groove All-Stars band and under the production guidance of Tomás Doncker and James Dellatacoma, the album is a guitar-driven triumph of truth representing a high watermark in Bonelli's songwriting.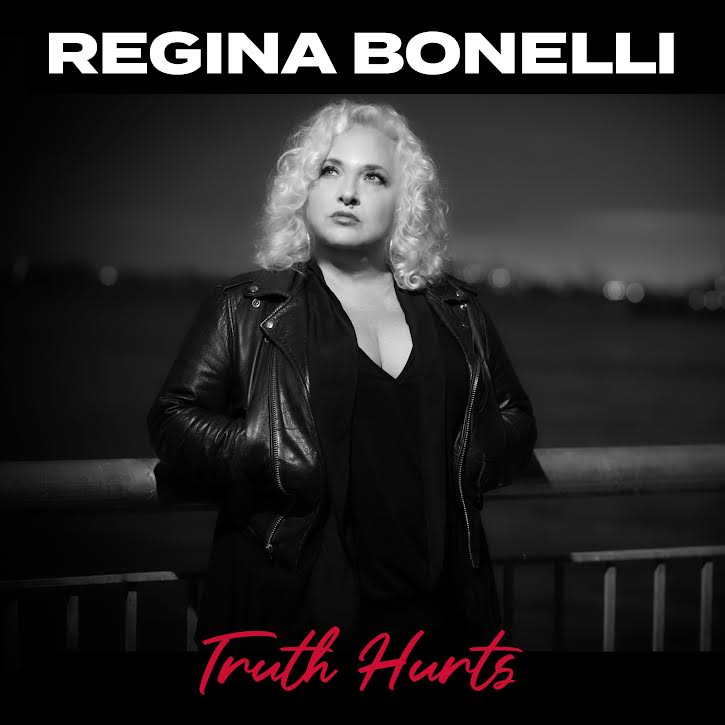 "Mama Raised a Sweet Thing," as the fourth track makes nice, but Bonelli is no less a tigress when roused. It's important to note that although the future of blues is female, so is the past as well as the present. Bonelli has the self-assurance of Millie Jackson, the vocal flexibility of Tina Turner, and the authentic growl of Big Mama Thornton. It was Thornton who said, "White or black. Rich or poor. If you ever had your heart broken you have right to sing the blues." And Bonelli has known enough love, loss, and misadventures to qualify her to sing the blues. Life can beat you up, and it can also teach you. The truth hurts, but it also heals. It's almost as if Bonelli has been holding something inside and can now finally breathe. This album digs deeper and has a harder edge than her previous works. "I think I'm singing for my life there, you know? I think every song is really strong. Things are tough for everybody. I've had a particularly tough couple of years, and I feel that's where my emotions came out on this record." 
Bonelli and I begin our conversation by talking about our kids. It serves as a good segue for the question "What has being a parent taught you and how has it given you inspiration to sing the blues?" She names the thing that best analogizes the perseverance needed in parenting and in life: bugs and a fear of them. "When you're in the house and there's a bug, before you have kids, you either run away or you call somebody… Being a single parent, you have to do it. You have to. What are you going to do? Otherwise that thing's going to be walking around your house." As both a mother and someone with an unreasonable roach phobia, I've put that into perspective myself. 
Financially, mentally, emotionally and physically, being a single mother is no easy task. She tells me her mother passed away when she was pregnant with her second child. From her point of view, it was always Bonelli and her kids vs. the world. There's something special about that kind of bond, and there's a certain something to this blues queen's music that consistently secures prime real estate on the charts. When she played the record for her son, he told her, "Mom, you're this really dynamic performer and this record really captures that spirit."
Bonelli has been quoted as saying, "I sing the way I sing, be it soul or blues." Take one listen to her single "I Got To Go," and you hear as much soul as you hear blues, boasting a tasteful use of legato. The boom-bap drum pattern feeds into a refreshing Stonesesque rock groove as she sings, "I want to move forward, but I can't move back/ 'Cause this up and down livin' 'bout to give me a heart attack." The pandemic lockdown had a way of making everyone feel like a wild animal backed into a claustrophobic corner, but perhaps more so as an understimulated musician in the city with the highest population density. "I Got To Go" was Bonelli's candid response.
"I remember I was just sitting here feeling like, 'I wish I could just get out of here and go somewhere and be somewhere different.' I guess it was the feeling of the lockdown, and not having the freedom to move about and go see people and go to shows. I was just feeling stuck. I always write from an honest place. I might have been thinking more esoterically, not necessarily stuck physically. It was less about the lockdown than being stuck in a place in life. I think that's where I originally was coming from when I wrote it – metaphorically, I'm stuck on the side of the road. If you want to take it literally, you can't pay your bills. 'I can't move forward. I can't go back.'"
Her ripping reimagining of The Allman Brothers' "My Cross To Bear" captures the contrasting glories of the whole album, not least thanks to one special guest. She enthuses, "Michael Hampton from Parliament Funkadelic, a 2X Rock and Roll Hall of Famer, plays on the third cut on the record. So it's me, a girl singing an Allman Brothers song and Michael Hampton blazing. He's been around with True Groove for a long time. He's done some gigs with me, too. But the first time I was like, 'Oh my God, Michael Hampton. That's Kidd Funkadelic!' He's super mellow, so quiet. He just came in there and he killed it." She thrills at the idea of how much guitar is featured on Truth Hurts. "It's a lot of guitar. Tomás plays; James Dellatacoma plays, and he's actually doing a solo on 'I Got To Go.'" Tomás solos on "The Last Tear," an ah-ooh doo-wop soul number with wah-wah inflections. "I love this one. It reminds me of a Bobby Bland song. Michael Hampton is in there, so it's a guitar-oriented album." Bonelli, who's played the keyboard since the age of 11 and has taught both kids and adults, can be heard on the keys. Like a slowly burning fuse, underscored by strong guitar leads and emphatic sax lines, Bonelli also tackles and transcends Howlin' Wolf's "Killing Floor."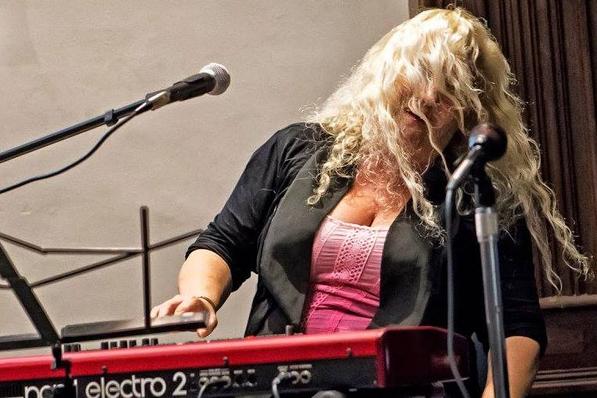 You can tell Bonelli loves all music by listening to all the stylistic elements that filter into Truth Hurts, due in part to her musically inclined father who exposed her to everything growing up. "He played everything, and we had a whole bunch of music in the house all the time. He played, my sister played, there were always records playing. Some of my earliest influences were Joan Baez and Curtis Mayfield." Not unlike her influences, Bonelli is an observer of the times and writes lyrics through the lens of what is happening around her. "Most of the time it's just me expressing myself, but I like to think it's for every man or every woman when I write. I'm singing for my life, because I had some personal shit going on. I think that there's kind of a desperation in there that came through in the vocals. I'm super proud of this record. I really love it. As far as my writing process, I write from the heart and from experiences, with the hope that people get something out of it."
As evidenced in "Don't Put Your Hands On Me" from her debut album, Love Letter, she also doesn't shy away from taking a bold stance in her songwriting. The empowerment anthem, originally premiered on ABS, confronted sexual harassment and domestic violence head on. Written before #MeToo and #TimesUp were movements relegated to hashtags, the song has long resonated with her audience.  
Throughout the pandemic, Regina along with the True Groove label has been writing and recording with the same output as before. "I think that's one of the wonderful things we've been doing. 'Mr. Big Man' was written right before (the pandemic). That's less about our former president than it is about the 1%." A showcase for her voice's upper registers and its opening instrumental work executed with punchy precision, that song sits at the #1 slot on the Roots Music Report's Blues Song Chart. 
Bonelli and True Groove CEO/Global Soul movement pioneer Tomás Doncker have long contributed to each other's works. Of what truly sets the True Groove label apart, she expresses, "Well, it's a very family-oriented kind of thing. We are a family. They're world-class musicians. The musicianship in the group is up there with anybody. Anybody. I've been around a long time, played with a lot of people, listened to a lot of people. It's just super world-class – almost like Motown where we all play on each other's things. The other album, Love Letter, hit number one on the Roots Music Report. First of all, it was on the charts for almost three years. It was Best of 2018, Top 200 Blues Albums. It was Best of 2019, and it was Best of 2020. It's super amazing to see. All the guys played on that." And on Truth Hurts it's Regina Bonelli and the True Groove All-Stars in fine form once again.