Have Gun, Will Travel may be best described as having folk, punk, Americana, and indie-rock sensibilities. But to me their music can't be fenced in, and I am loath to assign it a category. Their name was inspired by the movie Stand By Me, in which the four teenage boys sing the "The Ballad of Palladin," the theme song from the Western series Have Gun, Will Travel.  
Their music has been featured in a number of film and TV productions including the Netflix series The Ranch, CBS's The Good Wife, Travel Channel's Expedition Unknown, ABC's American Housewife, and the PBS series Roadtrip Nation, as well as a national Chevy TV commercial campaign and more. With six studio albums now under their belt, HGWT have toured extensively throughout the US, playing many of the major music festivals since their inception. 
Today sees the premiere of the video for "Buyer's Remorse," an indictment of the myth of the American dream. In true Have Gun fashion, the new single — presented in three-part harmony that soars into the refrain — has an instantly memorable, sing-along melody with flawless instrumental interludes.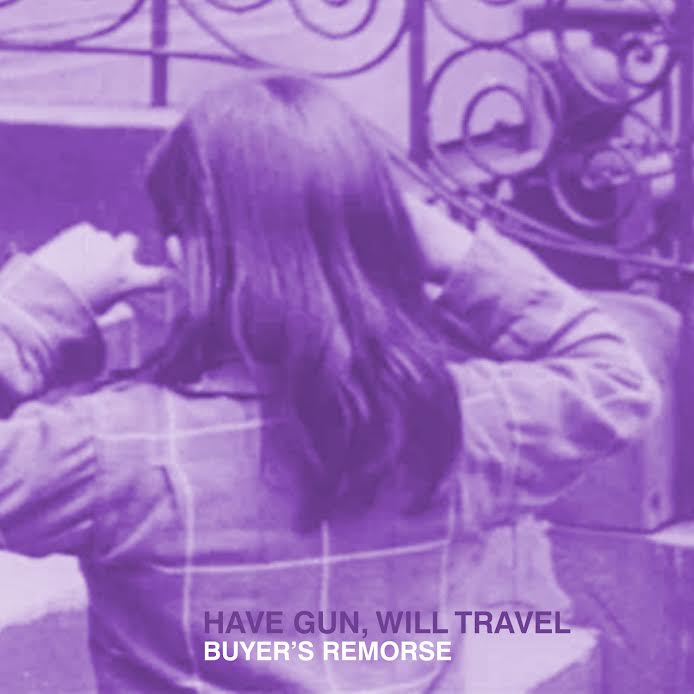 "You tell me there's no guarantees / Nothing good in life comes easy / I want my money back this time." Singer-songwriter Matt Burke genuinely taps into the emotion that motivated him to write this song about the high price of materialism, as the video craftily depicts the longstanding ethos of consumer society.
On the recording is Matt Burke on lead vocal, guitar, and harmonica; Scott Anderson on guitar and backing vocals; Daniel Burke on bass and backing vocals; Edward Stork on piano; and Sam Farmer on drums and backing vocals. 
Of "Buyer's Remorse," Matt Burke tells ABS:
We had a good time recording this song. Our drummer, Sam, nailed it on the first take. And we put a good deal of effort into arranging the three-part vocal harmonies for the chorus. This is one that we really enjoy playing live as well.
"Buyer's Remorse" is one of six songs that will be included on the first of two back-to-back EPs. The first one, Silver Songs, will be an early summer release (date to be announced), and the second, Voyager Golden, will follow a few months later.
Have Gun, Will Travel Upcoming Shows: 
Feb 18 – The Blue Rooster – Sarasota, FL
Feb 25 – Gasparilla Music Festival – Tampa, FL
Feb 27 – Maclay Gardens State Park – Tallahassee, FL
Mar 05 – Julian B. Lane Riverfront Park – Tampa, FL
Mar 11 – 1916 Irish Pub – Plant City, FL
Mar 25 – Riverwalk Park – Bradenton, FL
Apr 07 – Sertoma Youth Ranch – Brooksville, FL
Apr 16 – Crooked Thumb Brewery – Safety Harbor, FL
Connect with HGWT: