A stellar live performance by soul queen Ann Peebles, backed by many of the same musicians with whom she recorded the jewels of her catalog, was captured thirty years ago and is at last set for release. Memphis International Records presents Ann Peebles & the Hi Rhythm Section Live in Memphis on vinyl LP, CD and digital formats on April 29.  
The album, produced by David Less, is the only known live recording of Peebles and Hi Rhythm, the ensemble numbering a total of nine players behind Peebles as she offered her best known repertoire on the night of February 7, 1992 on a program billed "An Evening of Classic Soul." 
Ann Peebles & the Hi Rhythm Section Live in Memphis includes such hits as "Part Time Love," "Straight From The Heart," "(You Keep Me) Hangin' On," "I'm Gonna Tear Your Playhouse Down" and her pop crossover hit "I Can't Stand The Rain," among others.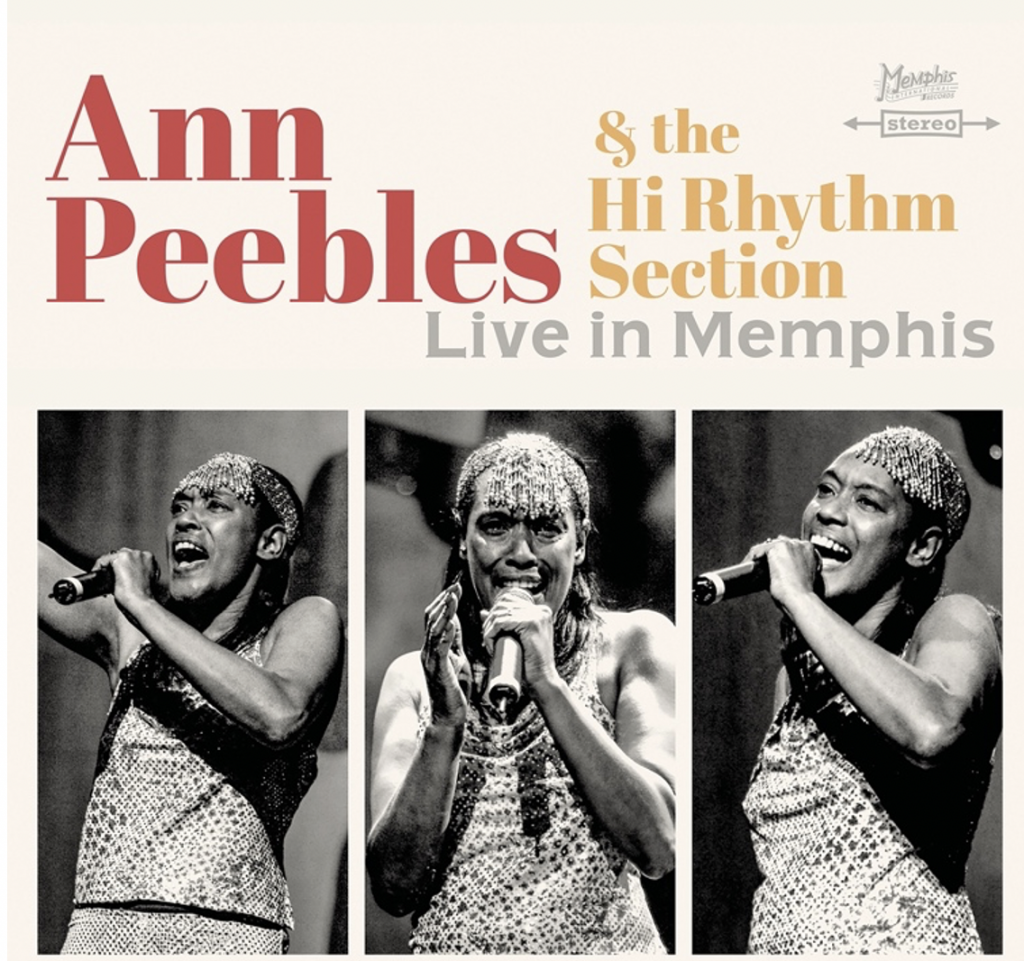 Peebles, now 75, recalled that evening. "It's always great to perform in front of an audience; you build excitement as you go." She notes that she, along with husband Don Bryant, had a hand in writing three of the album's selections: "If I Can't See You," "Let Your Lovelight Shine" and "I Can't Stand The Rain." She remembers when Willie Mitchell, the legendary Hi Records producer first heard the song in 1973. "He said, 'That's a hit!' and proceeded to record it almost immediately." Numerous topflight artists including Tina Turner, Lowell George and Eruption went on to cover it over the years and it went on to make Rolling Stone's list of 500 Greatest Songs of All Time. "I Can't Stand The Rain" was called "the best song ever" by John Lennon. It was heavily sampled by producer Timbaland for Missy Elliott's debut 1997 single "The Rain (Supa Dupa Fly)," illustrating Peebles' impact on the hip-hop generation.    
Among those who played on the original session and others that Mitchell produced at Hi were Howard Grimes (drums), Leroy Hodges (bass) and Charles Hodges (keyboard). Those same musicians, as well as Thomas Bingham (guitar), David J. Hudson (background vocals), Tina Crawford (background vocals), John Sangster (saxophone), Anthony Royal (trumpet) and Dennis Bates (trombone), are heard on Ann Peebles & the Hi Rhythm Section Live in Memphis. This unique circumstance makes the forthcoming album a truly compelling audio document for the ages. 
Peebles, originally from St. Louis, has made her home in Memphis since those early Hi Records sessions and spoke of the thrill of performing before a hometown audience. Of "I Feel Like Breaking Up Somebody's Home," one of the key tracks on the new album, she confides, "I got into it as if a movie was playing in my head." Similarly, she spoke of "I'm Gonna Tear Your Playhouse Down," which was later covered by Paul Young, with whom she has a mutual admiration. "He told me, 'I thought it was too haunting for me to do'," but Ann, who thinks of herself as something of an actress, had no problem with it when she recorded it earlier. "You put yourself in the role, imagine how you would act in that kind of situation," she notes. It's a very convincing portrayal, as is the totality of Ann Peebles & the Hi Rhythm Section Live in Memphis.
*Feature image credit: © Center for Southern Folklore Archives, by Robert Jones