Rhiannon Giddens' 2022 will include the publication of her first book, the long-awaited debut of her opera, and a tour with the Nashville ballet. All on the heels of two GRAMMY nominations for her 2021 album release, They're Calling Me Home (Nonesuch) and her opera debut as Bess in the Greensboro Opera's rendition of Porgy and Bess which is Giddens' first professional opera at the age of 44, and her first return to the operatic stage after 18 years. Today Giddens has revealed the striking cover for her debut picture book, Build a House, ahead of its October 11, 2022 publication date (Candlewick Press).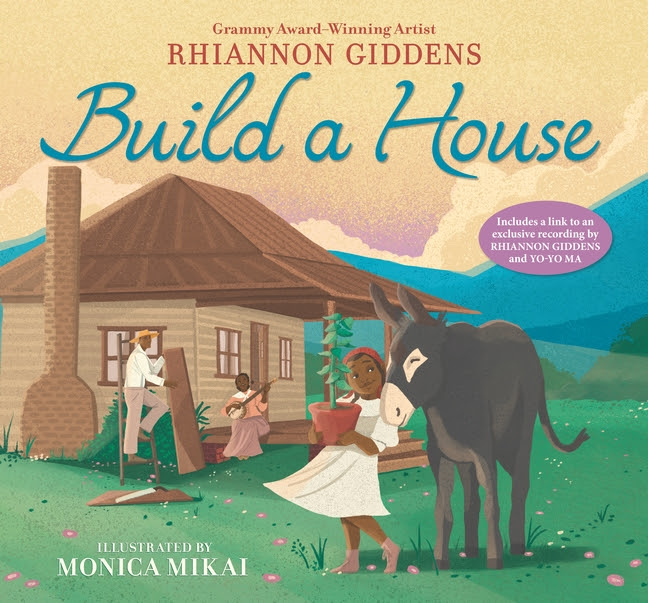 Written as a song to commemorate the 155th anniversary of Juneteenth, Build a House is boldly illustrated by painter Monica Mikai, and tells the moving story of a people who would not be moved and the music that sustained them. Steeped in sorrow and joy, resilience and resolve, turmoil and transcendence, this dramatic debut offers a proud view of history and a vital message for readers of all ages: honor your heritage, express your truth, and let your voice soar, even—or perhaps especially—when your heart is heaviest.
I released this song on Juneteenth in 2020 with the great Yo-Yo Ma. We made a socially distanced recording (very — there was an ocean between us!) and put it out on socials and that was that. A few days later, someone said the lyrics would make for a great children's book. Fast forward two years and that children's book is almost here! It has been an absolute honor and pleasure to work with my fantastic publisher Candlewick on this book, and a revelation to see what gifted artist Monica Mikai has done with this story.
Build a House is the first of four children's books that Giddens has planned with Candlewick Press. The second scheduled book, We Could Fly, is slated for publication in fall 2023 and is based on "We Could Fly," written with Dirk Powell, a powerful and affecting dialogue between mother and daughter drawing on African folklore and celebrating resilience and love. It will be illustrated by Briana Mukodiri Uchendu.
This announcement follows the recent news of Giddens' two GRAMMY Award nominations with her partner Francesco Turrisi: Best Folk Album for They're Calling Me Home and Best American Roots Song for "Avalon." Giddens is now an 8-time nominee and won in 2010 for Best Traditional Folk Album for Genuine Negro Jig.
Giddens also recently detailed a tremendous 2022, including the long-awaited world premiere of her opera, Omar, and the very first tour of the Lucy Negro Redux ballet that she composed the score for.  Omar is based on the life and autobiography of enslaved Muslim American Omar Ibn Said, forcefully brought to Charleston, S.C. from Africa in 1807. Lucy Negro Redux, is a ballet based on a book of poetry by Nashville writer Caroline Randall Williams that explores a character referred to as the "Dark Lady" in Shakespeare's sonnets.
*Feature image photo credit: Ebru Yildiz