"I'm in Oakland, California right now shooting a couple videos," musical multi-hyphenate Matt North tells me at the beginning of our call, as I'm wondering why he is on California time. He's shooting the last video for his new album, Bullies in the Backyard. He used to live in San Francisco and Los Angeles. Now California is where he shoots his videos, and Nashville where he records and resides. 
Mixed by GRAMMY-winner Jim Scott (Tom Petty, Wilco, Los Lobos) and mastered by Pete Lyman (Tom Waits, Chris Stapleton, Barry Gibb), Bullies In The Backyard features North on vocals and drums, and an elite core of Nashville musicians: Stuart Mathis (Lucinda Williams, The Wallflowers) – guitars, Chris Donohue (Elvis Costello, Emmylou Harris) – bass, and Michael Webb (Chris Stapleton, John Fogerty) – keyboards. Other guests include Jonny Polonsky and Jesse DeNatale.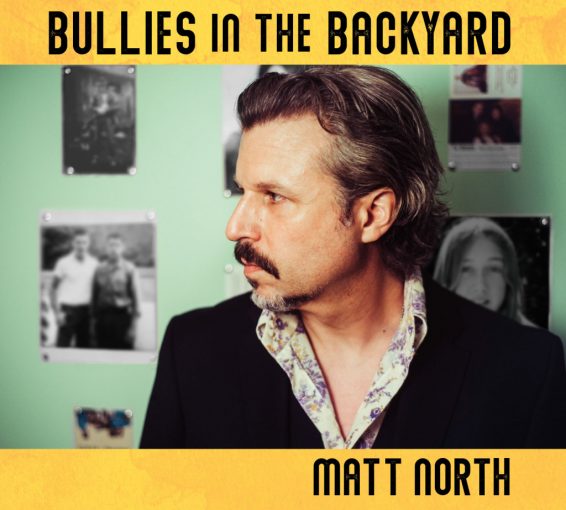 Michigan, Illinois, Texas, California, and Tennessee are miles away and, culturally, worlds apart. Yet all regions seem to play an eclectic role in his sound. "I'm the only one (in my family) who was not born in Eastern Kentucky. Both my parents grew up in the Appalachian region, and both sides of the family have great musicians. It's always been in my house, whether in the form of people playing instruments or just being exposed to great records. But each region you mentioned, it's fun to think about. I don't think about it a lot actually, but each one is a different chapter in developing musically, I suppose." 
North was brought up in the glory days of Hee Haw and Soul Train, on a balanced diet of acts as disparate as Buck Owens and Marvin Gaye. "I remember watching on Saturday nights. I'd sit down with my dad. You could turn on Hee Haw and there's Kristofferson, there's Johnny Cash. There's Dolly Parton, Glen Campbell." When he was courting his wife, they used to catch Buck Owens at his own Crystal Palace in Bakersfield, CA. "It was pretty close to the time he was going to stop performing, but he still put on a great show." 
With rhythms as his primary instrument as a songwriter, North takes note of the black American music he cut his teeth on as well. Artists like Sam Cooke, Otis Redding, and Wilson Pickett who introduced a side of soul with more rhythmic elements. As a drummer, North is heavily influenced by human timekeeper Al Jackson Jr., founding member of Booker T. & the M.G.'s. He doesn't wear his influences on his sleeve so much as he would acknowledge the accuracy of his music being described as equal parts pure country and Stax sound. "I feel this record, song to song, is straight up American rock 'n roll." From the drum intro on the opening song, "The Last Angry Man," you know he puts the roll in the rock. 
North discovered later in life that he loves writing lyrics, that there lay an untapped reservoir of potential. "I always say I started writing songs in my 30s and I started finishing them in my 40s, but I've always been playing drums in bands. Something I know now that maybe I didn't know in my 20s is I was maybe more interested in songs and being a part of great songs than I ever was the identity of being a drummer. I tried guitar when I was much younger and it didn't click; same thing with piano. But the drums clicked just enough for me not to get scared away and to keep trying. It became the instrument that I could keep progressing in, and it opened the doors to being a part of playing with other people – which to me is always the goal, whether I'm singing or drumming."
The years North spent in Los Angeles in his late 20s and early 30s still determine the way he works and writes. Playing drums in bands consistently, he was also intently focused on writing screenplays. Successful in selling one screenplay, he started getting work as a script doctor, which saw him ghost writing whether comic punch-up or story analysis. It was around this time that he was hired by Seinfeld co-creator Larry David to appear on Curb Your Enthusiasm as Jason Alexander's agent. 
North realizes the parallels between writing from a cinematic perspective and writing a draft of lyrics, between creating a scene on a page for a producer to read and creating a movie in the mind of the listener. "It's always my favorite part of the songwriting process. This is my second record. And because I've identified as a drummer my whole life musically, I'm just now starting to actually see myself as a songwriter. My favorite part of the writing process is when listeners come back to me, who've never met me, but they tell me what they saw in the song and what the song meant to them. That's so far my favorite part of the whole process, because once the music is out, it's really not really about me. It's not mine anymore. It's about what images it puts in other people's heads."
Literary influences also inform his songwriting. He was a kid keeping a steady beat with Rush's Neil Peart, but also taking heed of the textbook-level lyrics written by the man commanding the drum throne. "If you're a drummer in 1981 in the sixth grade, you've got to learn how to play 'Tom Sawyer.' I remember the day, at some point in middle school I was able to make it all the way through 'Tom Sawyer,' and that was Mount Everest. But I will tell you – my memories of being a kid sitting and staring at album covers and liner notes for hours. I vividly remember reading the lyrics to Rush and observing, 'Oh, Neil Peart wrote these.' That just opened my mind that I didn't have to only be a drummer."
His great uncle, novelist and poet laureate Jesse Stuart, had 59 published major works. "There was the fascination as a kid, seeing all of his books on the shelf in my house and getting my head around it that he's a relative. It motivated me to read more so than if the author wasn't my uncle. He was an English teacher in Greenup, Kentucky, while he was publishing these books." Stuart, whose books were mostly about his experiences in teaching, once wrote, "Good teaching is forever and the teacher is immortal." North's mother also went on to be an English teacher.
With one of the most idiosyncratic resumes I've ever seen, he's been a session drummer, actor, fact checker for Mother Jones magazine, screenplay writer, and a Home Depot sales associate. What has he learned through working sundry jobs? "On one hand it's real affordable if I do the drumming," he jokes.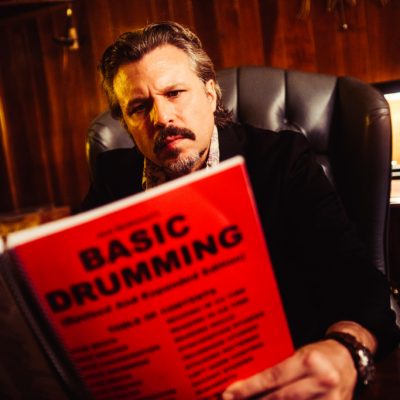 "Everything you just listed does take the course of 30 or more years. In my 20s I feel like I wasn't that unique in that I had a lot of curiosities I wanted to audition for a career. There were things I really wanted to try. Whether I was in San Francisco or LA, I was in a culture where those opportunities were there. All along, I've always been a drummer, through everything. The time I was screenwriting or auditioning for roles, I was always in a band. 
"Now I'm writing songs and working in my own studio, and songwriting directly ties to the screenwriting backdrop, which is making shooting videos very easily. It's very much like making a little independent movie. In a way I find that I'm not doing much different than I've already done.
"Back to Kris Kristofferson. I always used to look at him and go, 'There's a guy who writes songs, puts out great records, and he shows up every now and then playing a character in a film. That looks like fun.'" Like Kris, North and his distinguished group of musicians don't fit the mold of the Nashville music machine. He is also able to make humorous references while working them into serious messages. "I just listened to 'The Silver-Tongued Devil and I.' When Kristofferson came to Nashville and shared his songs with Music Row, no one denied how brilliant the music was. On the other hand, nobody knew what to do with him. Eventually he found a place for what he does. That's how I'm feeling right now. I'm very happy with what I've been able to do." 
"I'll be down in Hollywood under the stars on a silver tray," North sings in "Hollywood Forever," a song that has a John Prine sound merging poetic, plaintive imagery with sonorous keyboard and guitar arrangements. It's Kristofferson who is largely credited with discovering John Prine. "He called John Prine out and said, 'I'm a fan of his. He's going to come out and sing a song I love called 'Sam Stone.' It was just dead silence after he finished the song, and then the slow, eruptive applause. Kristofferson asked him to do two or three more. That was the night that made Prine's career. I lived in Los Angeles and sold my first script, and I actually got my first real paycheck for my career. The first thing I did was drive down to Tower Records on Sunset Boulevard and bought every CD John Prine ever made. If you listen to 'Hollywood Forever' and hear that, you got me. My favorites sometimes shift and evolve, but sitting here today, I'm very happy with 'Hollywood Forever.'"
Song to song the record has an identity, not least because of North's core band who he met in Nashville during his role as a studio session drummer. "Michael Webb on piano, who's been with Chris Stapleton and Sturgill Simpson. Chris Donohue is in Emmylou Harris's band. Stuart Mathis brings such a unique voice to every song. He's in Lucinda Williams' band, before that The Wallflowers. Something I feel is special about the record is, I made a deliberate point to record all ten songs with the same core band. I didn't do a 9-5 Nashville session. Although we're not a band touring together, we are a band and everyone is a producer in their own right. 
"The trick to recording these guys is to pretty much let go of the reins. There's this saying, 'You can't put a saddle on a Mustang.' These are guys who are so professional, any note I have they'll listen and they'll take it. They'll try anything I ask, but it's actually best with their talent to hand them the song and say, 'Do whatever you want to do.' I don't have to give notes. They bring their own interpretation to it. There's no such thing as solo albums. I wrote the lyrics and the chords and I sang; that's a blueprint. And it could sound so different if it was a different set of three musicians, but it's these guys."
The album title Bullies in the Backyard came to North in the thick of a lawsuit due to special needs violations by Nashville Public Schools against his son, at which time he was also having a problem with Blue Jays in his yard. He laughs, "We had this cute bird feeder attracting unique, interesting birds. I noticed the Blue Jays were swooping in and dominating, frightening away all the other birds. I was clicking around online and I saw, 'Blue Jays are the bullies of your backyard.' These songs were written at key moments. They all did start and end under the umbrella of what was happening with our lawsuit. It's not ten songs about sitting in court or ten songs about special education. But there was always some moment, some intense period that would launch me into writing lyrics. 
"Many times where a song ends is completely different from where I thought it was going in the beginning. That's something I've learned to be open to. I'll take a left turn and realize this could become something completely different and it would be unwise not to go with that. Once you get deep into structuring an arrangement of a song, there's maybe more skill and academic mindset than folks might know. I always quote Roger Daltrey. I read an interview with him and he just said whenever The Who would start writing a song, as long as the original germ of the song was there they knew they had something. They knew they could finish."
He wrote "Holding It Together" after getting the losing verdict at the state level. He recalls not being able to get out of bed for a month, and it's that emotion that is deeply felt in the song. "I get ideas for a melody or a hook or a special line that I know is song-worthy. From that point on, it's nothing but hard work." But with this song he knew he had something, knowing they had the case to win but not knowing the outcome. "Just like writing a song."
North and his family appealed into federal court and won in a landslide ruling. It took seven years, but every bit of evidence was finally read and every single count overturned. The Federal District Court verdict set precedents that now benefit those facing similar challenges concerning their child's education. "I got the job at Home Depot to basically pay legal fees and keep him in private school. We're selling stuff on eBay and Craigslist. It was like this nonstop garage sale to keep a legal case going. We took out a loan against our home. We sacrificed everything to do this. And if we lost, I think I would've been working at Home Depot until I'm 90 years old." After being unilaterally relocated, his son began thriving. Foley Levon North is now 17 and in the National Honor Society. And of course, "He's becoming a really great drummer, has a lot of natural feel and natural rhythm." 
Bullies in the Backyard closes out with "Plan B," and ABS is proud to exclusively premiere the video featuring guest performances by Butch Norton on drums, David Sutton on bass, Eli Wulfmeier on guitar, and Carl Byron on keyboards. 
Bullies in the Backyard is being released via Round Badge Records on February 11 on CD, as a download and on streaming platforms.