Guitarist and songwriter Justin Golden proves that blues is more than choking guitar strings on the neck and plaintive singing. On his debut record, Hard Times and a Woman (out April 15, 2022), he personifies the genre, its offshoots, and all points in between – reaching a new pinnacle of excellence by extracting the best of what blues and Americana have to offer. "It's so popular these days to think you're BB King," Golden explains it best, "and it's cool if you can play like that, but sometimes it's what you're not playing that's interesting."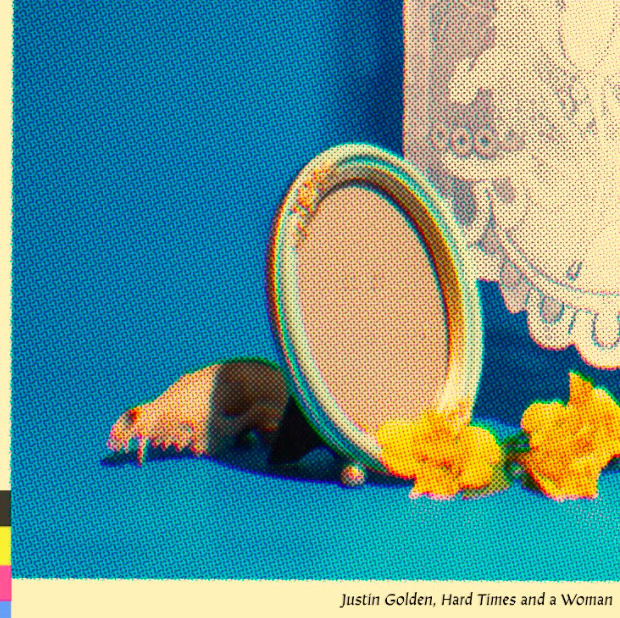 Raised on the Virginia coast, Golden utilizes his Piedmont finger-picking approach that is unique to the central part of the state. He once played a fingerpicking pattern inspired by a dream to blues elder Phil Wiggins, who told him that he'd been unconsciously playing Piedmont blues. He's studied country blues, with influences ranging from Blind Boy Fuller to Taj Mahal to indie guitar, specifically friends such as Phil Cook and J Roddy Walston. The Virginia Folklife Program at Virginia Humanities helped him to release this album. As a traditional roots music stalwart, he's passing the inspiration to youth by teaching them to play as well. His training as an archaeologist has taught him to view through a historical lens. Studying historic cemetery sites throughout the region, he noted that old burial grounds could be lost within a generation, which made him realize that the historic memory of music should also be preserved.
Golden wanted to put together a full band for Hard Times and a Woman. Recording in the midst of the up-and-coming Richmond, VA scene, producer Chip Hale helped craft these arrangements with local artists playing around Golden's songwriting: guitarists Nate and Eli Hubbard, drummer Drew Barnocky, backing vocalist Tyler Meacham, and organist Tommy Booker. Fellow bluesman Andrew Alli brought his harmonica, and Seattle fiddler Ben Hunter joined remotely. Adrian Olsen (Lucy Dacus, Natalie Prass) at Montrose Recording in Richmond mixed the album. Hale's background in indie rock gave him an ear for these special arrangements, with blues ultimately at the heart of it all. 
Murphy's eighth law becomes a leitmotif of the album. While Hard Times and a Woman tackles issues such as racism and America in the wake of Trump, Golden also captures the emotions that heartbreak, a global pandemic, and job loss would bring at a time when one thinks they're at the top of their game. Fuzzed out guitar and keys add a new dimension to Golden's fingerpicking on these tracks, with today's exclusive premiere of "Can't Get Right" as no exception. "Woke up the next morning, not a penny to find / Up the next morning, couldn't find a lifeline," he laments with blues lyrics setting the song up to deliver the Americana hook. This song shows beyond doubt that Golden has officially arrived as a songwriter and guitarist. 
Of "Can't Get Right," Golden tells ABS: 
On my way to a tour and writers retreat down south in May 2019 I found out I was being laid off the next day due to the company closing down. I had also had a recent heartbreak and felt like I was just starting to recover from that as I heard the news about being unemployed. I thought to myself "Man, I just can't get right."

I camped out for a few days on Jekyll Island in Georgia and worked out the main riff and hook. This was really the first track I wrote specifically with the record in mind and to me is truly 'Hard Times and A Woman.' I wanted the story to flow like a tall tale about a man that is doing his best but still coming up short.
*Feature image photo credit: Joey Wharton