Christine Sweeney's singing and songwriting skills will stop you in your tracks. She went from singing along to R&B radio and Whitney and Mariah tapes, to prime slots at the Connecticut Folk Fest and Falcon Ridge Folk Fest, as well as bills with Graham Parker and Jill Sobule. Sweeney has also been featured on WFUV's On Your Radar concert series and a Paste 2021 session. 
"I had some cassettes and would also tape songs from the radio," she says. "I would play them over and over again, focusing in on singing to a small part of the song. Rewind, play, repeat." To her, the R&B vocal influence isn't unnatural in the folk setting. The result of this influence reminds her fans of Susan Tedeschi, Brandi Carlile, Sheryl Crow, KT Tunstall, or Grace Potter with music that grooves and rocks but also tells her story. "I was an alto voice part. I really appreciated the alto harmonies. They're always complex and stanky. We've got the nasty dissonant harmony notes because they're so nice in the middle," Sweeney says. She would go on to refine her voice as well as study music theory and songwriting at SUNY New Paltz.
Her new album Heart In a Hurry, out April 22nd, is a culmination of this pairing of folk and soul, with generous dashes of blues, pop, Americana, and yes, R&B, in sharp, open-hearted new songs, some drawn from life lessons learned the hard way and shared with her listeners. The album also tells a tale of perseverance. Her central theme of raw emotions and personal details using powerful metaphors connects her to fans, who have told her they can relate with things going on in their own lives.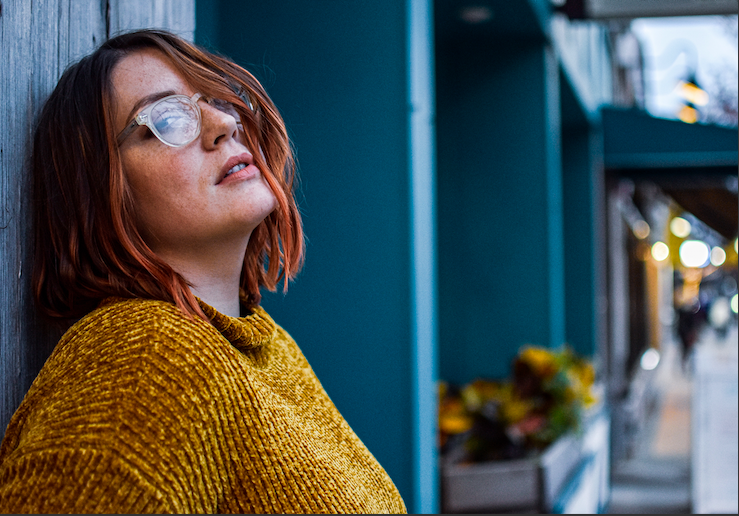 On the song "Coyote," premiering exclusively today, there's a message of giving oneself grace just under the skin surface. When you're made out to be the bad guy, trust that gut feeling telling you there's a reason you feel like you are in fact not. Her bluesy howling in the song is like a mirror that reflects, resounds, and reacts with her primal emotions burning like embers. As the track reminds, "I'm sure no devil, but I know hell."
Of "Coyote," Sweeney tells ABS:
The actual inspiration of the song was taken from a time when I was fighting a lot within my relationship, generally feeling really low within that situation, and crying out. The howl-like sob felt animalistic to me, which was shocking, as I was surprised I could feel that horrible.

Like part of my humanity was being ripped out and I was this raw, begging to be seen as I truly was, instead of being made out to be the villain. Truth is, sometimes we are the bad guy in the story, but that isn't always the case. "Coyote" is about accepting that it can be both ways, but not laying down and taking the blame when it's not all your fault.
Album Credits, broken down by track:
All Music & Lyrics Written by Christine Sweeney
Produced by Christine Sweeney with Consulting Producer Matt Einsidler
Recorded by Matt Einsidler at Audioworkstations
Christine Sweeney: Vocals (all), Electric Guitar Rhythm (all), Electric Guitar Leads (Denial), Acoustic Guitar (all), Piano (Down to the River, Anywhere, Anyway)
Sam Kantor: Backing Vocals (Feeling So Low, Do You Have to Go, Down to the River, Denial, Better Parts)
Dave Ferro: Bass Guitar, Electric Guitar Leads (Feeling So Low, Down to the River, Coyote, Better Parts), Backing vocals (Feeling So Low, Down to the River, Coyote, Better Parts)
Pete Mancini contributed guitar parts to several tracks, including acoustic guitar on "Coyote"
Mike Leuci: Drums (all)
Connect with Christine Sweeney: 
*Feature image credit: Shannyn KT