On February 4th, blues rock guitar master Micki Free released his new album to world. Turquoise Blue, made up of 13 original tracks and one incendiary cover all showcase Free's supremacy of the tone whilst paying homage to the artists who influenced him.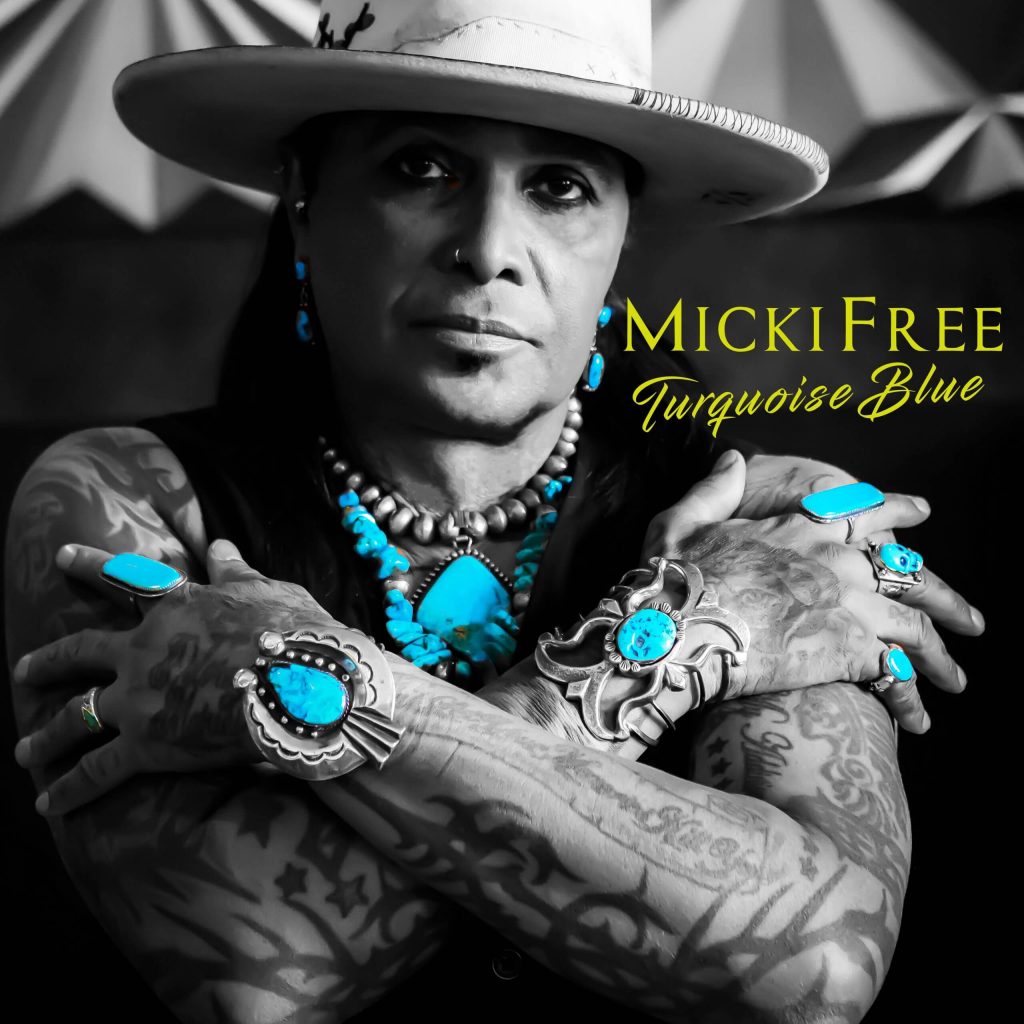 Special guests on Turquoise Blue include Gary Clark Jr., Steve Stevens, Christone "Kingfish" Ingram and Cindy Blackman-Santana. Free teased the album's release with his debut single, "Bye 2020," on November 12th, featuring additional guitar pyrotechnics from long-time Billy Idol six-stringer Stevens.
"Ridin' 420" comes out with guns blazing reminiscent of ZZ Top's early days. Fair enough since Free was born in West Texas and is a Billy Gibbons protégé. His vocals are powerful enough to carry the song, but as with most of his tracks, it's his scorching guitar work that has it hitting on all cylinders. "World on Fire," shifts gears into a decidedly Santana-esque vibe atop a Caribbean beat. Free pulls this off by utilizing a big portion of Carlos' band, including drummer Blackman-Santana, percussionist Karl Perazzo and singer Andy Vargas. Even the lyrics are much more poetic on this song, as Carlos himself, another major influence on Free, is a true poet.
"Have Mercy," perhaps not-so-coincidentally Free's most popular catch phrase, takes the listener ocean deep into a track where the guitar's low tones mix with the bass creating a heart shuddering, psychedelic effect. "Judicater Blues" is the bluesiest of all the tracks on Turquoise Blue, and my personal favorite. Free can stand toe-to-toe with with any of the current blues rock guitar slingers on today's circuit and more than hold his own. In fact, he does so on this track, taking the second guitar solo after Christone "Kingfish" Ingram's first. After hearing "Judicater Blues," I imagine a lot of young guns are going to have to step up their respective games.
"Spring Fever" is a charming ballad leading nicely into the slow-burning "Come Home Big Mama," another sweltering blues tune. There is more rock-based blues with "Invitation Love," "Heaven or Heroine," and "Ring of Fire," while things get much cooler on "Woman," featuring Gary Clark, Jr.; "My Big Regret," and the ultra-cool closer, "Blue Memories."
The lone cover is Free tearing it up on "All Along the Watchtower," the Bob Dylan-penned classic which Micki got to hear live at age 12 when Jimi Hendrix played it on stage in Germany where Free's father was stationed while in the Army.
Jimi just blew my mind. He came out dressed like a gypsy with scarves and a flowing, psychedelic shirt, and his guitar was the most incredible thing I'd ever heard. From that moment on, I knew what I wanted to do with my life.
Turquoise Blue is a far cry from Micki Free's nine years with R&B hit-makers Shalamar with whom he won his Grammy in 1985. He has taken his influences, electrified them even further, added his own Native flair and created an album that belongs on everyone's player. At this time, between a global pandemic and the brink of war, "Free-dom" is on everyone's mind, and Micki is leading the way. Have mercy!
Turquoise Blue is available now via Dark Idol Music distributed by Burnside Distribution / The Orchard / Sony.
Feature image photo credit: Marie Gregorio-Oviedo