A provincial theatre in the coastal town of Whitley Bay, northeast England, seems an unlikely venue to host the leading exponents of blues guitar from America and England respectively. However, speed fingered blues icons are revered in this part of the world, a nearby fish and chip shop displaying a commemorative plaque in honor of its most famous customer, Jimi Hendrix.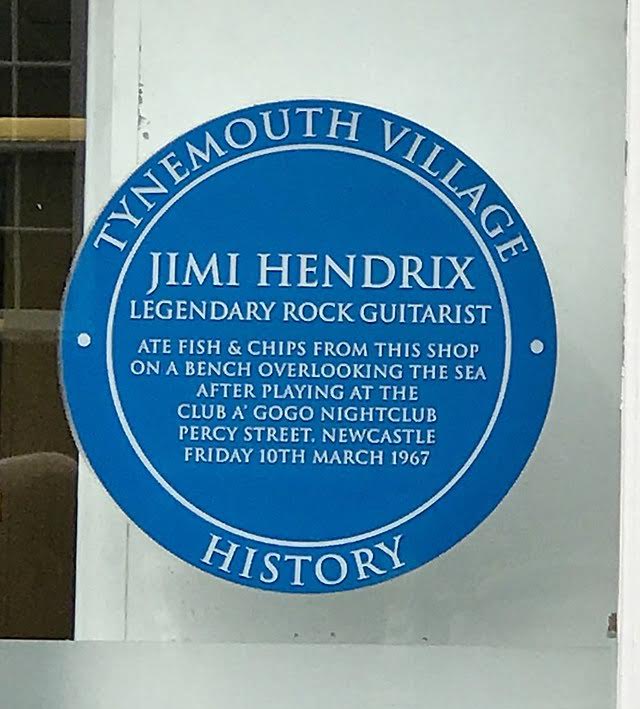 First up on stage is Danny Bryant from Hertfordshire, an English phenomenon who stood in for his mentor, New Jersey born guitar maestro Walter Trout, when the latter was recovering from his liver transplant, thus enabling Walter's band to continue working. He is full of praise for Danny; 'What sets him apart is his passion and feeling, His playing grabs you with its intensity and urgency.' When UK axe legend, the late Alvin Lee, heard one of Danny's early albums, his droll compliment about the young upstart was, "Does this guy have nothing better to do than practice?" Danny has toured relentlessly for the past 25 years, recorded a succession of critically acclaimed albums, formed a seriously good big band and pushed the blues boundaries. 
Bryant's latest album, The Rage To Survive on the German based label, Jazzhaus Records, has been universally applauded as one of the most exciting recordings of its genre in decades. When asked what it meant to Danny to be performing with Eric, his response was, 'It is a total honour! I believe he is one of the greatest players ever! We are a few days into the tour and he is the sweetest most humble man.'
Tonight's blues extravaganza opens with a pacey 12 bar blues instrumental, the perfect platform to get the audience warmed up. Next is the hard rocking, heavy riffing "Heartbreaker" with its blunderbuss intro, a live favorite from Danny's debut album Watching You a couple of decades ago. What is immediately apparent about Bryant's performance is the refreshing absence of gimmicks and gizmos; without multiple pedals and the latest technological accessories he produces a clean sound with the aid of a simple volume control on his 1961 Fender Stratocaster. In his sensational tribute to Albert Collins, "On The Rocks," Danny lets his guitar do the talking or rather screaming, searing, piercing, steaming, cooking and all the other epithets associated with a musician of his energy and creativity.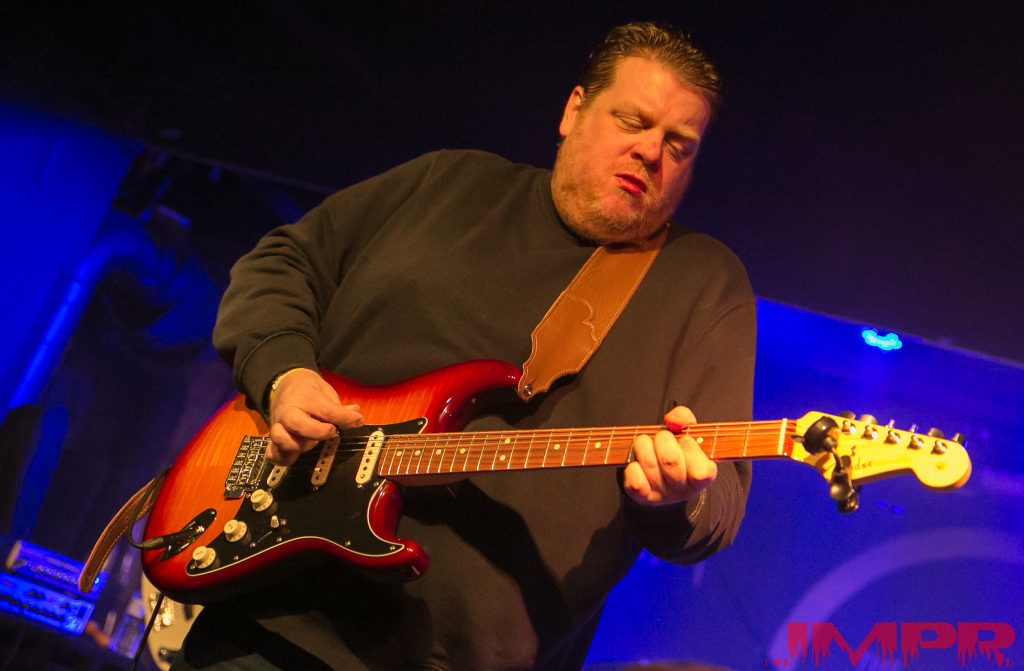 "Tired Of Trying" from the highly acclaimed 2019 Means Of Escape reaches a series of crescendos as Bryant's gritty, raw, emotive vocals ooze angst and frustration as he pleads, 'I could just lay down my head/ It's like I'm standing in the shadows." Bryant is in his element within this power trio, the tight, dynamic rhythm section of bass supremo Paul Mallatratt and top UK drummer Dave Raeburn giving the lead guitar space for improvisation.
"Westport" is a powerful and moving love story from The Rage To Survive album: 'I wanna fall in love again/ With a madness that don't care/ I leave tonight for Westport/ Just say you'll meet me there.' Danny shows his vocal range and melodic tones on this ballad together with more delicate and intricate guitar interludes. "Last Goodbye," with its screaming opening licks and vocals of a troubled man, is from a recent compilation of early releases entitled 02:10 The Early Years.
On "Nine Lives," Danny bares his soul in a heart-wrenching revelation of another relationship, this time involving his cat called Mr Collins, named after Albert! Everyone knows that cats give affection on their own terms and sometimes in a cruel way, the guitar riff representing a prowling feline. It takes nerve and confidence to include the slow balladic Hendrix classic "Little Wing" in the set list, but Bryant nails it brilliantly whilst adding his own twists and turns. Danny Bryant, normally the headliner rather than in the 'graveyard' slot, does a superb job preparing the audience for the second half of the show. His set is very much downhome blues at its best; authentic and engaging with elements of both pathos and humor.
Memphis-born Eric Gales went head to head with his compatriot, blues rock idol Joe Bonamassa on Gales' new album, Crown (Read ABS interview/review). The latter is critically a superb, compelling album of blues, rock, soul and funk destined to propel Eric back to the top of his game after some dark turns in his career. As Eric explains, "When I play, the core is always the blues, and on this album, we go through a theme park of the blues, exploring all kinds of blues. We visit the carousel, the bumper cars, the water rides, the concession stands, and we all come out with smiles." Co-producer Joe said, "I am so proud to call this man my friend. He is truly one of the greatest of all time and he dug deep within his soul to deliver the record of his career."
And what a stage entrance when Eric opens the second set under a phantasmagoria of colored lights and swirling smoke effects, the band launching into the equally combustible opening song, "Death of Me." This track has been eloquently described by Guitar Player magazine as laying out Gales' 'sonic blueprint. It sounds a little like Hendrix playing classical music with nods to rap and R&B.' The extraordinary spectacle is enhanced by the masked bassist looking every bit the mysterious assassin in the latest Bond movie. The scene was all set for an instrumental version of the blues classic "Smokestack Lightning," played at full blast courtesy of two powerful drummers. Tracks from the Crown album feature prominently, one of the most memorable being, "You Don't Know The Blues," Eric's mesmeric finger-blurring fretwork leaving the audience in a trance. If anyone out there didn't know the blues beforehand, they do now.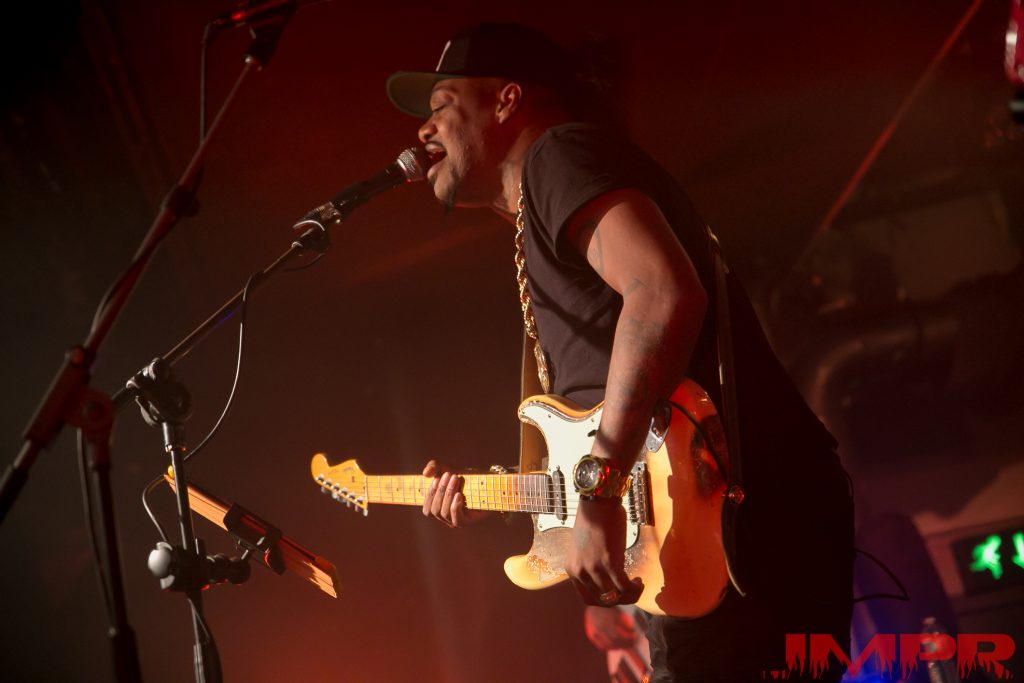 Nick Hayes' infectious drumbeat and the soaring choruses of "Survivor," written by Tom Hambridge and Joe Bonamassa, are the backdrop to autobiographical experiences sung empathetically by Gales, the definitive survivor. The same composers penned "Too Close To The Fire," about letting yourself get burned, or allowing yourself to be in a place which is dangerous for you. '"The Storm" with its emotive a capella introduction raises questions about divisions in society including racial inequality: 'How can you love what I do but hate who I am?' The fluent rhythm section and Hammond organ flourishes make the song groove along effortlessly, the messages communicated unambiguously. The gospel-tinged "Stand Up" written by Keb' Mo' and Joe Bonamassa exudes integrity, the vocals rich and soulful, Gales showing that he can present many different styles of music. Jonathan Lovett's sumptuous, atmospheric keys enhance the spiritual vibe.
The audience is noisy and excitable, fans joining in the choruses when encouraged to and watching closely the stunning musicianship in front of them, appreciating the very special nature of the occasion. They also listen in awe when, with considerable emotion, honesty and vulnerability, Gales talks about his personal life including the past demons he has overcome.
A further surprise comes with the appearance of percussionist LaDonna Gales to sing alongside her husband for James Brown's "Take Me Just As I Am," the two of them recreating a 1970s feel. The instrumental "Sea Of Bad Blood" from the 2011 release Transformation is a signature masterpiece of improvization for the whole band, magnificently arranged with each musician in perfect synch and harmony with each other. They take turns to solo, with 5-string bassist Smoke Face emerging from the trail of vapor emanating from his mask to showcase his considerable talent. The chilled and jazzy "My Own Best Friend" is the story of Eric's journey from top to bottom as he ponders on his time in prison.
The funky "I Want My Crown" is based on the lighthearted but real life challenge to Bonamassa to win the guitar crown. This is set to be a major hit for Eric as streaming propels the anthem towards the million mark. It turned out to be a fitting and thrilling finale to a memorable evening celebrating live blues after two years of famine. Those privileged to be here will remember this breathtaking performance from two of the world's most respected and talented champions of the genre for a long time to come.