From the late 1950s until the mid-1970s, Stax Records were responsible for giving us artists like Otis Redding, Sam & Dave, The Staples Singers, and Isaac Hayes. The label and their groundbreaking artists started a soul revolution and produced some of the greatest hits in music history. While all of that may be common knowledge, the story of Stax has many chapters. So, here are ten facts you may not know about Stax Records.

1. Stewart & Axton Started the Label Because They Were Unsatisfied with the Sound Quality of Local Hits They Were Hearing
Siblings Jim Stewart and Estelle Axton were big music fans but were unhappy with the sound quality of many of the local hits they were hearing. Together they agreed that the songs would sound better with an upgrade in recording equipment, and it was that realization that inspired the formation of Stax Records. Stewart took the initiative and started the label in 1957, with his sister joining a year later.
2. The Label Was Initially Called "Satellite Records"
When the label was started in 1957, it went by the name of Satellite Records but after discovering there was another label who had already claimed the title, Axton and Stewart had no choice but to settle on another moniker.
3. The Name "Stax" Was a Hybrid of Both Founders' Surnames
In 1961 when the time came for siblings Axton and Stewart to choose another name for their label they decided to combine the first two letters of both their surnames, resulting in Stax Records.
4. It Started As a Country Label
While operating under the Satellite name the label's releases were predominately country, and rockabilly reflecting the tastes of Stewart who was a country fiddle player.
After setting up a recording studio in Brunswick, Tennessee, in 1959, Stewart was introduced to rhythm and blues by staff producer Chips Moman. In the summer of '59 Satellite released its first R&B record "Fool in Love" by the Veltones, however the label continued to release primarily country music until the following year.
5. The Stax Headquarters Were in an Old Movie Theatre
In 1960 Stewart moved Stax back to Memphis and into an old movie theatre, the former Capitol Theatre, at 926 East McLemore Avenue in South Memphis.
The coveted theatre contributed in part to creating the signature Stax sound. The floors were sloped to allow for auditorium style seating, which created a distinct acoustic environment for recording.
6. Axton Started a Record Store in the Building's Foyer Where They Would Test-Market Potential Stax Singles
In the early years while the label was establishing itself, Axton opened and ran the Satellite Record Shop in the cinema's old foyer, where the refreshment stand once stood. They sold records from an assortment of labels, and this allowed the staff to see what kind of music was selling, which directly impacted the music Stax recorded.
Local teens soon began flocking to the record store, and the staff took advantage of the shop's popularity by test-marketing potential Stax singles, by seeing how customers would respond to the tracks.
The store also hired a number of budding musicians, including Steve Cropper, who would later become key members of the Stax musical family. Satellite Records later bought and expanded into the barber shop next door.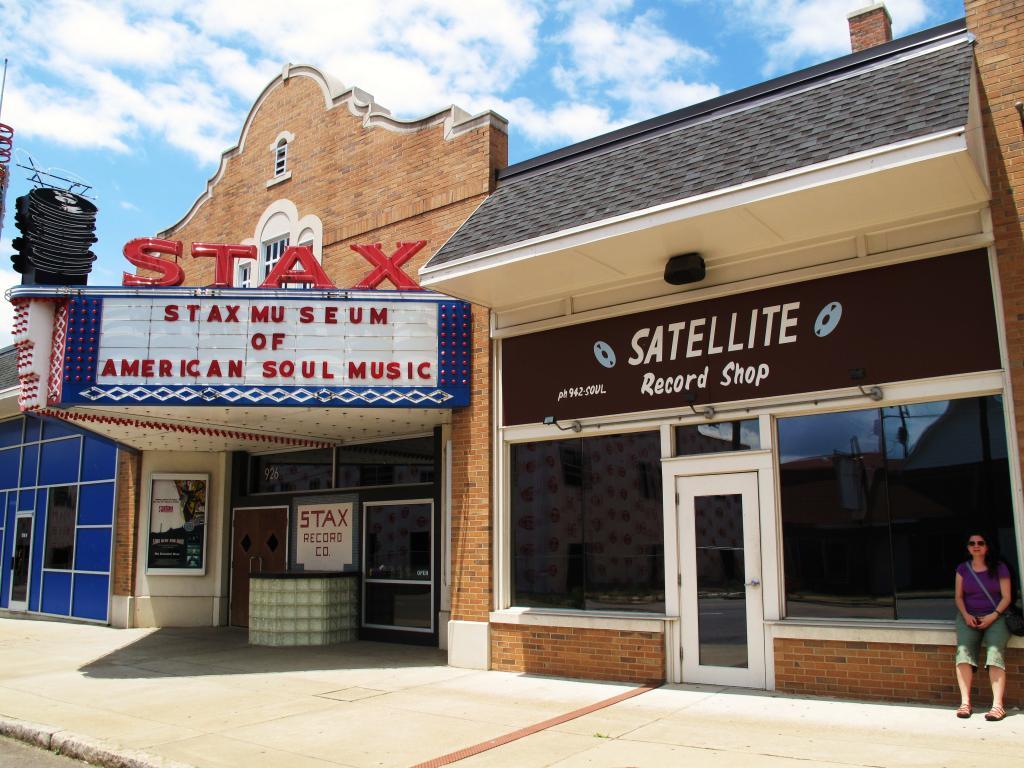 7. The Label's First #1 R&B Hit Was Written by a Group of Teenagers
Booker T. Jones was only 16 when he began working as a session musician at the Stax studio. Jones quickly became a part of the label's permanent house band, along with 19-year-old guitarist Steve Cropper, drummer Al Jackson Jr, and bassist Lewie Steinberg who was later replaced by the more well known, Donald "Duck" Dunn.
The M.G.s played on hundreds of recordings for the label's biggest artists, including Otis Redding, Wilson Pickett, Sam & Dave, and Carla Thomas. The band also recorded their own tracks including "Green Onions" which became the label's first ever number one hit after it topped the R&B charts in 1962.
8. The Beatles Almost Recorded "Revolver" at Stax Studios with Jim Stewart as the Producer
In 2015, a letter written by George Harrison in 1966 revealed that the Beatles planned to record their "Revolver" album at Stax Studios with Jim Stewart as producer. The group had booked a two-week session in the studio for April in '66.
However, Harrison's letter states that the session was canceled for financial reasons with the end of the note reading "P.P.S. Did you hear that we nearly recorded in Memphis with Jim Stuart [sic]. We would all like it a lot, but too many people get insane with money ideas at the mention of the word 'Beatles,' and so it fell through!"
9. They Tried to Buy the Local Basketball Team
In the 1970s Stax was in the midst of a breakdown, and despite Isaac Hayes being the labels shining beacon of light, Mike Storen, commissioner of the American Basketball Association, recalled his memorable meeting with the star where he tried to purchase the local basketball team, but couldn't due to lack of funds.
"On Sunday at nine, I went to his office, and it was beautiful… We got along great and he wanted to be an ABA owner… he handed me a bag full of money I'd say about $50,000…. He didn't want to write me a check. He said we'd talk about it later, and we did, but he never did come across with a check. It was about that time when Hayes's Stax Records empire started to crumble."
10. Jim Stewart Re-Mortgaged His Home to Keep Stax Aive and Lost it When the Label Collapsed
By the mid-1970s Stax was in dire need of salvation. Despite having some huge successes operating as an independent label, most notably with Hayes, they were still reeling from the loss of their Atlantic deal.
Ultimately Stax went bankrupt, and in their final days, Stewart took a leap of faith and re-mortgaged his home in an attempt to keep the label alive, but it was to no avail. In 1975, Stax called it a day, and Stewart unfortunately lost his home.