Windy City Wednesday is the weekly offering from American Blues Scene that shares classic and sometimes forgotten blues albums from some of the most iconic Chicago blues men and women ever to grace wax. This edition focuses on the album Let's Talk It Over by Lonnie Brooks.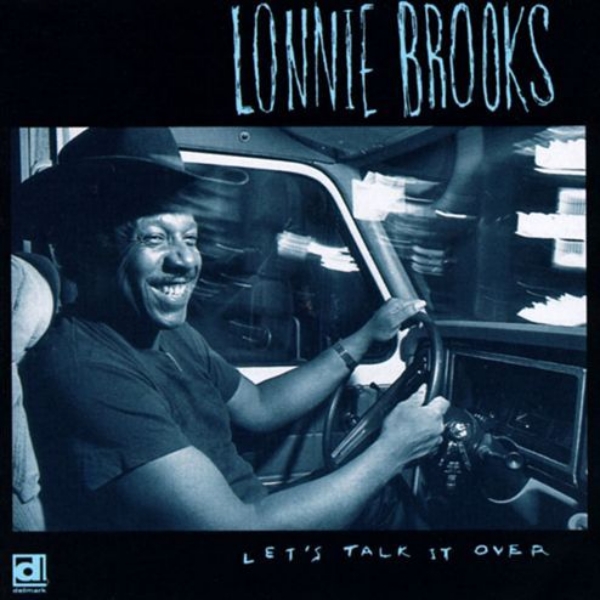 Today Lonnie Brooks is a familiar name as a linchpin of the contemporary blues scene and sound. He was an international blues star whose countless live shows earned praise for their savvy professionalism, outgoing stock of quality new material and fresh raw edged blues exuberance. His canny songwriting, robust vocals and melodic inventiveness on guitar drove an infectiously good timing mix of Louisiana gravy and Chicago grit.
Brooks was born Lee Baker, Jr. on December 18th, 1933 in Dubuisson, St. Landry Parish, Louisiana. He learned the blues from his grandfather, who picked a banjo, but was never serious about music until he moved to Port Arthur, Texas in the early 1950s. There he heard Clarence "Gatemouth" Brown, T-Bone Walker, BB King, and others playing live and decided that was the life for him as well. Zydeco artist Clifton Chenier heard Baker playing guitar on his front porch and offered him a job with his touring band.
Baker began calling himself Guitar Jr. and signed with the Goldband label in Lake Charles. He released his first singles with regional hits such as "Family Rules," "Made in the Shade," and "The Crawl."
In 1960, he moved to Chicago and had to change his name again, this time to Lonnie Brooks since Luther Johnson was already using Guitar Junior in the Windy City. He gigged mostly on the city's West Side, and released singles on several labels as well as performing and recording with Jimmy Reed. Brooks recorded his first solo album, Broke an' Hungry in 1969 for Capitol Records.
In the mid-70s, Brooks toured Europe and recorded Sweet Home Chicago for the French label, Black & Blue. It was upon his return to Chicago that he began playing clubs on the South Side, garnering the interest of Alligator Records founder Bruce Iglauer. He signed a contract with Alligator and recorded seven albums under his own name as well as contributed to several shared recordings and compilations.
However, on March 24th, 1977 Ralph Bass recorded 8 tracks with Brooks; 6 originals as well as covers of Freddie King's "Hideaway," and Lowell Fulson's "Reconsider Baby," at P.S. Recording in Chicago. It was part of a series of ten very brief and informal sessions – a survey of then lesser known talent on the Chicago blues scene.
This 1977 session of Brooks with Bob Levis on rhythm guitar, Rob Waters on piano and organ, bassist Harlon Terson and drummer Robert Taylor Layton became Let's Talk It Over and was released as an LP on Second City Records in 1981. Delmark Records reissued it on CD in 1993.
Lonnie Brooks was also the father of Chicago blues staples Ronnie Baker Brooks and Wayne Baker Brooks, who often appeared with their father at live shows.
Lonnie died on April 1st, 2017 at the age of 83, but not before being inducted into the Blues Hall of Fame in 2010.