Welcome to Windy City Wednesday. This newest offering from American Blues Scene will share classic and sometimes forgotten blues albums from some of the most iconic Chicago blues men and women ever to grace wax. This edition focuses on the album Mandolin Blues from Yank Rachell's Tennessee Jug-Busters.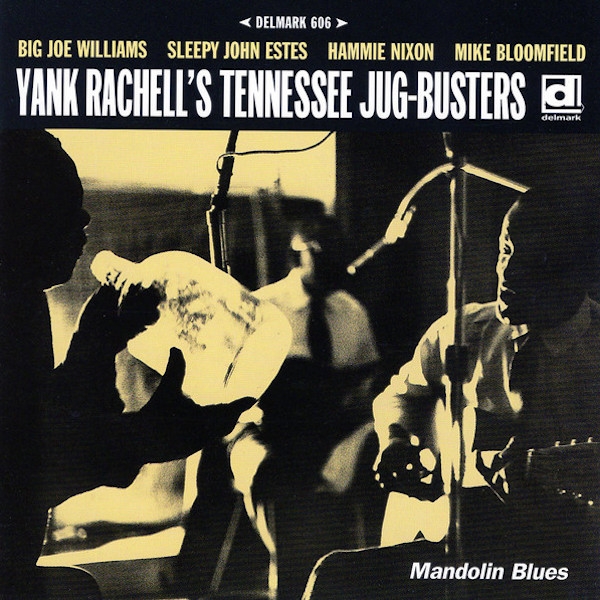 Yank Rachell was the master of mandolin blues and this was the first blues LP to feature this instrument. Of course the mandolin had been recorded before that; Yank himself recorded for Victor in 1929 & '30. Later he accompanied Memphis Minnie and Walter Davis in the studio. He met Sonny Boy Williamson (the first one) and the two became good friends, recording together for several years. The folk-blues revival of the early '60s saw older bluesmen being re-discovered. Delmark found and recorded Estes, Speckled Red, Big Joe, Arthur Crudup & Yank, which was the beginning of blues recording at the label. Six previously unissued performances have been added bringing this album up to 63 minutes.
Rachell provided vocals, mandolin and guitar on the album; Sleepy John Estes played guitar and provided vocal responses on "Shout, Baby Shout"; Hammie Nixon played harmonica and jug on three tracks; Big Joe Williams played his 9-string guitar on six tracks and sang on "Move Your Hand"; Mike Bloomfield played guitar on 7 tracks, including being the sole guitarist on "Bye Bye Baby."
Songs 1-9 were recorded at Mike Bloomfield's residence by Bob Koester and Pete Welding on March 6th, 1963 (Bloomfield soon had to look for a new apartment because Hammie's foot-stomping dislodged some plaster on the ceiling of the apartment below). Songs 10-16 were recorded by Chicago electronics engineer, Don Queen at his residence on March 31st of that year (when Yank, Hammie and John were late for the session, it was decided to record Big Joe. Joe had his guitar set up when the Tennessee Three appeared. The five-piece unit that was recorded by happy accident warmed up immediately– before the engineer had a chance to get mics placed).
Yank Rachell was born James A. Rachell on March 16, 1908 on a farm near Brownsville in Heywood County, Tennessee to George Rachell and Lula Taylor. He had two brothers, Leslie and A.B. and grew up with the cotton, corn, peas, sweet potatoes, sorghum, and watermelon and hogs of his father's small farm. Two relatives who played guitar, Uncle Daniel Taylor and Cousin Henry Taylor, contributed toward his education in music but Yank's first musical instrument came from Augie Rawls who played mandolin.
He was a man when I was a kid of 8 or 10. My mother gave me a pig to raise but I wanted a mandolin and slipped off with the pig and traded it to Augie Bawls for a mandolin. Mother didn't miss the pig for awhile but when she found the old mandolin she put two and two together.

Yank Rachell
In 1958, during the American folk music revival, he moved to Indianapolis. He recorded for Delmark Records and Blue Goose Records. He was a capable guitarist and singer but was better known as a master of the blues mandolin. He often performed with the guitarist and singer Sleepy John Estes. "She Caught the Katy," which he wrote with Taj Mahal, is considered a blues standard, and Rachell is acknowledged as an elder statesman of the blues.
By the mid-1990s, Rachell and Henry Townsend were the only blues musicians still active whose careers started in the 1920s. Late in his life Rachell suffered from arthritis, which shortened his playing sessions, but he recorded an album just before his death, Too Hot for the Devil. After nearly 70 years as a blues performer, Rachell died in Indianapolis on April 9th, 1997 at the age of 90.
Check out Take 3 of "Do the Boogie Mama."
Purchase Mandolin Blues on CD from Delmark Records