"For some reason I'm still here. I must be here to make some music."
The pandemic and our need to change our patterns just to survive have changed us all, musicians as much as any. Rory Block is no exception. For one thing, she did home broadcasts.
"We figure out how to adapt. We're a very adaptable species, and we adapted. Everybody started reinventing themselves. I know I did. (Before the pandemic) I don't think I would have ever wanted to do any such thing as a home broadcast 'cause I thought I'd look so awful. It's bad lighting. I thought, 'This will really make a jerk out of myself,' and I didn't think it could happen. I didn't even do zooming.
"I didn't like the whole reality thing of it much at all, but then as soon as I started doing it, it just felt great, and our community happened immediately. It was people from around the world, and suddenly we all shared this experience. So, it's really re-inventing ourselves, and this record is kind of the plant that grew out of this soil."
Ain't Nobody Worried is that plant, and it's a sharp left turn from anything this veteran blues guitarist/singer/songwriter has done before. Yes, it's the third volume of her Power Women of the Blues series, but along with her version of Libba Cotton's classic "Freight Train" is a raise-the-dead version of Mary Well's "My Guy." Next to Koko Taylor's "Cried Like A Baby" is Martha and the Vandella's "Dancing in The Street." The record opens with Mavis Staples' "I'll Take You There" and, boy, does Rory do just that with some of the most intense vocals and guitar runs she's ever laid down on record. Ironically, the album is being released Friday, October 7th,  the day I introduce Mavis Staples on the main stage at King Biscuit Blues Festival.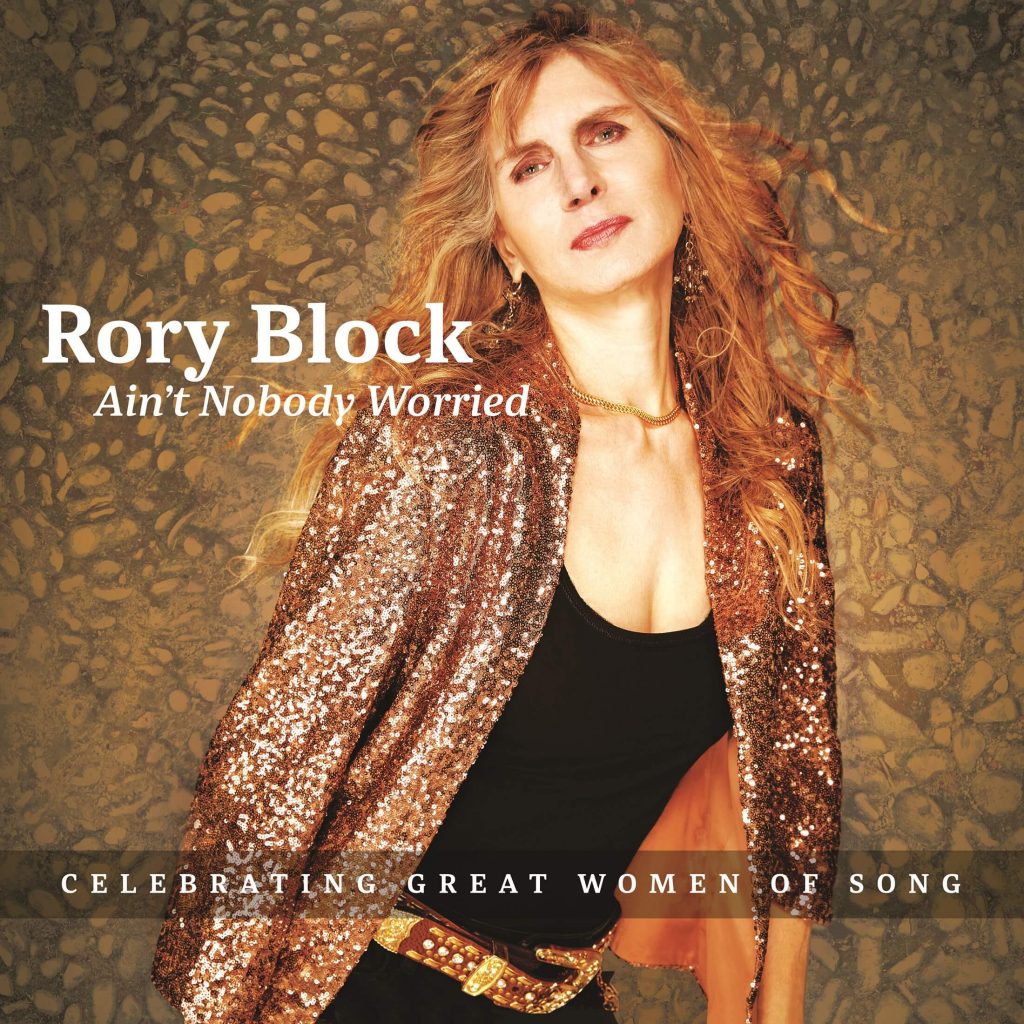 While some artists felt confined by the sequestering that took them away from their live audiences, Rory finds recording just as enervating as her concerts. "It's a different reality. I always say it's like giving birth. You don't know what you're going to get, but you have this amazing opportunity to just make love to the microphone. Recording is really magical. So, I don't feel in any way alienated or sterile. I do feel it's a very passionate setting for me. But so is live; live is another very passionate setting. You really get audience energy, and I say to the audience, 'You're doing all the work. I'm getting all of your energy.'"
Rory's fans would send in requests when Rory started doing live broadcasts. Rob (her husband) would read their comments and people would say, "Can you do this?"
"I would learn the song and perform it. The material started becoming really cross pollinated. It was music from early Robert Johnson all the way to Stevie Winwood and James Taylor and Joni Mitchell, so on.
"The female interpretation is what I was looking for, and the fact they were big hit songs, very, very influential powerful songs that formed our decade. If you think back to "Midnight Train to Georgia" (by Gladys Knight and The Pips.), that song just lasted and gave us energy and formed us.
"This is founding American music. There were hugely influential American women singers and writers – Carole King ("You've Got A Friend"), Bonnie Raitt ("Love Has No Pride"), Tracy Chapman ("Fast Car"). All of this is what came to me. This is 50 years ago. This is half a century ago. Through the live broadcasts the idea was born that way because people kept requesting songs, and they were requesting songs during this concert." 
"Lovin' Whiskey" is the only Rory Block original on Ain't Nobody Worried. It almost didn't make the cut. "I thought people would think my stuff was silly. I was raised to be insecure. I was raised to think that my stuff was of little value. My mother made me feel I should be quiet and sit down and that I was loud and obnoxious if I started singing. 
"So, I really had a heavy-duty fear, and then when I started writing these things, it came out really personal, and I thought, 'No one is going to care about this. This is really stupid.' I would have all these putdowns ringing in my ears. And yet a friend heard 'Lovin' Whiskey' and he said, 'You have to put that on your record.' I only sang it once in the studio because I was sure it came out on the record. Best Blues and Originals was a compilation of the first four CDs from Rounder.
"So, soon after I heard "Lovin' Whiskey" was being released as a single in The Netherlands I was like Wow! I never had a single before. That's cool. But I didn't have any expectations, and then I get a fax saying, 'Congratulations, you have a gold record.' That really broke things wide open. And what I learned was it is still a big song in a large area of Europe, and people come to the shows and say, 'My parents played this when it was a hit song, and I grew up listening to this song,' and now there are adults staring in front of me saying, 'We love this song. It helped us through a parent who was an alcoholic.'
"I've heard so many stories, testimonies really from people who say what that song did for them. So, I've learned, personal is not bad. Personal is good. It helps people not feel alone in what they're going through. So, I didn't know about that when I first record it, and I just deemed it stupid, but then I realized it isn't stupid. It's just very memorable, so that's what I do.
"I write very vulnerable songs, and they're very scary for me to release like 'Eagles,' which you talked about in your last review of my previous record. It's all very vulnerable, but I do find that it does help other people because everybody is going through a lot of stuff, because the human story." 
So, how did "Lovin' Whiskey" get on this album?
"The record company always wants me to put one of my originals on my tributes, and I try. So, that one they said, 'That was a gold record. Why doesn't it fit in with your theme?' And I said, 'Oh, you're right.' They said, 'We think it fits on.' So, I felt that's really good. I feel good about it now. Up until then I thought, 'Well, people will think it's pompous of me. The insecure side fits in again. People will think I'm being pompous. People will think I'm trying to compare myself to a famous artist.'
"Holgar Peterson (CEO of Stony Plain Records) is one of the nicest people on the planet, but he said, 'No! That was your gold record. That fits right in.' So, I thought, 'That's really sweet. So, that's how I decided to do "Lovin' Whiskey" 'cause it was literally a gold record in that part of the world which is just as important as any other part of the world. I mean having a gold record, that's a big deal."
Rory and I have known each other for almost half a century. We talked about how our obsessions for what we do give us energy that overcomes the limitations of age. "Everybody has the ability to tap into that supernatural energy that's around us. I really feel like that's where all creativity is from. It sounds a little corny to say that. When things take over and things become timeless and you're doing things you love to do, in your case, you're interviewing, and you're writing, whatever you're doing, you're no longer in a time zone. You're just getting energy. And that's what happens to me when I'm recording or performing – that same exact thing. I don't know where the energy comes from. It's outside me, and it comes into me. That's how it works."
Rory's fan response to her home broadcasts gave Rory the incentive to do the songs that she might otherwise have thought were outside her wheelhouse.
"We were very happy to hear (those songs.) We needed comfort, and those songs brought a lot of comfort to people. So, that whole thing was energy from the live concerts on through into my own life, and then I just felt like I need to sing these songs. I mean, people like hearing them again.
"I feel like I need to start touching base again. I'm in a different space than I was before. Like you said, things just sort of ramp up without us realizing in the background, and everything is in a good place right now."