Poised to pick the mantle as the coolest guitar slinging duo since Les Paul and Mary Ford ruled the airwaves, Lil' Red & The Rooster are ready for international attention with their sophomore release Keep On! which hits the streets on October 21st via Blue Heart Records.
To aid them on this journey the duo of Lil' Red (Jennifer Milligan) & The Rooster (Pascal Fouquet), who split time between the USA and Europe, recruited engineer Blaise Barton of JoyRide Studio along with Kenny "Beedy Eyes" Smith on drums and Felton Crews on bass, now their USA combo, to record the new album in Chicago. They also invited Grammy nominee Billy Branch, to make a guest appearance on the title track and baritone saxophonist, Jean-Marc Labbé, appears on several tracks.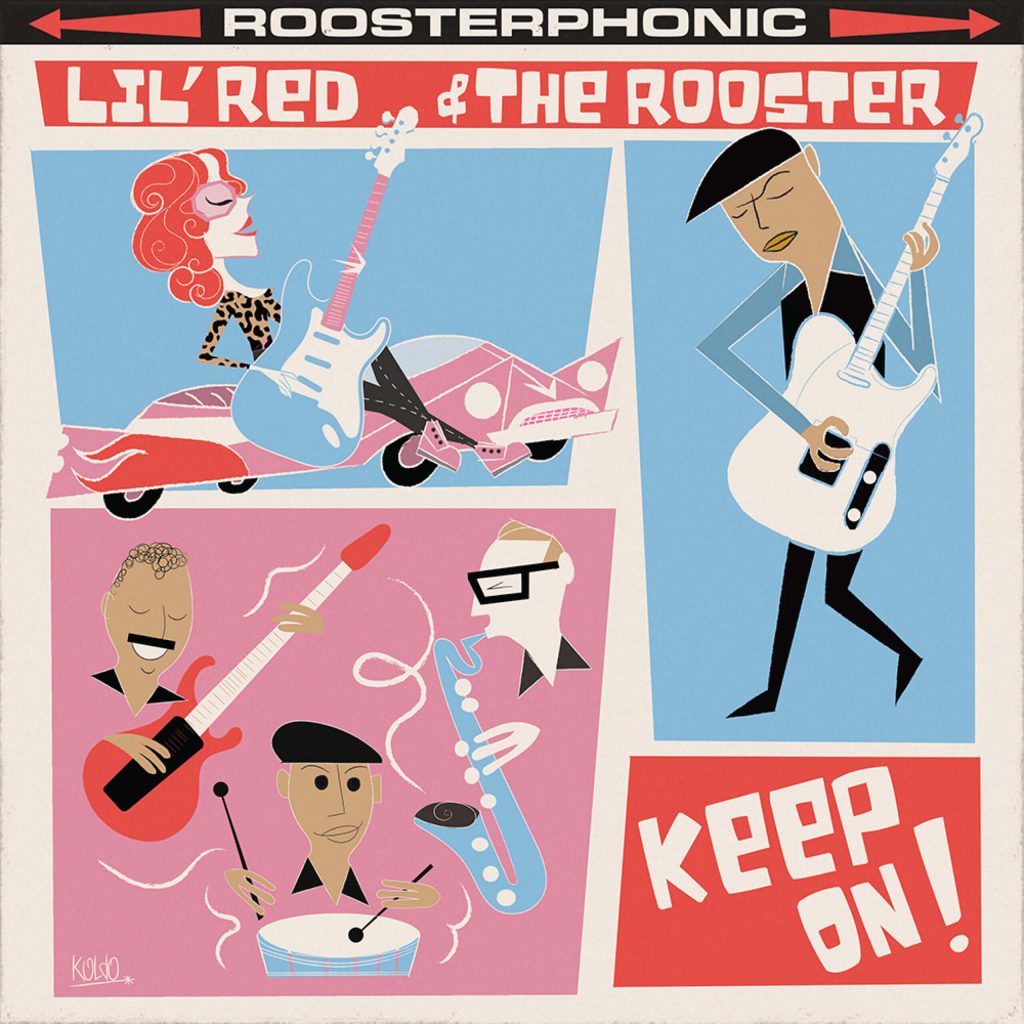 The ten new originals and one classic cover, a collection the duo describe as "Retro Modern Blues Sound," comprise their second album and first since making the finals of the 2019 International Blues Challenge in Memphis and signing with Blue Heart records. The sizzling album, although packed with hot licks and swinging numbers, isn't all fun and games as the pair deliver messages on the power of love, freedom, and social consciousness.
A deep calling led them both to the blues, and the blues brought them together in 2010. For over a decade, Jen "Lil' Red" Milligan and Pascal "The Rooster" Fouquet have been fine-tuning their style while living and breathing their music. Decades of knowledge and experience ring through Pascal's tasteful touch and the sparkle in Red's sassy smile. Their self-described retromodern blues is constantly evolving just as the artists themselves, but the roots remain firmly in the Blues. Onstage they're intimately real and at times hilarious. They exude a contagious charm for a guaranteed feel-good experience, no matter how haunting the song or biting the message. The heart of it all is a love and reverence for the blues and humanity.
The time shifting swinger "Cool Trap Boogie" opens the set with the evocative layering of bari sax and guitar on alluring rhythmic figures and smooth vocals from Lil' Red. "Beedy Eyes" Smith brings us in with a slinky rhumba groove for the smoldering love song "Whiskey Sip Of Time." Lil' Red recounts a meeting with Father Joe, who gave her simple advice on the Vaudeville number "Love The Hell Right Out Of Ya."
The surf rock rumble "Shakin' Em Up," the first of two instrumental cuts, finds The Rooster hanging hard on his whammy bar and Labbé doing his best Boots Randolph on bari sax for a fun joy ride. The acoustic driven tango "Bootstraps Break," examines the great disparity between "The Haves and the Have Nots," with stark colors and tones. The traditional Delta hymn "Nobody's Fault But Mine," is set to a rollicking beat and uplifting guitar and vocal lines drawing a sharp contrast between its story of spiritual struggles on the path to salvation.
Lil' Red and the crew pay homage to Rosa Parks and encourage us to follow in her footsteps, "Yes We Can," on the swinging "Back Of The Bus," with Rooster and Labbé trading fine solos. "American Made" is a complex show piece that mixes elements of R&B, hip hop, blues, and gospel in a theatrical narrative on the effects of slavery and systemic racism that ends with hopes for a better future. Built on a grooving riff in the style of Freddie King, "Little Girl," is a title nine anthem of girl power encouragement for women of all ages. Rooster and the U.S combo let it rip on the instrumental album closer "Step It Up," a hot Chicago Blues.
The collaboration with Billy Branch, "Keep On Lovin' You," is full of inspiration as the pair trade vocals and mutual affection over an easy-going country blues shuffle that has the sound of a lazy afternoon.
Born in Normandy, France in the early '60s, The Rooster began studying classical guitar at eleven and discovered the Blue note a few years later. A professional musician since 1980, his music pays endless homage to his master teachers: B.B. King, Albert King, T-Bone Walker, Kenny Burrell and more. A multi award-winning guitarist, Fouquet has shared the stage with many great artists including: Diunna Greenleaf, Dave Specter, Russell Jackson, Candye Kane, and Kid Ramos.
Lil' Red, born in Columbus, Ohio in the late 60's, grew up with a deep love of rhythm and groove. A devotee of Hollywood entertainers Bojangles, Gene Kelly, Louis Armstrong, Ella Fitzgerald and the Nicolas Brothers, Milligan studied all the artistic disciplines: music, dance, acting, writing, painting, martial arts, and meditation. A graduate of Fort Hayes Performing Arts High School, Milligan holds a BFA in Musical Theatre from the Cincinnati Conservatory of Music and an MFA in Contemporary Performance from Naropa University. A carefree and adventurous soul, Lil' Red has had her share of challenges, all of which emerge in both lyrics and stage presence. Caring deeply about humanity, she believes as an artist she has a responsibility to do her part to shape the culture we live in. Her approach: "mix what's pissing you off with some bounce and swing, sprinkle a pinch of blue notes, and bend it all together on six strings for guaranteed feel-good satisfaction."
Milligan and Fouquet call both France and the USA home and are multi-linguists in music and Franglish. Their self-released debut album, Soul Burnin', was produced by and featured Dave Spector. In 2019, they were International Blues Challenge finalists, performing in Memphis as a duo. You can find them performing regularly as a duo for the acoustic dinner set at Buddy Guy's Legends when visiting Chicago, headlining festivals as a combo, or playing restaurants and cafes as a duo.
This fine effort from Lil' Red & The Rooster covers a lot of ground and will turn a lot of heads.