"I hope I die before I get old." One of the greatest rock lyrics of all time from one of the greatest rock bands of all time, The Who.
"My Generation" was released in 1965. In the over 50 years that have passed since its release, The Who have penned countless other anthemic rock songs ("Pinball Wizard," "Won't Get Fooled Again," "Baba O'Riley," "Love, Reign O'er Me," "Who Are You," and "Long Live Rock" – to name a few) and have accounted for one of the greatest four album runs of all time (Tommy, Live at Leeds, Who's Next and Quadrophenia). Yet, it is that one song, that one lyric, that critics constantly cite to disparage The Who – and more specifically, founding members Pete Townshend and Roger Daltrey – for continuing to tour well into their 70s. Fortunately, Pete and Roger have never been ones to care much for what their critics have to say.
True, Pete and Roger are older. We all are. But age has no relevance to music that is timeless. The Who's music fits that mold. Pete and Roger didn't merely create songs for a generation. They created them for all generations. It's why their music still resonates today with old and new fans alike.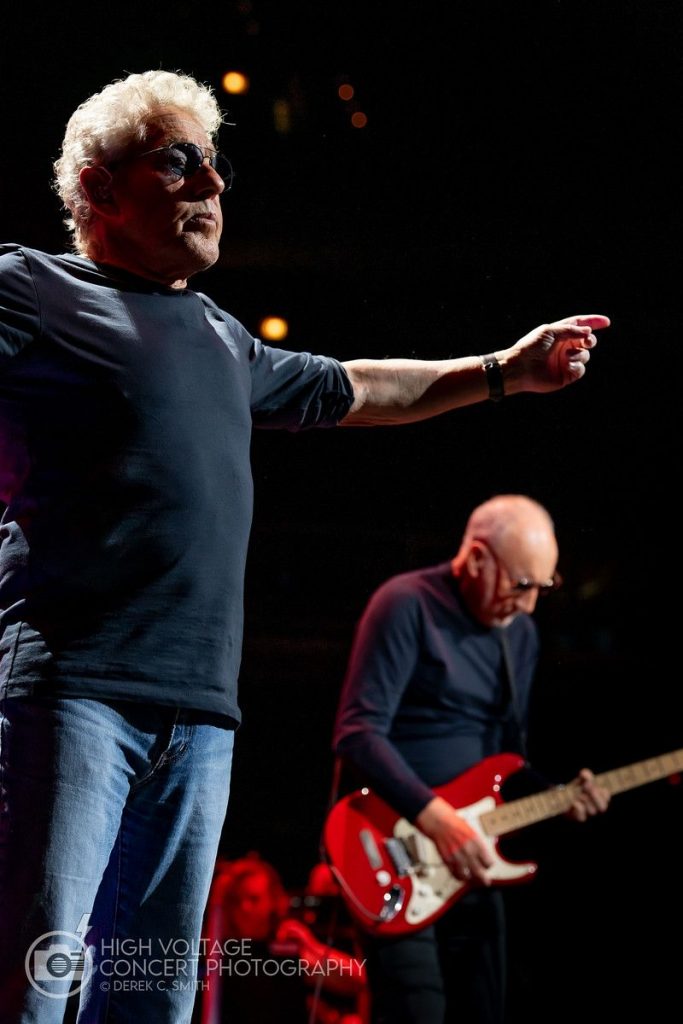 Adding to their continued appeal as a live act is the fact that Pete and Roger refuse to become a caricature of their former selves. Yes, they still perform their patented moves, Roger with his mic twirl and Pete with his windmill, but those small moments come off as an homage to their past rather than a sad attempt to recreate it. For the majority of the show, Pete and Roger recognize the limitations that age puts on all of us. In this way, they rightfully avoid any attempts to convince the audience what they no longer possess, i.e., youth, focusing instead on what they never lost: their unparalleled musical abilities. 
Those abilities were on full display at their recent stop in Chicago. Keeping it in the family with Pete's brother, Simon Townshend (guitar, mandolin and backing vocals), and Keith Moon's godson, Zak Starky (drums), The Who – as their tour is aptly titled – "hit back" at the critics, proving that musicianship trumps age. At 77, Pete is still a brilliant guitarist and master of the power chord. At 78, Roger is still a powerful frontman embracing the tenderness of "Behind Blue Eyes" while also nailing his iconic scream on "Won't Get Fooled Again" and "Love, Reign O'er Me." While neither man may be able to strike all the same chords or reach all the same notes with the ferocity and vigor of a 20-year-old, the ones they do hit still touch your soul. It's what music is about. And it's all you can ask for in this or any generation.
The setlist for the tour was also a perfect construction of hits, rarities, and newer material.  Accompanied by a Keith Levenson-led orchestra, principal violinist Katie Jacoby and principal cellist Audrey Snyder, The Who opened the show with six songs from Tommy ("Overture," "1921," "Amazing Journey," "Sparks," "Pinball Wizard," and "We're Not Gonna Take It") before diving into later hits such as "Who Are You" and "Eminence Front." They then played a rocker, "Ball and Chain," from their self-titled (and underappreciated) 2019 release, Who. Following "Join Together," the band played a five-song set without the orchestra that included three wonderful rarities ("Relay," "Naked Eye," and "Another Tricky Day") as well as their iconic hits, "Won't Get Fooled Again" and "Behind Blue Eyes." The orchestra then returned for a five-song set from Quadrophenia ("The Real Me," "I'm One," "5:15," "The Rock," and "Love, Reign O'er Me") before closing the night with the epic "Baba O'Riley." 
It was a beautiful evening highlighting the band's amazing journey that began in 1964. More importantly, it was an evening where Pete and Roger proved that rock is not dead. Long live rock!
For more on The Who and their current North American tour, visit their website.
*All images: © Derek Smith / High Voltage Concert Photography