"'Yella Alligator' is a trip," Eddie 9 Volt tells me of his new single, premiering exclusively on ABS. A bayou blues imbued with pure classic rock energy, he says he was listening to "a bunch of Leon Russell and Little Feat when I wrote that." And like most of his songs, he ended up keeping the demo name as the song's title.
"You could get deep and say the lyrics explain a narrative of not wanting to join in with the norms of city and business life by just staying out in the country and partying waiting for the storm to come," Eddie continues. "But I just wanted to create a hippy trippy bayou fictional town in my mind. I also think I got the 'livin' a lie' line from Timmy on South Park."
Following a straight blues record, he wanted to express that he and his "best friends who happen to be the best musicians" are more than 12 bar blues. The blues will always be his roots, but this time he wanted an album for growth. "Not just for me, but I wanted to make an album where it just wasn't all my ideas. I also wrote this record as a slight escape from the blues world."
Reputed for its output of the Allman Brothers and Otis Redding, the Atlanta-based Eddie 9V sought out Capricorn Studios for the specific southern sound he required and spent more time crafting each song. Breathing in the studio's history and philosophy, they breathed out an album deserving of its title.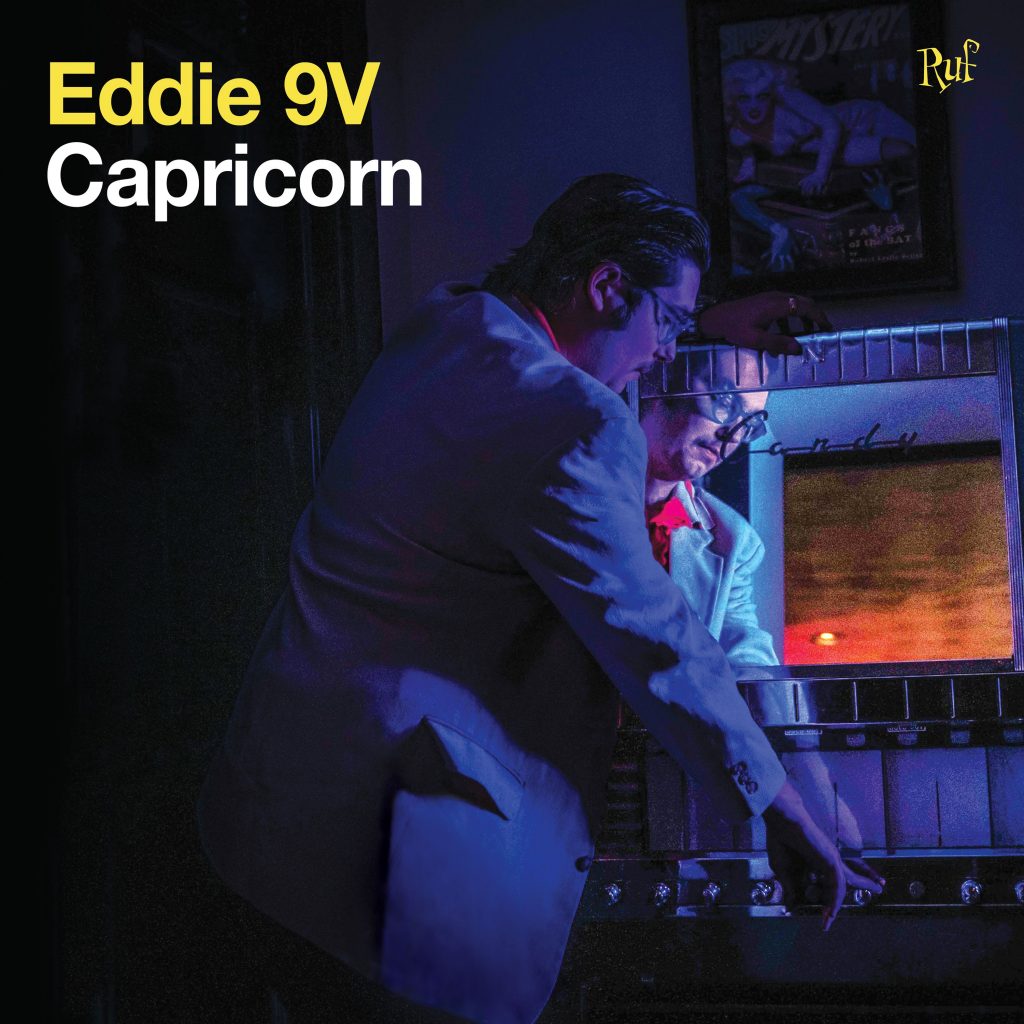 Eddie and his band made the namesake record Capricorn with hopes that listeners draw an old school vibe from it, and realize that these musicians can really buckle down and write great hooks. "I was doing an interview down in Macon and the DJ was like 'you wanna go see Capricorn (the studio)?' I simply walked in and felt like I was transplanted right in 1972. Nothing had changed. I was in awe. I was scouting some studios to do this new album, like in Muscle Shoals, Royal Studios in Memphis… But this made so much sense being in Macon, GA so close to home. Musically it's definitely a direction I intend on heading more toward."
Eddie thinks of albums the same way he does a good dish, starting with the best ingredients. He brought his bandmates to the legendary studio "with hit memories stained on the walls. You pair that with some Budweiser and pizza you get a bunch of happy dudes playing their asses off. Yeah, I could sit around and record drums, bass, and all the guitars, but that's not fun to me. I kind of took a back seat with guitar on this album. Sure there are some fun solos I do but majority of the slide and terrific playing is Macon's own Dusty McCook. When I make records, I make 'em fast. I don't see no point in wasting time on sounds. Get an old drum kit, a few mics, vintage fender amps, and damn good players and it's hard to make that sound bad. All in all we had 11 musicians, I think. They were the ones who shaped the album."
At just 15 years old, Eddie rejected society's notion of college and instead forged a career in music. He burst onto Atlanta's live blues and roots circuit, and went on to albums Left My Soul in Memphis (2019) and Little Black Flies (2021) which received wide critical acclaim. Of his hometown's scene, he enthuses, "I love Atlanta! There's so much more than rap here. After touring the country for years I've realized Atlanta has such a vibrant music scene. There's so many good players here. It's kinda crazy. It's like when people say 'nobody's making this kind of music anymore, when there's somebody at a neighborhood pub doing it. Just have to dig up every stone. Atlanta has it all."
As for touring Capricorn, he plans to "nonstop," so stay tuned for more details. "Since the last record, we got new management and new booking. They have thrown us all over the country, hell even the world now. Opening up for Tedeschi Trucks, at the Fillmore in San Francisco… 2023 looks like it's already going to be an amazing year. Touring is our bread and butter. It's funny. I've been home for two weeks now and all I do is play video games, drink, and make food. It doesn't make sense, but we're somehow healthier out on the road."