Ian Tyson passed away at age 89 on December 29, 2022. He will always be remembered as half of the folk duo Ian & Sylvia and for writing the modern standard "Four Strong Winds." He was known in Canada for his music and dedication to promoting the culture of Canada's ranch country. While lesser known in the United States, artists such as Johnny Cash, Judy Collins, and Suzy Boguss covered his songs.
Ian Dawson Tyson was born on September 25, 1933, in Victoria, British Columbia. His father, George, had emigrated from England in 1906. An insurance salesman and polo enthusiast, George introduced young Ian to horses at an early age.
"I was scared to death the first time a horse broke into a lope while I was being ponied by my dad," Tyson recounted in his autobiography The Long Trail. "When you're a little kid, it feels like you're way up in the sky on that saddle. Some people give up altogether after a scare like that, just as some people give up on hockey the first time they're checked into the boards. Not me. I got back on."
Tyson's love affair with horses would last the rest of his life. In his teens and early twenties he entered rodeos to earn a few extra dollars to supplement his salary working for the provincial forest service in British Columbia. "I was basically an amateur who had a lot of fun," he said. Some people recall him as being a great rider. "They've made it all up in their minds. They wanted me to be a great rider, so I was."
His music career got its start after he broke his ankle in a freak rodeo accident. He had to have reconstructive surgery on his ankle and spend two weeks in the broken leg ward, a not uncommon practice in 1956. Borrowing a guitar from the kid in the bed next to him, Tyson learned to play Johnny Cash's "I Walk The Line" by trial and error.
Tyson described this period in his life as one in which he drifted. He drifted not only from place to place but drifted also to find himself. After learning to "play more than three chords" while in hospital, he decided he really wanted to be part of the music scene. He bought his first guitar at age 22 while convalescing at his parent's house. His drifting had more focus now and a couple of years later he found himself in Toronto. It was there he met a young folk singer named Sylvia Fricker who would not only become his music partner but his wife as well.
The folk revival of the late 1950s and early 1960s was taking place. Ian & Sylvia were among the acts making an impact in that arena. In 1962 while the duo were living in New York City, Tyson decided he wanted to try his hand at songwriting. He had run into Bob Dylan at the Kettle Of Fish, a local hangout and Dylan played his latest song.
"I want to say it was 'Blowin' in the Wind,' but memory does not serve me well in that regard," Tyson recalled. "It could have been any one of his songs. At any rate, I'm listening and figuring, 'Hey, how hard can this be?' I know how the cold winds blow. I should give it a shot." It was a pretty good shot.
The song was "Four Strong Winds" and would become one of Tyson's best known and highly regarded tunes. Ian & Sylvia released it on their 1964 album of the same name. It has been recorded by dozens of artists since, including Neil Young and Bobby Bare. "Four Strong Winds" was named as the greatest Canadian song of all time by the CBC-Radio program 50 Tracks: The Canadian Version in 2005. Some regard it as Canada's second national anthem.
With the onset of the British Invasion the folk revival stalled and all but died. Ian & Sylvia parted ways and divorced in 1975. For several years Tyson turned his attention back to his first love: horses. He eventually bought a ranch in Alberta, Canada, where he raised and trained quarter horses. He also had a few head of cattle.
He was able to combine his love of horses with his love of music by focusing on cowboy and country music. In 1983 he released Old Corrals and Sagebrush, singing about horses, ponderosa pines and the old Double Diamond Ranch in Wyoming. He recorded the album in the basement of his ranch house. Throughout the rest of his career his songs would epitomize the cowboy and ranching lifestyle he loved so dearly. Even strained vocal cords could not keep him from singing about the life he loved.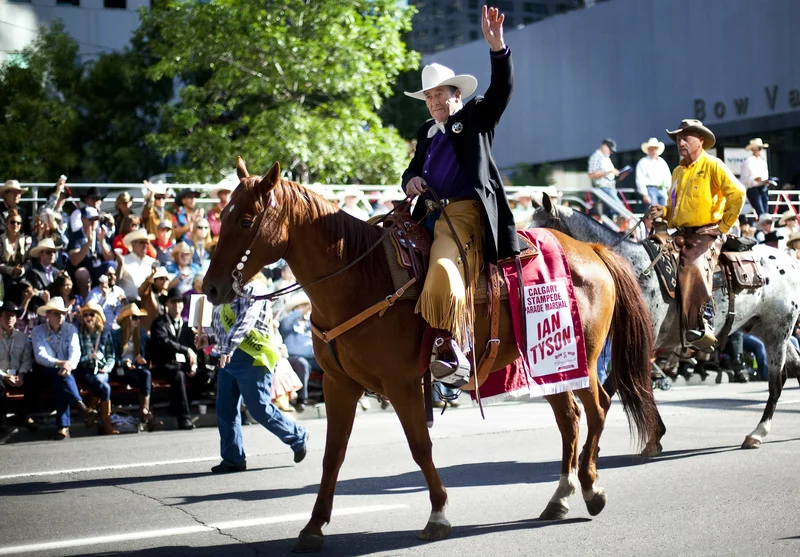 Playing a concert in 2006, Tyson was having trouble with the sound system. The bass was cranked up but the vocals were not. "I started shouting into the mic, trying to out-muscle the system — a stupid thing to do," he recalled. "When I got off the stage, I knew I'd hurt my voice… I knew something very bad had happened."
The smooth baritone voice never recovered but he learned to embrace the hoarse whisper of his new one. His album Yellowhead to Yellowstone and Other Love Stories was recorded in 2008 and was well received.
Tyson had open heart surgery in 2015. He has had health problems in recent years. A statement from his family said only that he died from "ongoing health complications," but no further details were given.