You can read about Bob Stroger's new record That's My Name on Delmark elsewhere in American Blues Scene. At 91 years old, Bob is ubiquitous in the blues scene and immediately recognizable for his broad smile and fastidious clothes, but here he opens up about himself as never before.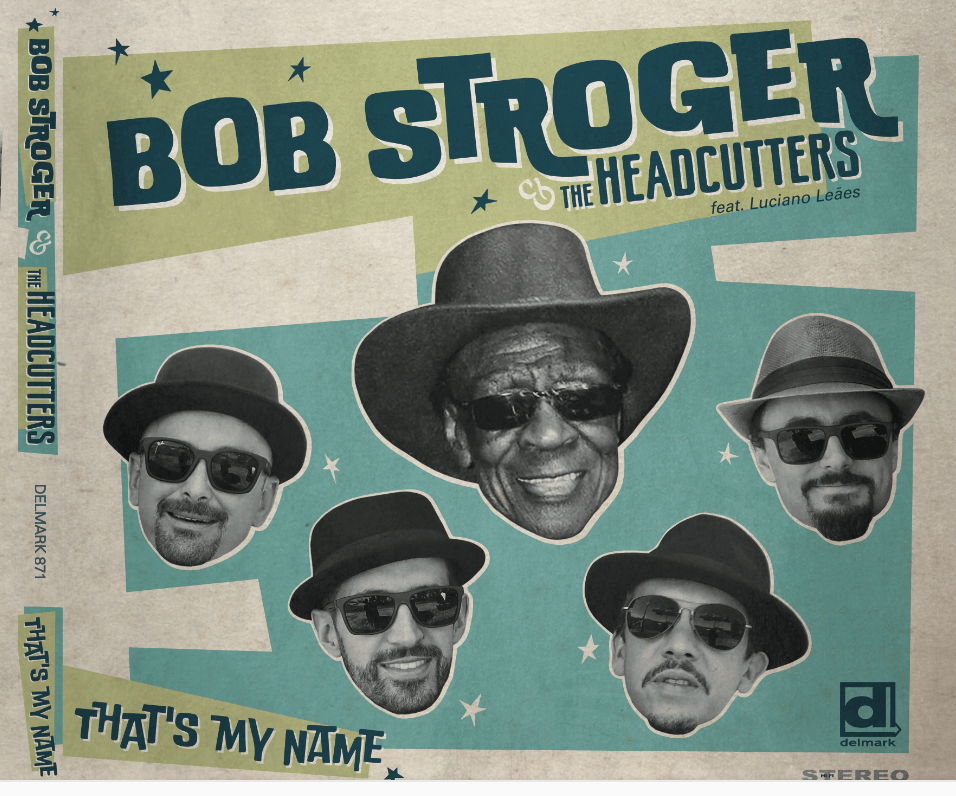 "Number one, I try not to think about age. When I think about age, I think, hell, I got no business out here playing, you know? But I feel good, and I don't think about my age. I think about the music and the people who enjoy me. I just keep on going.
"Daddy used to say, 'Age is nothing but a number, and as long as you feel good, and you felt like you wanted to do something, go and do it 'cause there are some people 30 years old that can't do what you're doing.'
"I'm truly blessed, so I just try and keep age out of my mind and just try and have fun doing it."
Stroger lived in Mississippi until he was 16 and moved to Chicago. He didn't start playing music until he was 21. "Down south in the olden days, blues was the devil's music. So, we kind of stayed away from that. You know I was up in Chicago at 16 years old before I knowed my father even played.
"My father used to play when we were down south at house parties, but he never let us know he played music. So, he was a guitar player, yeah. I found that out when I was around 16 years old. I was – the kids couldn't be around too much.
"Alley music they used to call it down there. That's where the gambling joints were back in the alley in the south. Kids wasn't allowed in the alley. That's where the gambling joints and the pool halls were. So, we couldn't go back there."
Stroger wanted to play jazz, but blues was where the money was.
"I didn't actually start playing until I was an old man. I was 21 years old when I started playing. I had a little band and when you 're ambitious as a musician, I wanted to be sophisticated. I played jazz with Rufus Foreman who was a horn player, and he did a lot of rehearsing but couldn't hardly get no gigs. So, to get gigs, we had to play blues. That's when I got with Eddie King. We added Eddie King to the band. He was doing B. B. King stuff, and Johnny Taylor stuff, so we could get some jobs.
"I thought I could play Jimmy Reed, and that's all I needed to learn about music. When I first started to play, that's what was playing. I thought once you could do that – I wasn't into music – didn't reach any further than that. And he (first name?) Smith gave me a job out in West Chicago, a place called Argo. Most of the music we was playing was Jimmy Reed. So, I got fired on the spot. I've never been so embarrassed in my life. So, I sat this one out and learned more about music."
In the 1950s if you wanted a paying gig, you had to wear a uniform. Today, Stroger is still known for his fancy dress. "I like to look the part because I feel better. I represent the blues, something everybody can't say, something doing a little special. A lawyer wouldn't go into court representing his client dressed in jeans. I feel you kinda look the part, and it comes from the old days."
Stroger's first band of any note was called The Red Tops. He explains where the name came from. "Well, back in the day, everybody played in uniform. You couldn't get no job unless you were in some kind of unform. Music was really profitable, so everybody dressed up. We were too poor to buy uniforms So, my brother his girlfriend sewed some red bows on top of the tams (black tams with red circles scrawled on the top) and that's why we were called the Red Tops. We couldn't afford no uniforms.
"Sunnyland (Slim) wanted me to dress up. He would always tell me, 'Your appearance is 50% of the battle, you know? People look at your appearance.' Anyone else could dress the way they wanted, but he always wanted me to dress appropriately. So, it just came from a long line. That's my style. I just think that's the way I'm representing something I love.
"I'm proud of my music. I'm proud of doing a profession. I'm a professional musician, and I think I should look the part because I feel better. I represent the blues, something everybody can't say, something doing a little special.
"I feel you kinda look the part, and it comes from the old days. Back in the day, you couldn't play if you didn't have a suit, a white shirt and tie. You couldn't get no gigs because music was really respected back then. I caught on to Howlin' Wolf, and Muddy Waters used to come to the club. Everybody was dressed up. Everybody was looking good. The other guys may be wearing jeans, but once the musician walked into the club, they knowed he was a musician by the way he dressed."
Stoger's gold and diamond pin are fixtures of his "uniform."
"A friend gave me my guitar pin 50 years ago, had it made down in Mexico, and I treasure that. It was a gift, and my key chain that was (when I was with) Otis Rush. A lady came up to the bandstand, put the key chain around my neck, and then all my friends every Christmas they would add another piece to it."
It was The King Biscuit Blues Festival that brought Stroger back down south several years ago. He often plays a set of Muddy Waters songs with Bob Margolin and Bob Corritore.
"These are my friends, we're the three Bobs. We do a lot of stuff down there together. But yeah, the Headcutters (the Brazilian band on the new album) came down once, and I told them the whole history of it, but you really don't enjoy it until you go there and see it. Then, you can feel it."
Bobby Rush once told this reporter when he was young and under age that he would paint a mustache on his lips so he could play, and when he was in some clubs, they made him turn round and put a curtain in front of him because they didn't want to see that he was black.
"Oh, yeah. Well, I came up in those days, too. There's a place like that when I first started playing. We had to play behind the curtain. They would bring us food, and I would drink behind the curtain. I came up in those days, and I came up right here in Chicago on 47th Street years ago. We played a place on 47th and Western. We played a Friday night, and the people loved it so well, we came back Thursday night.
"The ladies was giving us tips and stuff, and one lady wanted us to come back and play for a party, and when we came back that Saturday and came to the bandstand, we were escorted out of there I guess by the Ku Klux Klan. They had sheets over their heads. But back in the day, I was from the south. I thought I was away from there. I was gonna fight, but they rushed out of there. We couldn't work there no more. That's right in the neighborhood where I'm living at now. That was back in the days, though."
Stroger's seen it all in his 91 years.
"Oh, yeah. I wouldn't take nothing for it, though. All this is about love, you know? It's about love. So, this life, we went through a lot, but it makes me feel good to play for audiences in this troubled world. I played a lot of audiences. They come in with the long face, and when they leave, they have smiles on their faces. We have so much fun. So, I think when I do that, I done my job, you know?
"I love my job. I'm doing something everybody can't do. This is a profession for me. I didn't get to school or college. I got a profession. It makes me feel good for peoples to remember me even when I'm dead and gone. Even when I've come and gone, my name is still carried on. That means so much to me, yeah."
The pandemic has been rough for Stroger. "Boy, ain't never been nuthin' like this in my life, you know? It's no fun me working right now because I like to play for the people, and it's so hard for me to be on the bandstand and not connect with the people. It's really hard on me because I wanna take pictures, sign autographs and all that. Now, you're almost playing in a shell. There ain't never been nuthin' like this. You always live and learn."
"It's very hard. I'm playing sometimes, and I forget myself. You go home (after a a show) and say, 'Damn, did I do something wrong?' It's hard. It's really difficult, you know? Picking the jobs. I'm glad now 'cause I don't play just to play. I like to have fun playing."
He talks about his new album with The Headcutters. "Oh, it's my family. It's a band I been working with 10 or 15 years now. I got to South America playin' that music, and those guys been playin' together ever since they was kids. And they're traditional blues. That's where I came up with the CD because I really wanted a traditional harmonica player."
Joe Marhofer's harmonica on that album stands out.
"He sounds like he was born and bred in Mississippi. That's what's so amazing about this group. They play traditional southern blues, man. They really come around to me. We was down at the plantation with those guys, and they were so amazed. They wanted to come down south, so they could see it.
"They feel what they're doing, and they're just like my kids. They call me the Godfather. So many people in my career have helped me along, Sunnyland and all those guys. So, I just wanted to put something back and thought those guys really deserve it because it wasn't that much. I never cared too much about CDs, you know, but I just wanted to do something with those guys because you know they really deserve it."
The album was recorded in Brazil in 2019. "There's a lot of traditional stuff on there. Lots of people aren't doing that anymore, and I had some things of my own on there, and then some of my heroes. I wanted to do some of their songs on there. It's a nice mixture of songs we put together, and we had so much fun doing it together. We pretty much talked to one another every day."
The traditional covers include Jr. Parker's "What Goes On in the Dark" and "Stranded in St. Louis, "Just A Bad Boy" by Eddie Tayler, "CC Rider" covered by more than 100 artists from Lightnin' Hopkins to The Animals, "Move to the Outskirts of Town" by Casey Bill Weldon, "Keep Your Hands Off Her" by Jay McShann, "Pretty Girls" by Eugine Church, and Big Bill Broonzy's "Just A Dream."
There are five original songs by Stroger on the record. "It's just a story that you tell. Most of my songs that I do, it's my personality. I never call myself a singer. I'm mostly a performer. I tell stories, and lots of stories are about me.
"So, it wasn't that hard doing all of this recording that was forced on me.
I never wanted to record. All I wanted to do was play, but my friend when we was in Mississppi, Big Daddy Fred. He wanted to open up a festival, a blues festival over there. He just came on to me, and he wanted to do a CD on me, and he did a CD on me playing with all the guys I was working with.
"Sunnyland always wanted me to sing. I never did sing. I did one on Earwig (She's Got A Thing Going On in 1998), and then I worked with Willie. So, me and Kenny, he's my son. So, we put one together for Willie. We sing on that one. Then, this one coming out now I'm doing for the Headhunters. We wanted to put one together.
"'Something Strange' is from relationships. Another one on there, "I'm A Lonely Man," I did for my wife when she passed. Every song has some kind of meaning to it."
Stroger is on more than 30 records with Delmark. He misses Bob Koester who founded the label in 1953. "Me and Bob go back, oh, 30 or 40 years. I've been doing stuff with Bob at Delmark for years and years. This is the first time I did stuff on my own, but I've been recording for him for years and years. He loved my playing, but he never thought I was a singer. (Laugh) We go way back.
"I've been really blessed, and I love what I'm doing. Very few blues musicians get rich doing this, but I have fun. All I want to do is have fun and try to make a living at it. I ain't trying to be a superstar. I ain't never wanted to be a superstar. I always wanted to be able to go out and be with the audience and talk to them as friends.
"I love what I'm doing, and there ain't too many people going to a day job that love and can't wait to go to work, and that's what I am. I am very fortunate. I love my job, and I love to go to work, and that's something you don't hear too often."
Bob Stroger has the biggest, brightest, broadest smile of any bluesman I've ever met. He's one of a kind, truly an ambassador of the blues.