It was the morning of July 1, 2022 in tiny Pittsville, Virginia. Piedmont blues and bluegrass singer/guitarist Gail Ceasar smelled smoke. She alerted her mother, who opened the back door to see fire rising up from underneath the house. Gail only had time to grab her one-year-old niece, her pocketbook, and her phone. By the time the fire department arrived, the house was in smoke and flames. The furnace had exploded and the firefighters were knocking out the entire underpinnings of the house to put out the fire.
Gail lost more than her home that day. The loss of her two guitars and amplifier meant the loss of her livelihood as a musician. She shares, "I called Music Maker and I told them about the fire and the guitars and they called me right back and said, 'We can get you some guitars. What would you want? What do you need?' So I told them, 'A Martin, a Fender American Stratocaster, and a Fender Deluxe Reverb Amp.' I had a Blueridge, but I had always wanted a Martin my whole life." Music Maker sprung into action and got her all three.
Currently living near Greensboro, NC, she plans to return to the Pittsville, VA area when able. She will see her debut album Guitar Woman Blues on January 6 via Music Maker Foundation; MMF Listener's Circle donors will have access to it December 1.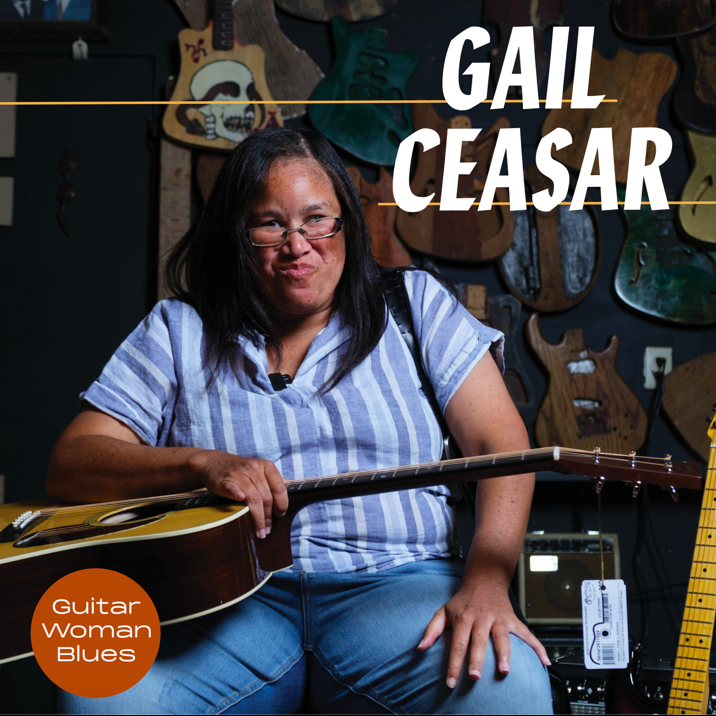 Caesar's family roots run deep at home in Virginia, where her ears were transfixed by the sounds of bluegrass from an early age. She sat in on Saturday morning porch sessions at Poky's Music in Gretna, VA to hone her skills. "Gail and her extended family live within a longstanding oral tradition that's reflected in the stories they tell and in the music they play," says Tim Duffy. Music Maker met and began working with her while doing extensive fieldwork, meeting Gail's uncle Pete Witcher, who taught her to play.
On one visit, Gail and Pete took Tim to see the old plantation where their enslaved ancestors worked. They showed him an immense stone wall carved into the mountains that had once been a part of the plantation house. She and her uncle told us how their forefathers, talented stonemasons, had built that wall.
Premiering exclusively today is title track "Guitar Woman Blues," the first blues song Ceasar has ever written. With her authentic Piedmont style and magnificent tone, she bridges the gap between the blues and bluegrass. "At the time, I was traveling and playing in church a lot, and wanted to write my own music," she tells ABS. "I was having one of those days and it just sort of came to me."
Caesar will be taking the stage at the National Gallery in Washington, D.C. on February 26.