The Beatles songbook has been interpreted and reimagined in a multitude of ways, transforming the British invasion pop into big band jazz, bluegrass, funk, techno, classical and opera. For their own deep dive, Texas-born and Los Angeles based keyboardist, Teresa James, and her band, the Rhythm Tramps, take the music of the Fab Four on a coast-to-coast magical music tour.
Produced by Terry Wilson and Kevin McKendree, With A Little Help From Her Friends, is a loving tribute to the songs of The Beatles and the musical styles of the great American landscape of blues, roots, and soul.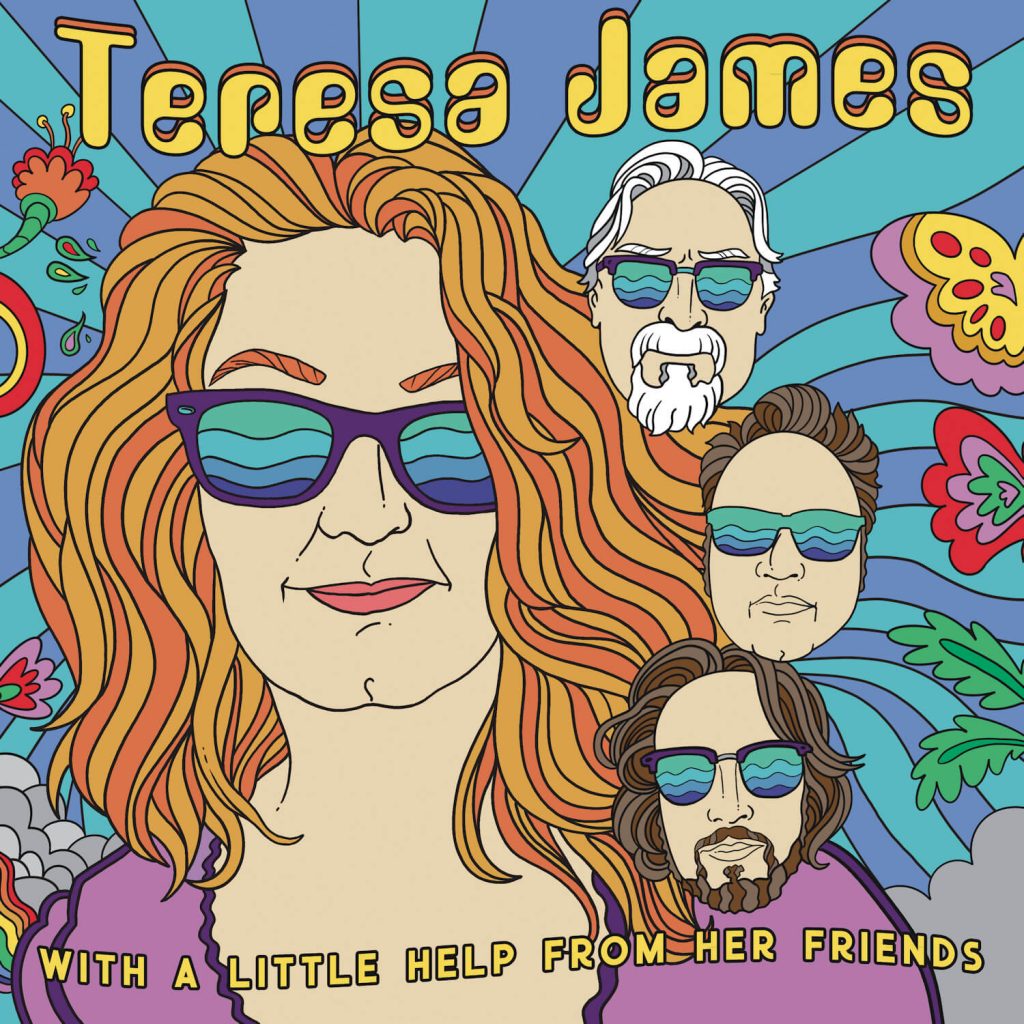 Along with her partner, Terry Wilson, James recruited two new "Tramps" to join them on this journey, the acclaimed producer and keyboardist Kevin McKendree and drummer Richard Millsap, along with backing vocalists Lucy Wilson and Nicki Bluhm and a special appearance from rising star Yates McKendree.
James was born and raised in Houston, Texas where she was introduced to music at an early age by her father and grandfather, both guitar players in the old tradition. She started playing piano at five and hasn't stopped since. Teresa has been called a singer's singer by many. (When the SAG Singer's Committee got together to honor composer Randy Newman, Teresa was chosen as the soloist to perform his favorite song to him.) She has recorded with Tommy Castro, Eric Burdon, Spencer Davis, Randy Newman, Lee Roy Parnell, Neil Diamond, Walter Trout, Stephen Bruton, JP Soars, and many others. She has performed live with lots of other artists, including, Levon Helm, Eric Burdon, Delbert McClinton, Marcia Ball, and Doyle Bramhall, Jr. to mention just a few.
Teresa and her band, the Rhythm Tramps, are a Los Angeles based act made up of players that have either played or recorded with such artists as Joe Bonamassa, Keb' Mo', Taj Mahal, Kenny Wayne Shepherd, Eric Burdon & the Animals, Bonnie Raitt, Delbert McClinton, Jimmy Reed, Lightnin' Hopkins, Jimmie Vaughan, Allen Toussaint, B.B. King, Johnny Nash, Dixie Chicks, Jennifer Warnes, Smokey Robinson, Tom Jones, Tower Of Power, just to name a few and have had their songs recorded by Paul Rodgers, Eric Burdon, Bill Medley, Tommy Castro, Marcia Ball, Janiva Magness and others. As one critic said, "there are no clichés in this band." They move easily through Texas style grease and blues into Memphis soul or New Orleans' flavored grooves and all points in between with fun and abandonment.
They've toured all over North America and Europe and have played such music festivals as Notodden in Norway, Moulin Osprey in Holland, Tampa Blues Festival, Main St Arts Festival in Ft. Worth, TX, Portland's Waterfront Festival, and she has been one of the featured acts on Delbert McClinton's Sandy Beaches Cruise for the past 16 years.
What began as a pandemic pastime among friends soon developed into a striking collection of music that, although not planned for public release, was clearly deserving of such attention.
This was so much fun and such a labor of love. I have been a Beatles fan since I was a little girl and having known all these songs inside and out for so many years, it was a real challenge to try and capture a bluesier, more Southern vibe but still retain the original spirit of the songs. And because we were doing it basically just for fun, I felt like I could stretch out just a little bit more and be a little looser with it.

Teresa James
The ten-track collection opens with a Texas Roadhouse soaked "Ticket To Ride," featuring McKendree on barrelhouse piano. First released as B-Side, "Don't' Let Me Down," was credited to "The Beatles with Billy Preston"; here the Tramps smooth out the groove and add some southern slide guitar. The deep cut from Hard Day's Night, "Happy Just to Dance With You," is almost unrecognizable from the original as the Tramps remake it as a sweet 70's Memphis Soul number with a touch of B.B. King.
James spars with Yates McKendree on the whiskey soaked take of "Oh Darlin'," both eking out the emotions of a classic blues number. Originally an acoustic track, "You've Got To Hide Your Love Away" is given a fuller arrangement flavored with touches of Motown and Philly Soul. The swampy feel of "Everybody's Got Something To Hide Except Me And My Monkey," is more akin to Muscle Shoals than Abbey Road and Wilson tosses in a Duck Dunn quote under the guitar solo. McCartney was going for the Motown sound when he wrote "You Won't See Me" in 1965; James and the Tramps give the song a sultry sophisticated vibe smoothing its pop edges. Their cover of Lennon's "No Reply," from 1964 successfully mirrors the Brill Building sound of the same era by fusing together influences of Latin, traditional black gospel, and rhythm and blues, achieving what The Beatles often sought for.
The slinky swing version of "Think For Yourself," closes out the set with James and the Tramps reimagining one of George Harrison's first philosophical songs, released on the 1965 album Rubber Soul, as a Texas Blues shuffle. But it's track number two, which ticks the box for our personal favorite. Another Harrison-penned track, James swaddles the tinny original version of "Taxman," in a bluesy, soulful, funky, psychedelic sound giving it the full Haight Ashbury treatment.
With A Little Help From Her Friends hits the streets on January 20th, via Blue Heart Records, but pre-orders begin January 6th.