Julia Miller, CEO of Delmark Records, anticipates that Jr. Wells' legendary Hoodoo Man Blues album will have sold a million copies by 2028 when the label celebrates its 75th anniversary. On Saturday, February 4th, Delmark will livestream "Delmark Records 70th Anniversary Blues Revue" at 8:00 pm CDT on Mandolin.
And later this year they will reissue Hoodoo Man Blues on blue vinyl. That album issued in 1965 was an anomaly at the time for several reasons. First of all, that was an era when albums were unusual in a world where singles were king. Secondly, it featured Buddy Guy on guitar who on the original LP jacket is referred to only as "friendly chap" because he believed he was under contract with Vanguard Records.
Finally, when it hit the streets, Delmark had already existed for 12 years. That such a boutique label should not just exist but thrive at all 70 years in is an extraordinary feat. That it can present a cadre of stellar Chicago blues artists in a modern format to be enjoyed by a mass global audience also is a signal that record labels are not an anachronism in the contemporary marketplace. It's a label that prides itself on presenting a style of music that defines culture in an ecumenical way and helps define an American city as the home of a unique style of music that contributes to additional styles that have made America the home of the most popular sounds of the world. 
In a press release, Delmark describes Saturday's event as follows: "iView Music presents the first episode of the Chicago Blues Music Series: 'Delmark Records 70th Anniversary Blues Revue,' an epic night of blues music performed at the Al Larson Prairie Center for The Arts in Schaumburg, IL. Three prominent acts from the venerable Chicago label's roster are featured, as well as interviews with Julia Miller and Elbio Barilari of Delmark, Michael Frank of Earwig Music, and the performing Delmark artists."
The artists performing Saturday night underscore the significance of Delmark Records' contribution to the Chicago blues' legacy.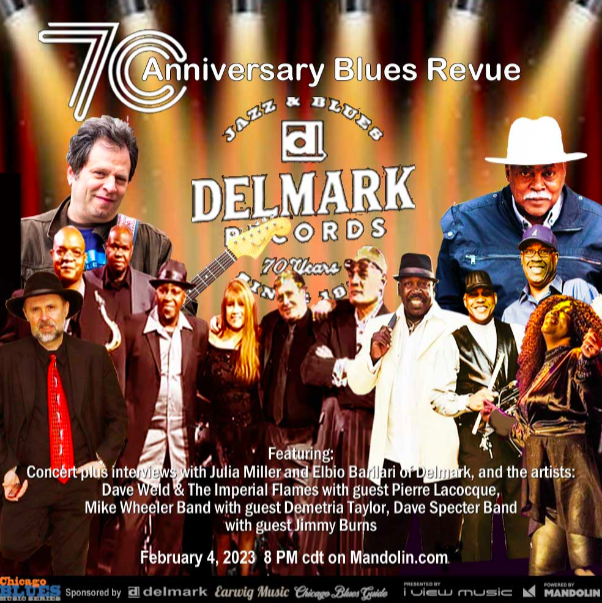 Dave Weld & The Imperial Flames released Nightwalk, their third Delmark album, last year. It includes "Mary Who," a tribute to JB Hutto, the Chicago slide guitarist who mentored Dave Weld. The record was produced by Buddy Guy's drummer Tom Hambridge who wrote Guy's signature song "Skin Deep." Weld began his recording career in the 1980s with Lil Ed and The Blues Imperials and has fronted The Imperial Flames for 10 years. Special guest will be Pierre La Cocque, leader of Mississippi Heat who recorded six of their 13 albums on Delmark. His harp playing has the intensity of James Cotton and the intricacy of a symphony first chair.
Mike Wheeler is a former member of Big James & The Chicago Playboys who has played and written songs for a variety of Chicago artists including Nellie Tiger Travis, Peaches Staten, Sam Cockrell, Demetria Taylor, Big Ray & Cadillac Dave. The Mike Wheeler Band's special guest on the streaming is Demetria Taylor who has two albums on Delmark. Doin' What I'm Supposed to Do released last year contains songs written by Mike Wheeler, Larry Williams and Magic Sam.
Dave Specter has released 11 albums on Delmark since 1991. His blues include heavy jazz influences of artists like Kenny Burrell. He began his career as sideman to Son Seals and Johhny Littlejohn. Joining the band is special guest Jimmy Burns who has one of the most mellifluous voices in Chicago blues. His debut album for Delmark in 1996, Leaving Here Walking, was produced by Scott Dirks, and was awarded the 'Best Blues Record of the Year' title by the National Association of Independent Record Distributors and received two W.C. Handy Award nominations.
In addition to running Delmark, Julia Miller is also a guitarist, composer, improviser, sound artist, visual artist, curator, and educator. She specializes in synthesized electric guitar and co-leads the band Volcano Radar with Elbio Barilari. She was the head of the Guitar Department at the Music Institute of Chicago for over two decades and was a professor of sound at The Art Institute of Chicago. Miller is also a member of the Recording Academy and is a certified AVID instructor. She describes the process Delmark went through when they bought the label from Bob Koester in 2018.
"We basically tried to get as many people involved in as many combinations as possible and also tried to focus on people that had some new records out. So, Demetria has a new record out with Mike, and Dave Weld has a record out and Dave Specter has the double CD that came out recently. So, all those people have really new recent releases. And then of course everybody else has a lot of catalog on the label, too.
"The thing about Delmark is that it is a catalog, it is a studio, and it's a new release label. So, just in terms of the label size between the catalog and the new releases, there are two really different sort of business outlooks, and for sure preserving the catalog and getting that out there in a much larger way and in a much more complete way was something we thought was important, but also new releases.
"I always say Delmark is really a special place and that's true. It's not like we're looking for the next big thing or following trends or anything like that. It's much more about creative music. It's also about practical business and making the business work and preservation too, in a business sense as well.
"There are approximately more than 600 titles in the Delmark catalog, and so we regularly run at the warehouse now we key about 180,000 pieces of inventory on hand. That's our store because we need to be able to have things available for people when people order them or when distribution orders them. So, our job is really to make the label sort of more sustainable on its own because. Like I said, it was there to serve the retail side in many ways. It's like a sleeping giant hopefully."
The late Bob Koester founded Delmark Records, the oldest continuously operating jazz and blues independent record label in the United States. From the beginning of my career as a music journalist I've had a very special relationship with Bob and his label. He began sending me Delmark records in 1970.They include some of my favorite earworms from musicians who include Junior Wells, Luther Allison, Magic Sam, Jimmy Dawkins, Arthur Crudup, Otis Rush, Carey & Lurrie Bell, Eddie C. Campbell, Tail Dragger, Studebaker John, and Jimmy Burns.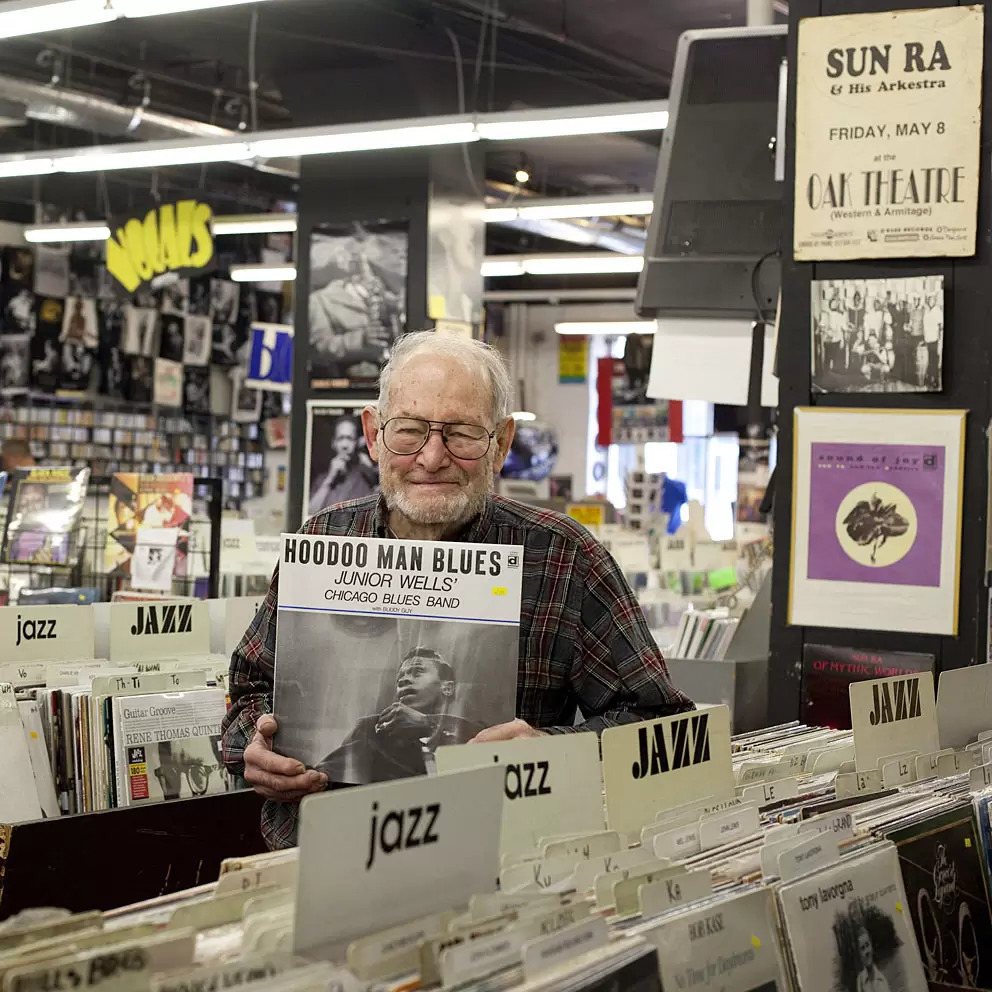 In 2014, Bob and I talked about the recording session for Hoodoo Man Blues. Buddy Guy had told me how his guitar went through a Leslie. I asked Bob if there were any tricks on this session to get that unusual sound?
In 2014, Bob and I talked about the recording session for Hoodoo Man Blues. Buddy Guy had told me how his guitar went through a Leslie. I asked Bob if there were any tricks on this session to get that unusual sound?
"No. What happened with Buddy was something happened with his amp, and to keep the session going, we wired Buddy to the Leslie and just kept recording and something like 10 some of these tracks. There's 15 minutes of additional material that never got issued and never can be 'cause the white harmonica player I was thinking of recording had the keys to the store, and also a severe drug habit and stole a lot of records, and I don't think he meant to steal it as a master. I think – 'cause he used to tape the rehearsal sessions in the basement of the store, but I think he thought – I left it out once, not in a box.
"I'd just taken it off a 10-inch reel, and 15 minutes of Junior just disappeared as a duet between Junior and Buddy, and a vocal by Buddy and a very short Junior Wells track on the stat sheet. It can never be issued. I think they probably recorded over the thing. I don't think they were maliciously doing this. But they did maliciously steal quite a few records from us. I know the store where they sold them in New York. I got a perfect description of the guy, curly haired, very white skin, pointed chin. He's a decent guy now. He got married."
And the beat goes on!