Evangeline Playboys' A Tribute to Austin Pitre recalls a turning point in Cajun music, when bands began to add driving drums and rhythm instruments, revitalizing regional musical traditions that'd been passed down through multiple generations of Cajun and Creole families. A Tribute to Austin Pitre is being released March 10 by Arnaudville, Louisiana's independent Nouveau Electric Label.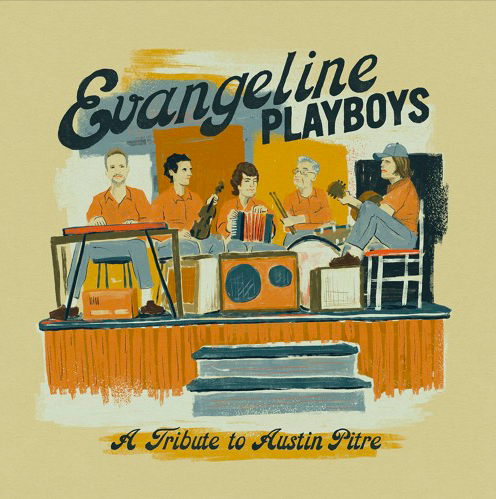 Austin Pitre stands as one of the most iconic and innovative accordion players and bandleaders to come from the Cajun dancehall era. Born in 1918 in Ville Platte, Louisiana, Pitre's recording career lasted from the late 1940s to the early 1970s, leaving a legacy of dozens of original songs added to the Cajun music repertoire before his passing in 1981.
A Tribute to Austin Pitre was recorded in 1999 by Bobby Michot at Playboy Allen Ardoin's outdoor kitchen in Opelousas, LA, featuring original members of the Evangeline Playboys: Ardoin ("T-Lan") on fiddle; Eston Bellow on drums; Junior Martin on steel guitar; and another of Pitre's former drummers, Mike Tate moving over to accordion; all selections are Pitre originals. These musicians were joined by Bobby Michot on guitar and vocals for the occasion.
Many of Austin Pitre's songs with The Evangeline Playboys have stuck over the decades as Cajun standards, none more notable than "Les Flammes D'Enfer" (The Flames of Hell). Pitre claimed to be the first musician to play the accordion standing up, rather than sitting down, often playing without a strap, behind his back and above his head. When he wasn't working as an auto mechanic or fixing rice pumps in the fields, Pitre was packing dancehalls locally, as well as rare performances at national events including the Newport Folk Festival. His music attracted the attention of Folk Music aficionados like Dr. Harry Oster, Chris Strachwitz, Ralph Rinzler, and Floyd Soileau who recorded him, and Austin's music continues to be revered as an exemplar of the golden era of Cajun dancehall music.
This recording of commemorative performances by the Evangeline Playboys not only celebrates Pitre's music, but is a rare live document of Cajun house jams, performed strictly for the players with no audience present. The host alternates between tasting, adding ingredients, stirring pots, and keeping the music going. The musicians grow more and more hungry, and, as they quench their thirst, more buzzed! It takes hours to make a good sauce piquant or a courtboullion, so the jam can last hours until the meal is ready to served whereupon the music likely stops for the evening. A Tribute to Austin Pitre was recorded over the course of several such jams.
Premiering exclusively is Austin Pitre's signature song, "Evangeline Playboys Special," named for his backing band. Founder of Nouveau Electric and Lost Bayou Ramblers frontman Louis Michot tells ABS: